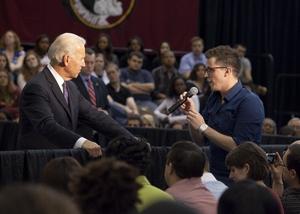 During a speech at Florida State University about the importance of preserving access and affordability in higher education, Vice President Joe Biden suggested doubling the number of federal college work-study jobs and helping graduates repay their student loans in a more sensible way.
"We could increase the number of work-study jobs from 700,000 to 1.4 or 1.5 million, and we could say that graduates will not have to pay more than 10 percent of their annual incomes to repay a student loan," said Biden, speaking to nearly 1,000 students, faculty and staff members on Feb. 6 at the FSU Basketball Training Facility.
To illustrate the challenges facing higher education in America, Biden said that the nation's average student-loan debt is $25,000. He also quoted a national poll that found more than 50 percent of Americans think that getting a college degree is no longer worth the cost because of high student-loan debt.
"I'm here to tell you it is well worth it," he said.
Biden reassured the audience of mostly college students that 62 percent of the jobs that will be created in the next 10 years will require a degree beyond high school, and that over a lifetime, college graduates will earn an average of $20,100 more each year than someone with only a high school diploma.
Biden praised Florida State University as "doing a good job" to keep costs down, but said that tuition has increased 300 percent in America over the past 20 years.
"Colleges, the states and the federal government must work together to make sure that doesn't happen again during the next 20 years," he said.
To reduce the cost of a college education, Biden suggested three-year "fast-track" degrees, which would save around 15 percent of the average cost of a four-year degree.
"We could save tens of millions of dollars without compromising student/faculty ratios or dumbing down the curriculum," he said.
The vice president also discussed the importance of "restoring the national bargain" to ensure the ability of Americans to own a home and to be able to send their children to college. He recounted a time from his youth when his father was unable to get a bank loan to send him to college.
"The inability of a parent to get a loan for their kid's college education is tough, and it was tough on my father," Biden said.
Biden also suggested increasing the number of Pell Grant recipients and permanently extending tax credits for college.
"It is very important for our national interest to get every qualified person into college," Biden said. "The single most important thing for our nation is to have the best-educated population possible."
From community involvement to military service, Biden praised today's college students as an "incredible generation."
U.S. Under Secretary of Education Martha Kanter made brief remarks and then introduced Biden. Kanter was introduced by Florida State Student Body President Aviram "Avi" Assidon.
Biden's visit was the third time in recent history that a sitting vice president made an official visit to campus. Dick Cheney served as the speaker during Florida State's spring commencement in 2004, and Al Gore spoke during the dedication ceremony of the National High Magnetic Field Laboratory in 1994.
WFSU-TV will rebroadcast Biden's speech Feb. 6 at 7 p.m. (In Tallahassee, WFSU airs on Comcast Cable channel 11.)