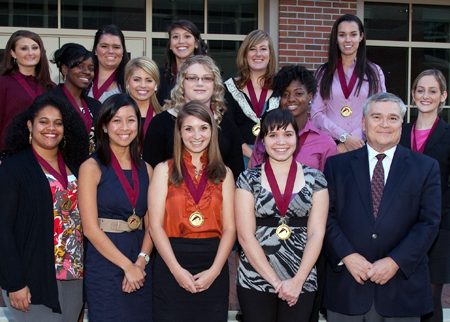 Florida State University student Jared Lyon is a U.S. Navy veteran who serves as president of the Collegiate Veterans Association' s FSU chapter. Rachel Lubitz is an undergraduate-research fellowship recipient who taught English to schoolchildren in Ghana and founded the campus organization Empowering Women Globally upon her return.
Lyon and Lubitz are two of the 17 remarkable undergraduates who were inducted into Florida State' s Garnet and Gold Scholar Society at its fall 2011 induction ceremony on Dec. 8.
For the third time since FSU President Eric J. Barron introduced the Garnet and Gold Scholar idea last year, the society inducted a standout group of engaged, well-rounded students who have exceled both within and beyond the classroom.
To be eligible for consideration as a Garnet and Gold Scholar, students must meet membership criteria in at least three of five key areas — leadership, internship, service, international and research — and write an approved "Synthesis Reflection."
"The students who completed the requirements for the Garnet and Gold Scholar Society this semester are as impressive as ever," said Vice President for Student Affairs Mary Coburn. "They show us that, through engagement across multiple meaningful areas, every student can choose to shape and enrich his or her college experience to meet academic and personal goals while also preparing well for an engaged life beyond college."
The ceremony was held at Florida State' s Center for Global and Multicultural Engagement ("The Globe"). Barron officiated along with Coburn and Office of Undergraduate Studies Associate Dean Greg Beaumont.
Following are the students — along with their academic majors, expected graduation dates and hometowns — who were inducted as Garnet and Gold Scholar Society members on Dec. 8:
Marsha Augustin: psychology/fall 2011/Miami
Natalie Bonus: chemical science/fall 2011/Maitland, Fla.
Jessie Cedeno: social science education; sociology/fall 2011/Miami
Sheena Donnellan: biological science/spring 2012/Tallahassee, Fla.
Gabrielle Eva: nursing/fall 2011/Jacksonville, Fla.
Meagan Flint: family and child sciences/spring 2012/Palm City, Fla.
Jason Hagan: nursing/fall 2011/Tallahassee, Fla.
Allison Johnson: risk management and insurance; human resource management/spring 2012/Jacksonville, Fla.
Brittany Jones: literature/fall 2011/West Palm Beach, Fla.
Shannon Kidd: dietetics/summer 2012/Port Orange, Fla.
Rachel Lubitz: anthropology; international affairs/fall 2011/St. Petersburg, Fla.
Jared Lyon: social science/fall 2011/Kissimmee, Fla.
Jamie Parks: retail merchandising and product development/fall2011/Jacksonville, Fla.
Stephanie Ransom: professional communication/fall 2011/Panama City, Fla.
Dominique Reed: human resource management; risk management and insurance/fall 2011/Live Oak, Fla.
Candace Strickland: information communication and technology/fall 2011/Thomasville, Ga.
Danica Sun: international affairs; political science/fall 2011/Lakeland, Fla.
The Garnet and Gold Scholar Society inducted its inaugural class of 31 scholars last April and its second class, with seven scholars, in August.
In October, the FSU Student Foundation made a $100,000 donation in support of the society. Read more about that donation here.