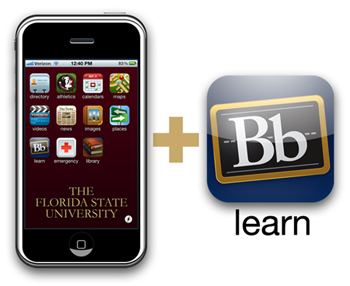 The Florida State University app for smartphones and tablets, FSU Mobile, now includes a Blackboard module that gives faculty and students mobile access to their courses and organizations.
"This is the upgrade students have been waiting for," said FSU Student Body President Avi Assidon. "With the widespread use of smartphones by students, mobile accessibility of academic information is key. So this one-tap access to Blackboard through the FSU app is really going to be popular."
The Blackboard Mobile Learn module allows students and instructors to view announcements, participate in discussions boards, update blogs and journals, and check grades.
"This addition to our mobile platform opens doors for students and faculty to interact in new and flexible ways," said Michael Barrett, chief information officer at FSU. "We expect Blackboard Mobile Learn to become an important part of daily academic life here at Florida State."
FSU Mobile originally launched in June 2010 and includes a campus map, directory and calendar, information on key campus locations, athletic and academic news, and FSU photos and videos.
"Making Blackboard part of FSU Mobile," said Assidon, "shows once again that Florida State continues to stay at the leading edge of technology. It's a great use of students' tech-fee dollars for something they will truly use."
FSU Mobile is free and can be downloaded from the Apple, Android, BlackBerry and Palm app stores. For Blackberry and Palm users, Blackboard Learn is offered as a stand-alone app. Additional information is online at its.fsu.edu/FSUMobile.
FSU Mobile and Blackboard Mobile Learn are provided through the collaborative efforts of Information Technology Services and the Office of Distance Learning. Development of these mobile platforms was funded in part through the student technology fee.
For more information, contact Reinhart Lerch of FSU University Communications at (850) 645-4630 or rlerch@admin.fsu.edu.