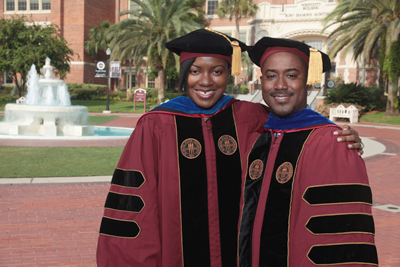 Tamika Royal-Thomas grew up in a rural and mountainous village in Jamaica in a family that believed in dreams: "My parents always told my brother and sister and me to work hard and achieve and get a good education."
After Royal-Thomas and her husband, Omar Thomas, finished their master's degrees — she earned hers from the University of the West Indies; he graduated from Cornell University — they applied to doctoral programs at a swath of universities across the United States. Ultimately, both were smitten with Florida State University, particularly Royal-Thomas, who was offered a graduate teaching assistantship in statistics.
"That was the incentive, the practical part that helped us put the pieces together and make it work," said Royal-Thomas, who graduated Aug. 6 with a Ph.D. in biostatistics. Omar Thomas graduated on the same day with a doctorate in civil engineering.
For FSU, this Ph.D.-wielding power couple serves as proof that the university's long-term goal of boosting graduation rates of doctoral students has been realized. Over the past academic year, the number of doctorates awarded by FSU has jumped from 340 to 417, the largest number in its history. Over the past decade, the rise is even more stunning, with a 66 percent spike.
Impressive double-digit increases have occurred over the past academic year in two colleges: The College of Arts and Sciences produced 34 more Ph.D.s — a 24 percent increase — and the College of Education generated 23 more doctorates — a 61 percent increase. Within Arts and Sciences, perhaps the most notable upswing is in the FSU Department of Statistics, which jumped from six to 16 doctoral degrees — a spike of 167 percent.
Master's degrees also are on the upswing with an increase of 41 percent over the past 10 years.
The upward trend is no accident.
FSU administrators set a goal about seven years ago to increase graduate enrollment by about 2 percent annually, according to Nancy Marcus, dean of the FSU Graduate School and the Robert O. Lawton Distinguished Professor of Oceanography. Doctoral degree production is considered "an important metric in ranking of doctoral universities," especially those in the prestigious Association of American Universities, she said.
The recent increase in FSU doctoral degrees awarded could represent the first wave of students recruited as part of the university's focused efforts in doctoral education, Marcus said, explaining that the average time to complete a doctorate varies by discipline, but is currently about seven years.
Other factors that account for the recent surge include delays in graduation by some students due to the recession. Those students may have recently turned their attention toward completing their dissertations — the last hurdle to degree attainment, Marcus said.
Doctoral candidates typically need income and think it will not be a problem to complete a dissertation while they are working and away from campus.
"Unfortunately, this is not the case," said Marcus, who noted that FSU has made a strong effort to reach out to various academic programs and encourage them to renew contact with such students, establishing "plans and benchmarks" to facilitate the completion of their dissertations.
Faye Jones, the 36-year-old former assistant director of FSU's University Business Administrators Program, chose to pursue her doctorate in educational leadership and policy full time. She had the help of a graduate assistantship as well as funding from a two-year fellowship from the Association for Institutional Research and the National Center for Educational Statistics.
"I'm married with an 11-year-old son, so that played into my decision to pursue the degree full time," said Jones, the daughter of Cuban immigrants, who was raised in Brooksville, Fla., by her Cuban grandparents. She is the first in her family to earn a college degree — much less a Ph.D. So, for Jones, who considers Spanish her first language, it was particularly meaningful that her mother and grandmother attended her Aug. 6 graduation.
"For them, this is the end, it means I've made it, I've gotten this far," said Jones, who hopes to use her doctorate to teach at a university. "I definitely wanted to do this for my family."
For Tamika Royal-Thomas and Omar Thomas, the graduation ceremony was a "celebration of all the years of studying," a life passage that brought lots of family from Jamaica and was worthy of the feast of jerk chicken, rice and peas, and fried plantains they shared with family and friends.
"We tried to set goals before coming to the U.S. from our homeland, Jamaica," said Royal-Thomas, who recently interned as a statistician for Sanofi Pasteur, a vaccine pharmaceutical company, and has launched a nationwide job search. "We made sure we were very focused, that we started strong, continued strong and finished strong. We worked morning, noon and night for this."