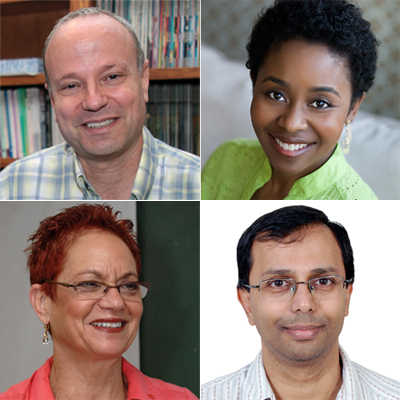 For only the second time in Florida State University's history, a faculty member has been awarded a Fulbright Distinguished Chair, one of the most prestigious appointments in the Fulbright Scholar Program.
David Whalley, the E.P. Miles Professor and chairman of the Department of Computer Science, was one of only about 40 people in the United States to receive a Fulbright Distinguished Chair this year. To be considered for a distinguished chair award, candidates must be eminent scholars and have significant publishing and teaching records.
Whalley's award, the Fulbright Distinguished Chair in Alternative Energy Technology, will allow him to spend the 2011-2012 academic year at Chalmers University of Technology in Gothenburg, Sweden. At Chalmers, he will collaborate with faculty in the computer science and engineering department to find ways to get computer systems to run more efficiently in order to conserve battery power. Conservation of battery power will allow computers and mobile devices to last longer on a single charge.
"I am very pleased and honored to have received such a prestigious award, and I am very excited to go to Chalmers University for this academic year," Whalley said. "Chalmers is a very respected university, and the faculty I will be working with are quite well known in computer architecture and processor design. It should also be an interesting experience living in another country."
In addition to Whalley, three FSU professors are doing their part to promote leadership, learning and understanding between cultures, thanks to grants from the Fulbright U.S. Scholar Program that will allow them to study abroad this year. The Fulbright Scholars are:
Marcía Porter, associate professor of voice in the College of Music
Ashok Srinivasan, associate professor in computer science
Lauren Weingarden, professor in art history
Porter will spend four months in the spring of 2012 at the Universidade de São Paolo in São Paolo, Brazil, where she will present lectures focusing on contemporary American and Brazilian classical art song literature written in the past 35 years. Further, in collaboration with Brazilian pianist Luiz Ricardo Basso Ballestero, she will present a series of recitals of both American and Brazilian contemporary classical vocal literature.
There are very few American singers who specialize in Brazilian classical vocal literature, and much of it is unknown outside of South America, Porter said. The Fulbright experience will allow her the opportunity to learn more about Brazilian culture and music, as well as share aspects of American musical culture with students and colleagues there.
"I do not know which aspect of my Fulbright grant I am most excited about: having the opportunity to live in a foreign country with my two young children, learning about another culture, sharing my love of singing classical music with new audiences, working with and learning from new colleagues, or finding new classical vocal literature," she said. "This is a truly wonderful and thrilling opportunity on so many levels."
Srinivasan will spend the Spring 2012 semester at the International Institute of Technology-Bangalore in India, where he will collaborate with researchers on developing computer simulations to study the impact of the human response to natural and man-made disasters, especially in relatively undeveloped nations. Such simulations can help policymakers evaluate the consequences of different decisions, but much of the work on these quantitative models so far has been based on developed societies.
For example, traditional scientific simulations of weather models can predict the rainfall and winds at different locations. Srinivasan hopes to develop simulations that can suggest actions policymakers can take to mitigate the impact of floods and other disasters, such as whether certain areas should be evacuated, whether dams should release water, or what disease prevention steps may need to be taken.
"My Fulbright project is inspired as much by my interest in community building as by the research opportunities it presents," Srinivasan said. "I hope it will expand the impact of high performance computing through the inclusion of researchers from more domains of knowledge, from more countries, working together to improved the lives of even larger numbers of people around the world."
Weingarden will spend four months in early 2012 conducting research and teaching at the Federal University of Minas Gerais (UFMG) in Belo Horizonte, Brazil.
She will research the outdoor museum of contemporary art, Inhotim, located in Brumadinho, Belo Horizonte. The museum collection is composed of installation art works, which she will place within a modernist historical perspective dating back to the 19th century. She also will teach a graduate course on contemporary art installation theory, practice and exhibition display that will include field trips to Inhotim.
"I am delighted to have the opportunity to research and teach at UFMG, where in May 2010, I held the Cathedra (chair) sponsored by the Institute for Advanced Transdisciplinary Studies (IEAT)," she said. "In that capacity, I taught a graduate-level course on word and image studies, which explores the relationships between verbal and visual means of representation and communication. While not widely practiced in the United States, Brazilian scholars have been actively engaged in this international field of research for several decades. The Fulbright provides me the opportunity to continue developing interdisciplinary methodologies with colleagues at UFMG, especially in comparative literature and the visual and performing arts."
Porter, Srinivasan, Weingarden and Whalley are among approximately 800 U.S. faculty and professionals who will travel abroad during the 2011-2012 academic year through the Fulbright Scholar Program. Fulbright Scholars are selected on the basis of academic or professional achievement and because they have demonstrated extraordinary leadership potential in their fields.