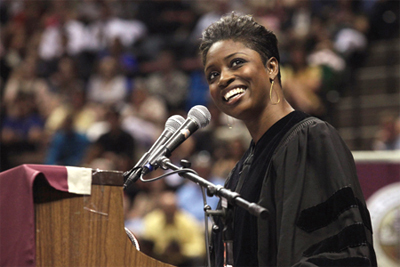 Graduating FSU students appeared more starry-eyed than usual on Aug. 6 as alumna, singer and award-winning actress Montego Glover radiated wit and wisdom in her lead role as Florida State's 2011 summer commencement speaker. Her advice to the graduates included five "fundamentals" that form what she called the "next-level survival kit" for the world beyond the classroom.
"First and foremost, stuff both your mind and body with good, nutritious food," Glover said. "By treating yourself with respect and love, you will teach others how to treat you. Second, tell the truth, on stage and off. Third, mind your money. After all, your parents adore you but they don't want to support you financially for the rest of your life. Fourth, keep your word. When you say you're going to do something, do it, so that you become a responsible member of your community, whatever that community is.
"And, finally, remember that you are one of a kind, there is no one else like you, but you are also replaceable," she said. "Knowing this will help you to stand up for yourself but also to know when to step aside for someone else and move on to other opportunities."
Of the more than 2,500 students graduating on Aug. 6, an estimated 1,200 were on hand to help Florida State President Eric J. Barron welcome Glover to the commencement ceremony, which kicked off just after 9 a.m. at the Tallahassee-Leon County Civic Center.
"If someone had told me when I was sitting where you now are that I'd be standing before you today, I would had laughed. Yet, here I am," Glover said in closing. "Your patience and resolve will be tested … but it will happen for you. Just be ready when it does. I send you love, light, and rocking hard Seminole spirit. Godspeed."
The crowd roared. Glover knows a thing or two about wowing audiences.
A 1996 honors graduate of FSU's renowned music theater program, she was nominated for a Tony Award for Lead Actress in a Musical for her role in the Broadway musical powerhouse "Memphis," which won four Tony Awards — including Best Musical — in 2010. That same year, Glover also won the prestigious Drama Desk Award and the Outer Critics Circle Award for Outstanding Actress in a Musical. She has previously starred on Broadway in "The Color Purple" as well as in leading roles in numerous musicals, including "Aida," "Ragtime" and "Dreamgirls."
She also has performed for President Barack Obama and first lady Michelle Obama and has performed in concert with the New York Pops at Carnegie Hall, the Library of Congress, the Chicago Humanities Council, and Jazz at Lincoln Center.
In addition, the multitalented, multitasking actress has appeared in the television series "The Good Wife," "Guiding Light" and "Law and Order." (Fans of those programs can check out her performances at www.montegoglover.com.)
Also lending major star power to the summer commencement ceremony was internationally
acclaimed choreographer — and alumna — Jawole Willa Jo Zollar, the founding and artistic director of New York-based dance company Urban Bush Women and an artist-in-residence in FSU's College of Visual Arts, Theatre and Dance.
Last spring, Zollar was named Florida State's 2011-2012 Robert O. Lawton Distinguished Professor, the highest honor bestowed by the FSU faculty on one of its own. At the Aug. 6 ceremony, the FSU community formally conferred that honor and recognized Zollar's extraordinary influence on her profession and university.
"Your contributions to the world of dance are stellar and transformational," said FSU Provost and Executive Vice President for Academic Affairs Garnett Stokes, reading from Zollar's achievement-filled Lawton citation. "You have made an indelible mark on the field by challenging assumptions and perceptions about body types and approaches to performance in both form and content. … As The New York Times asserted, you truly are contemporary dance royalty, an authentic first lady of dance."
"Being honored by your peers is just thrilling," Zollar has said. "Because I am in the performing arts, the research we do in this field looks different. I don't present papers at conferences; rather, my work is in the community and on the stage. To be recognized for that is truly wonderful."