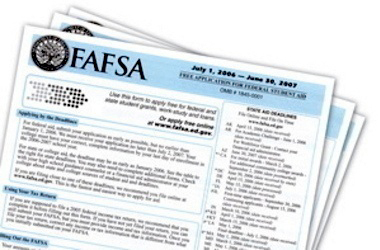 Florida State University students as well as those throughout the State University System who plan to receive many forms of federal or state financial aid in the 2011-2012 academic year must fill out a Free Application for Federal Student Aid (FAFSA) online form in order to comply with existing and new requirements.
Completing the FAFSA is critical because it is required to apply for any federal student aid, such as Pell grants, federal loans and work-study programs. In addition, the FAFSA also is used across the 11-institution State University System to apply for most state and university-specific aid, in addition to most scholarship applications. The State University System has a total of 321,503 students as of fall 2010.
"Attending college and obtaining a degree is one of the most important investments a person will make in his or her lifetime," said Darryl Marshall, director of Student Financial Aid at Florida State. "Financial aid opportunities exist from many sources to help students achieve their educational goals. To receive aid from federal, state and university funding, it is critical to complete the Free Application for Federal Student Aid online. The FAFSA is the gateway to financial opportunities and is required for Florida Bright Futures students starting with the 2011-2012 year. I encourage all students to apply — it's not too late!"
Some of the emerging and growing circumstances requiring a FAFSA that can occur outside of a traditional federal-aid determination include:
Eligibility for a student loan by another public source, or a private bank or credit union;
Meeting documented "need" as part of merit-based scholarships; and
Special work-study opportunities that may mandate the form.
"In addition to now being a legislative requirement for some financial aid, the FAFSA is quickly becoming the primary tool for assessing financial-aid eligibility beyond its traditional usage for federal-aid options such as grants and loans — so we are today sending out that message loud and clear," said State University System Chancellor Frank T. Brogan. "Further, it is a significant process in order to prepare the completed application to be reviewed by the federal government, so we want to especially ensure that any family or student who may qualify for a myriad of financial aid options has completed the application properly and on time."
Any student wanting to acquire federal loans during the current summer term would have needed to fill out a FAFSA that was confirmed as "error-free" before the corresponding deadline of June 30. Financial aid offices also recommend that students fill out the FAFSA as soon as possible for the new academic year — July 1, 2011, to June 30, 2012 — in order to be considered for the maximum amount of federal aid for which they may qualify. The student must have an error-free FAFSA prior to receiving any federal aid.
"The form, once completed and processed with federal error-free confirmation, will provide valuable information to university and college financial-aid offices about student eligibility for many types of aid," said Lynda Page, associate director of the Office of Academic and Student Affairs at the Board of Governors office for the State University System. "It is to the student's benefit to submit the FAFSA as soon as possible, since aid is generally on a 'first come, first served' basis, especially with federal dollars available for disbursement."
Page urged students to make time to see a financial-aid adviser or counselor on their campus.
If a student is separately anticipating scholarship funds for the 2011-2012 academic year, it is recommended by financial-aid officers at universities that students verify whether the FAFSA is needed to receive scholarship funds. If so, they must make sure to complete an error-free FAFSA by the time of their scholarship disbursement so that there are no surprises or challenges.
For more information, visit the FAFSA website or the Florida State University Office of Financial Aid website. Some of the many documents needed include the student's Social Security card; a driver's license, if applicable; the previous tax year's W-2 forms and other records of money earned; the student's (and spouse's, if married) previous year's federal income tax return; and any foreign tax return, or tax return for certain U.S. territories, such as Guam, the U.S. Virgin Islands and others as specified on the site. Other required information will be the student's parents' most recent federal income tax return (if the student is claimed as a dependent); the student's current bank statements; and any of the student's current business and investment or mortgage information, business and farm records, stocks, bonds and similar records.
Members of the news media seeking additional information can contact Kelly Layman, executive director of communications for the State University System of Florida Board of Governors, at (850) 245-0466 or kelly.layman@flbog.edu.