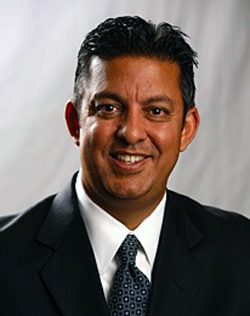 The Florida State University Foundation announced today the appointment of Andy A. Jhanji to the position of executive vice president. Jhanji comes to the Foundation from the University of Colorado Denver, where he served as vice chancellor for advancement and chief of staff.
In his new role, Jhanji will oversee the Foundation's day-to-day operations and continue to expand its advancement operations, in concert with Seminole Boosters and the FSU Alumni Association. In addition, he will play a key role in the planning and execution of a projected $1 billion capital campaign.
Jhanji has worked in public higher education for more than two decades. Prior to the seven years in his current position, he served as special assistant to the chancellor and director, research and technology transfer at the University of Colorado Denver. Jhanji also served as acting assistant vice president for research and director of compliance at Florida Atlantic University after beginning his career at Western Carolina University.
Jhanji earned a Bachelor of Science degree in 1988 and a Master of Project Management degree in 1991, both at Western Carolina. He is a doctoral candidate at the University of Colorado Denver.
"We are pleased to welcome to the Foundation someone with Andy's exceptional skills and experience," said Vice President for University Advancement and FSU Foundation President Tom Jennings. "A well-respected executive who has managed key advancement functions throughout his career, Andy will make an immediate impact on our leadership team. With his passion, breadth of experience and knowledge of fundraising, Andy represents the dynamic and visionary leader the Foundation needs at this critical time in our history."
"I am honored to have been selected as the executive vice president for the Florida State University Foundation," Jhanji said. "The opportunities under the leadership team of the university and Foundation are extraordinary. I look forward to joining the Seminole family and continuing its rich tradition while building upon its success."
Jhanji assumes his new position at the Florida State University Foundation on Aug. 15.
For more information, contact Susan Sigman, senior director of communications for the FSU Foundation, at (850) 645-8844 or ssigman@foundation.fsu.edu.
The Florida State University Foundation, Inc. enhances the academic vision and priorities of FSU through its organized fundraising activities and funds management. The Foundation, a nonprofit corporation established in 1960, is governed by an elected board of trustees, whose members serve as advocates for the university, its colleges, schools and programs.