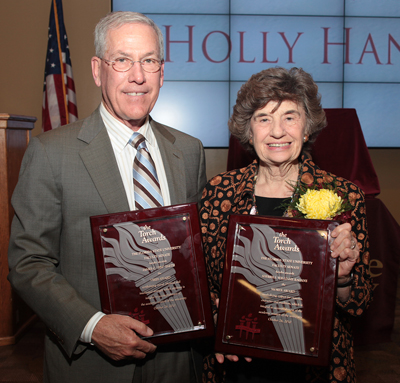 The Florida State University Faculty Senate has honored two individuals for their many years of dedicated service to the university during the Fall Meeting of the General Faculty. President Eric J. Barron also delivered his first state of the university address at the event. An archived webcast of the address can be viewed here.
Faculty Senate President Eric Walker presented Torch Awards to Sherrill Williams Ragans, a longtime Florida State employee and administrator, and alumnus James C. "Jim" Smith, former chairman of the FSU Board of Trustees.
The Torch Awards were established in 1996 as a way for faculty to honor friends of Florida State who have contributed significantly to the university's ability to fulfill its academic mission. The awards are named for the three torches in the university's seal: Vires, symbolizing moral, physical and intellectual strength; Artes, symbolizing appreciation of aesthetics and the beauty of intellectual pursuits; and Mores, symbolizing respect for customs, character and tradition.
Ragans received the Mores Award, while Smith was honored with a Vires Award.
"The Torch Awards this year honor two of the university's most devoted servants in recent decades, and the faculty of Florida State University are very pleased to express our thanks and honor their achievements," said Walker, an associate professor of English in addition to his role as president of the Faculty Senate.
For Ragans, the Mores Award was years in the making — just over 42, to be exact. After earning a bachelor's degree from Tift College, she arrived at Florida State in 1959 to accept a position as a residence-hall counselor. Her desire to work closely with students grew, and she later earned a master's degree in student personnel from the University of Southern Mississippi. Although chosen for various administrative positions throughout her career at Florida State, Ragans continued to maintain and nurture her student connections.
While working at the university, Ragans was chair of the building committee for the Student Life Building, which opened in 2000 (and was named for former Florida Gov. Reubin O'D. Askew in 2006); was a leader in the President's Task Force on Community and Service Learning; served as an adviser to the Golden Key National Honor Society; and was a member of the board of the Seminole Torchbearers student leadership organization.
After serving for 14 years as associate vice president of Student Affairs, Ragans retired from Florida State University in 2003, but has not cut off her ties with the university community. In appreciation of her exceptional service, the university named a new residence hall "Sherrill Williams Ragans Hall" in 2006.
"The opportunity to work as a student affairs professional with Florida State students for almost my entire career is indeed a privilege," Ragans said. "I watched (and hopefully assisted in small ways) several generations of students learn and embrace the values and traditions that make FSU the wonderful university community that it is. It is indeed an honor to be recognized for having some small part in ensuring the future of a strong FSU community around the world."
Jim Smith, meanwhile, has maintained close ties with his alma mater through a long and successful career in law and state government. He has held some of Florida's most prominent statewide elective offices, serving as state attorney general from 1979 to 1987 and as secretary of state from 1987 to 1995. (He again served as secretary of state on a temporary basis in 2002 at the request of then-Gov. Jeb Bush.) Among other public positions, Smith served as chief of staff in the Office of the Governor in 1987, was co-chair of the Florida Election Reform Task Force from 2000 to 2001, and was a senior staff assistant for then-Gov. Reubin O'D. Askew in the early 1970s.
Smith earned his bachelor's degree in public administration and government from Florida State in 1962 before going on to receive a juris doctorate from Stetson University College of Law. He has served FSU in numerous capacities, most recently as chairman of the university's Board of Trustees. Prior to that, he was president of the FSU Foundation Board of Trustees, the FSU Council of Advisors, the FSU Athletic Committee and the Florida State University National Alumni Association.
Among a variety of honors throughout his career, Florida State has presented Smith with the Bernie Sliger Award and an Honorary Doctoral Degree of Humane Letters. Omicron Delta Kappa, meanwhile, has recognized him as one of the university's Grads Made Good, and the Florida State Varsity Club inducted him into the FSU Athletic Hall of Fame.
"It is a great honor to receive an award from such a distinguished faculty," Smith said of the Vires Award. "As a student decades ago, I could have never imagined such an occurrence."
Also at the meeting, a newly redesigned Presidential Medal — a ceremonial medallion historically worn by Florida State University presidents at commencements and other major events — was bestowed on Barron.