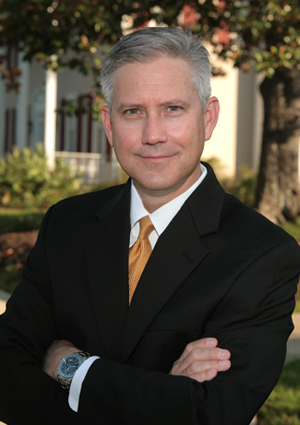 Homecoming at The Florida State University has always been an exciting time for returning alumni to join current students in celebration of an extraordinary institution and its unconquered spirit, and soon they'll be celebrating again during Homecoming 2010. The theme for this year's weeklong slate of events Oct. 30-Nov. 6 is "United Now, United Then."
The Alumni Association and Student Government Association (SGA) Homecoming Executive Council are promising a spirited lead-up to the Homecoming football game on Nov. 6 as the Florida State Seminoles take on the University of North Carolina Tar Heels at Doak Campbell Stadium.
"To understand the importance of Homecoming to the Florida State experience, one need only look at photos from our old yearbooks," said FSU Alumni Association President Scott Atwell. "Traditions like the parade and Chief and Princess are timeless and remain the same today, connecting generations of alumni with current students. We are all one Seminole family."
Homecoming began Saturday, Oct. 30, when Service Day volunteer activities had FSU students lending a helping hand throughout the Tallahassee community. In the afternoon, they tackled the Torch Pursuit and the "Odds and Evens Sports Competition" — a new twist on an event from FSU's days as the Florida State College for Women.
Service to the community is a recurring Homecoming theme. The proceeds from Sunday's FSUCares 10th Annual Homecoming 5K Run/Walk will help provide medical equipment and medical education supplies for local and international underserved populations. At Renegade Recess, FSU students will supervise playtime fun for 350 elementary school-aged students from the local Boys and Girls Clubs.
Among the many other Homecoming week events — both perennial and newer favorites — are the Homecoming Parade (Nov. 5); Pow Wow (Nov. 5); and the Alumni Association Homecoming Awards Breakfast (game day, Nov. 6),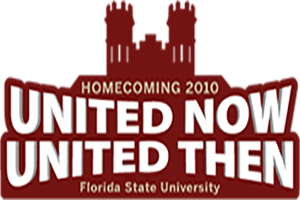 at which honors are bestowed on distinguished alumni and staff. Alumni also are encouraged to visit the Alumni Association Open House (Nov. 5) and join the game-day All-College Alumni Tailgate, hosted by FSU President Eric Barron and his wife, Molly.
The following list provides additional details on key Homecoming events planned for Oct. 30-Nov. 6. (For a complete roster of activities sponsored or co-sponsored by the SGA, visit the Homecoming 2010 website at homecoming.fsu.edu. To learn more about Alumni Association events, go to alumni.fsu.edu. For information on special activities that each of FSU's 15 colleges may be planning for their own alumni and students, visit the individual college websites; links to them can be found here.)
FSUCares 10th Annual Homecoming 5K Run/Walk (Sunday, Oct. 31, 4 p.m., co-hosted by FSUCares and the FSU College of Medicine) — Alumni, students and the general public are encouraged to participate. All proceeds go to FSUCares' medical philanthropic efforts. The race begins at the College of Medicine and ends at Warchant on Langford Green. After the race, all runners receive free admission to Warchant (other Run/Walk attendees are asked to donate two non-perishable food items for Second Harvest). Register for the Run/Walk at this link. Questions? Contact Sarah Weaver at sw08h@med.fsu.edu.
Warchant (Oct. 31, 7-9:30 p.m., Langford Green) — The annual event that kicks off Homecoming week includes a free concert — this year featuring rapper Ludacris, with Wale as the opening act — plus free food and a Chili Cook-Off Competition. In lieu of an admission fee, organizers ask each attendee to donate two canned food items for Second Harvest. Attendees may start lining up for the concert at 4:30 p.m.; students can enter with their FSU ID at 5:30 p.m.; the general public will be admitted at 6 p.m. Questions? Contact Warchant director Leah Aaronson at
lfa07@fsu.edu.
Faculty and Staff Reception (Tuesday, Nov. 2, 4-5 p.m., hosted by the Homecoming Executive Committee) — All FSU faculty and staff are invited to this elegant afternoon event that honors the employees of The Florida State University. The reception will include free beverages and desserts, and an opportunity to mingle with student leaders. It will be held at Doak Campbell Stadium in the President's Skybox. Attendees are asked to R.S.V.P. via email to sgahomecoming@admin.fsu.edu.
Renegade Recess (Thursday, Nov. 4, 4 p.m., Union Green; rain location will be Student Services Building 203) — A fun-filled example of FSU's dedication to community service and future Seminoles, Renegade Recess is a "recess break" staffed and supervised by FSU students and replete with themed booth activities for more than 350 elementary students from the Boys and Girls Clubs of Tallahassee. Questions? Contact Keisha Watts, Renegade Recess director, at kaw07h@fsu.edu
Homecoming Parade (Starts rolling at 2 p.m. Friday, Nov. 5) — Everyone is invited to watch the parade, which will feature its customary colorful array of floats from more than 100 campus organizations and c
ommunity groups — and, for the first time, the Anheuser-Busch Budweiser Clydesdales. As always, Renegade, Osceola, FSU cheerleaders, the candidates for Chief and Princess and the Marching Chiefs will be on hand. This year's Parade Grand Marshal is Dr. Charlotte E. Maguire, known for her lifetime of leadership in Florida's medical community, and for her financial contribution that jump-started the eventual creation of FSU's College of Medicine. The 2010 Faculty Marshal is Rita Moser, director of University Housing. The parade will begin on West Madison Street near the Tallahassee-Leon County Civic Center and heads east, turning north on Martin Luther King, west onCollege, south at Copeland in front of the Westcott Building, and east on West Pensacola, where it will conclude just west of the Civic Center. View the route map at this link. Questions? Contact Jessica Sartoretto at jls07z@fsu.edu.
Homecoming Open House (Nov. 5, 5-7 p.m., Pearl Tyner House and courtyard at the FSU Alumni Association, 1030 W. Tennessee St.) – The FSU Alumni Association invites everyone to kick off Homecoming weekend with food, fun and Seminole spirit. Admission is free for Alumni Association members, $10 for non-members. To learn more, contact Whitney Powers at (850) 645-9530 or wpowers@fsu.edu.
The 16th Annual Clock and Seal Leadership Banquet — sponsored by Burning Spear (Nov. 5, beginning at 5:30 p.m. at the Civic Center, prior to Pow Wow) — All current students, alumni, faculty and friends of Florida State are invited to celebrate leadership, devotion and service to the university as they meet and share their common experiences and memories. Tickets must be purchased no later than Nov. 1; they are $40 per person or $300 for a table for eight. Purchase tickets by e-mailing requests to president@burningspear.org
Pow Wow (Nov. 5, Tallahassee-Leon County Civic Center; doors open at 7 p.m., show starts at 8 p.m.) – Everyone is invited to Pow Wow, where this year's headliner will be comedian John Oliver, a writer and correspondent on Comedy Central's "The Daily Show with Jon Stewart." Opening for Oliver will be special guest Fred Armisen of "Saturday Night Live." FSU student tickets must be purchased in person at the Civic Center Box Office; advance tickets for students who present their valid FSU Card are $18 ($19 day of show). Tickets for the general public are $28.75 ($30.75 day of show) and can be purchased online; in person from the Civic Center Box Office or any Ticket Master outlet; or via phone at (850) 222-0400 or (800) 322-3602. A service charge may apply to tickets purchased by phone, online or at Ticket Master outlets. Questions? E-mail Pow Wow director Matthew Zukowsky at powwow@admin.fsu.edu.
FSU Panama City Campus 22nd Annual 'Nole Fest (Nov. 5, 6-8 p.m., behind the Holley Academic Center on Florida State's Panama City campus) — Free and open to the public, this homecoming tradition is geared to the entire family and includes family-friendly entertainment, live music and great food. The event also will feature the lighting of the bonfire and the 22nd annual Torch Run. To learn more, contact Christy Grant, event coordinator for the Panama City campus, at (850) 770-2155 or cgrant@pc.fsu.edu.
Alumni Association Homecoming Awards Breakfast (Saturday, Nov. 6, Oglesby Union ballrooms) -The doors open at 8 a.m. and the program begins at 8:30 a.m. Among those to be honored are Provost and Vice President for Academic Affairs Lawrence Abele, the recipient of the Alumni Association's 2010 Bernard F. Sliger Award for Service. Other honorees will include Parade Grand Marshal Dr. Charlotte Maguire, and the two 2010 "Grads Made Good" recipients — James Oliver, a Distinguished Professor at Georgia Southern University, and Lt. Gen. Frank Hagenbeck, former superintendent of West Point — chosen by the FSU Circle of Omicron Delta Kappa (ODK). In addition, the identity of Garnet and Gold Key's 2010 Ross Oglesby Award winner will be revealed at the breakfast. Tickets are $12 each until Nov. 1 ($20 thereafter), and can be purchased online at this link. For more information: Whitney Powers, Alumni Association, (850) 645-9530 or wpowers@fsu.edu.
Initiation Ceremony for FSU Circle of ODK National Leadership Honor Society (Nov. 6, Oglesby Union, rooms 312-313) — The brief initiation ceremony for the 43 new members of the FSU Circle of ODK is expected to begin at around 9:30 a.m., or immediately following the Alumni Association Homecoming Awards Breakfast. All ODK Circle members, including alumni and faculty, are invited to attend. The event is free; no advance reservations are required, though seating will be limited. To learn more, contact ODK President Stephen Fischer at (850) 819-2698 or sjf07d@fsu.edu, or e-mail ODK advisor Adrienne Frame at aframe@admin.fsu.edu.
All-College Alumni Tailgate (Nov. 6
, outside Dick Howser Stadium, beginning three hours prior to kickoff) — Florida State alumni from all 15 colleges are invited to socialize in the hours leading up to the Homecoming game. The All-College Alumni Tailgate will feature food, entertainment, a cash bar and plenty of Seminole spirit. Tickets are $10 and can be purchased online here. For more information, contact Mandi Capeletti Young at mcapeletti@fsu.edu.
Homecoming game — Florida State Seminoles vs. University of North Carolina Tar Heels (Nov. 6, Doak Campbell Stadium) — By no later than noon on Oct. 31, ESPN/ABC is expected to announce a kickoff time of either 3:30 p.m. or 8 p.m.