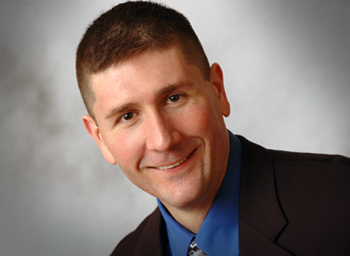 A Florida State University graduate student who is pursuing a doctoral degree in social work has been awarded a competitive fellowship to pursue research on the needs of military veterans who have suffered from a traumatic brain injury.
David Albright was one of 24 students to be selected for participation in the RAND Graduate Student Summer Associate Program from a field of more than 500 applicants. He is conducting his research at RAND's Santa Monica, Calif., headquarters and will receive a stipend of about $14,000.
"I was so excited upon learning of my selection to the program," Albright said. "How many other programs immerse you in an organizational culture built on nonpartisanship and interdisciplinary cooperation, provide you with the funding and tools to effectuate your objectives and near autonomy during the process? But what really interested me was the opportunity to conduct research in a critical area that will have immediate policy implications."
During his three months at RAND, Albright will be working in the Center for Military Health Policy Research to evaluate the educational needs of service members and their families about traumatic brain injury (TBI). TBI results from a force to the head where portions of the brain are damaged and functioning is impaired.
"It's a real concern for military service members facing the threat of improvised explosive devices, land mines, road-side bombs and rocket and mortar shells," he said. "It's also problematic for military families who are often unprepared for the challenges of living with and/or caring for a loved one with a TBI."
The RAND Graduate Student Summer Associate Program is unique in that it matches graduate students with RAND senior research staff members who have the same academic background and will mentor the students. Students are selected for the program only if there is a good match between the student's interests and skills and the needs of an ongoing RAND research project.
Albright is working on the TBI project with RAND researchers Lisa Meredith, a senior behavioral scientist, and Andrew Parker, an associate behavioral and social scientist.
A military veteran who has already earned a master's in social work from Florida State, Albright expects to continue pursuing research focusing on the needs of military service members and their families after he earns his doctorate in 2011. He is simultaneously working on a master's degree in measurement and statistics.
Social Work Professor Bruce Thyer, Albright's major professor, said Albright is well deserving of the appointment to the RAND program.
"It is a tribute not only to David's significant accomplishments as a Ph.D. student but also to the high standards of the Florida State University Graduate School that he has been appointed to this highly selective research position with the Rand Corporation in California," he said. "All of us within the College of Social Work are extremely proud of David and his work."
The RAND Corporation is a nonprofit institution that helps improve policy and decision-making through research and analysis. The institution conducts research on a wide range of national security problems and domestic and international social policy issues.