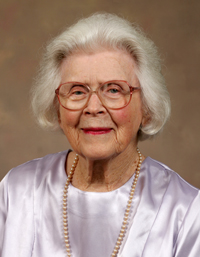 An Honorary Doctorate of Science will be conferred on FSU Professor Emerita of Chemistry Katherine "Kitty" Blood Hoffman for distinguished contributions to the institution she has loved and served—as a student, alumna, faculty member, administrator and benefactor—for 75 years. The ceremony is part of Florida State University's annual Fall Meeting of the General Faculty at the FSU Alumni Center, Sept. 20.
Kitty Hoffman
Hoffman, whose extraordinary relationship with FSU stretches from the Great Depression to the 21st century, is slated to receive her honorary doctoral degree shortly after the fall faculty meeting convenes at 3:30 p.m. Werner Hertz, a long-time friend of Hoffman and FSU Professor Emeritus of Chemistry and Biochemistry, is the featured speaker.
FSU President T.K. Wetherell will participate in the honorary degree ceremony for Hoffman, along with Lawrence G. Abele, Provost and Executive Vice President for Academic Affairs, and Dean of the Faculties Anne Rowe.
Wetherell also will make brief remarks to the gathered faculty regarding the state of the university. The full text of the president's 2007 State of the University address will be posted online tomorrow afternoon, in conjunction with the meeting, at president.fsu.edu/state/.
The fall faculty meeting also will include the presentation of FSU's annual Torch Awards, this year to three individuals, for contributions to excellence in academic programs. At the conclusion of the meeting, FSU will host a reception for Hoffman, faculty and invited guests at the President's House, located adjacent to the Alumni Center on West Tennessee Street.
"We are deeply honored to present this honorary doctorate to Kitty Hoffman, who has been an integral presence at this institution for seven decades," Wetherell said. "Beginning as a student at the Florida State College for Women, she became a tireless alumna and, for more than four decades, a distinguished faculty member and administrator. We all owe so much to this award-winning academician and teacher, gracious colleague and beloved mentor who has made countless contributions to the creation and preservation of our university's great heritage."
Rowe declared no one more deserving of today's recognition than Hoffman. "Her selfless dedication to Florida State University is nothing short of legendary," she said.
Against the backdrop of the Great Depression, Hoffman's tuition as a student at FSCW was paid with truckloads of oranges from her father's Polk County groves. Hoffman earned free meals serving fellow students as a "Dining Room Girl" and despite the long hours, also found time and energy to serve as president of the Student Government Association, captain the baseball and volleyball teams, write for The Flambeau, and earn membership in Phi Beta Kappa and numerous other campus and honorary organizations. In her senior year, her classmates chose Hoffman as the yearbook's representative of "charm."
Hoffman received her undergraduate degree in bacteriology from FSU in 1936, earned a master's degree from Columbia University, and was accepted to the medical school at Duke University. At that time, however, Duke required female medical students to remain single. Stung by what she viewed as an unfair policy, Hoffman, who married in 1938, instead embarked on a teaching career. She returned to her alma mater in 1940 to begin a then-unconventional life as a wife, mother and professor—and in a scientific realm comprised of very few women.
During her nearly 40-year tenure at FSU as a member of the chemistry department faculty, Hoffman authored several textbooks and many articles, and was widely recognized for her scholarship and commitment to the advancement of her field. She won multiple awards for teaching; in fact, students often described her as "the most wonderful teacher" they had ever had.
From 1967 to 1970, Hoffman also served as FSU's Dean of Women, and then as president of the Faculty Senate from 1980 to 1982.
After Hoffman's retirement from teaching in 1984, the chemistry department dedicated the Katherine B. Hoffman Teaching Laboratory in her honor. Subsequently, Hoffman and her husband, Harold, established the $100,000 Katherine Blood Hoffman Endowed Scholarship in Chemistry. In 2002, the FSU Seminole Club of New York City created the Kitty Hoffman Service Award—and Hoffman herself was its first recipient.
Recognized as an energetic and effective alumna, Hoffman established the first FSCW alumni chapter outside the state of Florida, which originally was intended to assist members who were attending the 1938 World's Fair in New York City.
During a remarkably productive retirement, Hoffman has served as a board member for the FSU Alumni Association and trustee for the FSU Foundation; chairwoman of the Emeritus Alumni Society; and co-chairwoman of FSU's Sesquicentennial Celebration. She was honored by the Seminole Boosters as a "Champion of the Game" in women's athletics, has been an active member of the Retired Faculty Association, a passionate patron of FSU music and theatre, and a frequent guest lecturer about the university's history—of which she has been an integral part.
Hoffman's nomination as a candidate for the Honorary Doctorate of Science was supported by dozens of enthusiastic letters from former colleagues.
Those letters—from the likes of former FSU Dean of Arts and Sciences Robert A. Spivey, College of Social Sciences Dean and Professor Emerita Marie E. Cowart, and Professor Emeritus of chemistry Gregory R. Choppin, among many others—laud Hoffman's "exceptional citizenship," her "continued, long-lasting impact on the quality of education and leadership," and her "unceasing curiosity and engagement" with the world around her. One letter cites the "absolute commitment, competence and integrity" with which she has unceasingly conducted every aspect of her life, another her unflagging advocacy on behalf of the advancement of women faculty members.
Just as Hoffman's FSCW classmates did more than 70 years ago, FSU Professor of sociology Patricia Yancey Martin also praised her boundless charm. In a letter of support for the honorary doctorate, Martin wrote, "(Hoffman) inspires all who come into her presence to behave better, straighten their shoulders and stand taller—in short, to be their very best."