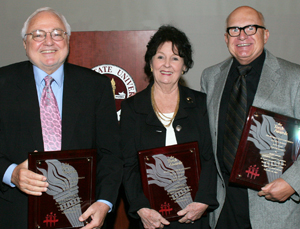 The Florida State University Faculty Senate has honored three individuals—pioneering film professor Don Ungurait, nationally known religion scholar Leo Sandon and FSU Foundation innovator Frances "Frankie" Strickland—with Torch Awards for their contributions to excellence in FSU's academic programs.
From left, Leo Sandon, Frankie Strickland and
Don Ungurait
Faculty Senate President Jayne Standley presented the awards during the Fall Meeting of the General Faculty.
The ARTES Torch Award, symbolizing appreciation of aesthetics and the beauty of intellectual pursuits, was presented to retired faculty member Don Ungurait. An influential expert in his field, Ungurait was instrumental in founding the FSU School of Motion Picture, Television & Recording Arts and was its first dean. He joined the FSU faculty in 1968 and served as acting chairman of the department of mass communication, as well as the vice provost of Communication and the Arts. He has received numerous teaching and service awards, and in 1990 the Association of Independent Commercial Producers named him Film Educator of the Decade for his leadership in directing the Florida Motion Picture and Television On the Job Training Program. He also produced the Florida State Summer Media Jobs Workshops for disadvantaged Dade and Broward County African-American and Hispanic youth.
He is the co-author of a widely used introductory text, "Mass Media: An Introduction to Modern Communication," and has directed more than 50 educational, community and professional theater productions. At the recent Fort Lauderdale Film Festival, Blockbuster Video endowed a scholarship in his name at the FSU film school. Blockbuster had previously helped him establish the "Donald F. Ungurait/Blockbuster Film and Video Library," which has been a tremendous asset for film students. Ungurait has continued contributing by teaching at the FSU London Program.
The MORES Torch Award, which honors respect for customs, character and tradition, was presented to retired Distinguished Teaching Professor of Religion, and American and Florida Studies Leo Sandon. Former director of the American and Florida Studies program, Sandon came to FSU in 1969. A leader on the faculty, he founded and directed the Institute for Social Policy Studies, has received several research and teaching awards and was designated Distinguished University Teacher in 1991. He procured FSU's first eminent scholar chair in the humanities, "The Lucius Moody Bristol Eminent Scholar Chair in Social Ethics," for the religion department and is the co-author of a widely used textbook, "Religion in America," now in its second edition.
He has published more than 150 academic articles and essays, and writes a regular column, "Religion in America," for the Tallahassee Democrat. He is an expert on religion in American history and culture, American intellectual history, aging studies and Florida studies. An active participant in university governance affairs, Sandon served as president of the FSU Faculty Senate from 1988 to 1990. He was chairman of the Department of Religion from 1990 to 1996.
The VIRES Torch Award, symbolizing moral, physical and intellectual strength, was presented to Frankie Strickland. Strickland has been a loyal member of the Florida State community, serving with distinction on the FSU Foundation Board of Trustees for many years. In fact, in that capacity, she was one of the founding members of the Torch Awards Committee and was instrumental in developing the model for the three awards.
Strickland, who lives in Cairo, Ga., also established a program to recruit students from south Georgia to attend FSU using special out-of-state tuition waivers. A 1956 graduate of FSU, she is the former owner of Advanced Travel Agents International in Tallahassee. In addition to the FSU Foundation board, she has served on the FSU Alumni Association Board of Directors, was a founding member of the University Center Club Board of Governors, and is a Seminole Booster. She has been a member of The Georgia School-Based Speech-Language Pathology Leadership Team, as well as serving as a community adviser for the South Georgia Ballet Board of Directors.