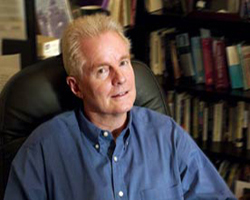 David Kirby, an FSU English professor since 1969, has received the 2006-2007 University Distinguished Teacher Award. Kirby specializes in nineteenth-century U.S. literature and creative writing (poetry). A gifted and globally acclaimed author, he is also an exceptional teacher.
"David is the model for all of us," said Joseph Travis, dean of the College of Arts and Sciences. "He is, if anything, more committed to his students than ever, even after being recognized so often for his many, many accomplishments. David continues to reach new levels as a writer, scholar and teacher, and it's almost unfair to have that much talent combined with that much dedication in a colleague who is also just a genuinely swell guy."
Kirby is the author or co-author of 22 books, including the poetry collections The Ha-Ha, The House of Blue Light and The Traveling Library, in addition to a collection of essays, What Is a Book? His verse has appeared in such publications as The Kenyon Review, Southern Review, and Ploughshares. A member of the National Book Critics Circle, Kirby also writes regularly for The New York Times Book Review, The Atlanta Journal-Constitution and The San Francisco Chronicle. His latest books, "Ultra-Talk: Johnny Cash, The Mafia, Shakespeare, Drum Music, St. Teresa of Avila and 17 Other Colossal Topics of Conversation" (University of Georgia Press) and "The House on Boulevard St." (Louisiana State University Press), were published this spring.
He has received many honors for his work, including the Brittingham Prize in Poetry, the Kay Deeter Award, the Guy Owen Prize, the James Dickey Prize, the Millennium Cultural Recognition Award, two appearances in Best American Poetry and four Pushcart Prizes. He has been awarded a Guggenheim Fellowship and grants from the National Endowment for the Arts and Florida Arts Council.
Kirby has a word of advice to any faculty member who wants to be the teacher of the year: Find a subject that students can't stand and then do a great job of teaching it to them.
"I've noticed in the past that when Provost (Lawrence G.) Abele reads student remarks about the prize-winning teachers, they often begin very negatively," Kirby said. "The student would say, 'I hated math until I took Dr. So-and-so,' or 'I couldn't stand statistics, but then I signed up for Profesor Such-and-such's class.'
"For the most part, I teach writing workshops that are small," Kirby said. "The students are very well trained in advance. They like their subject matter. I had the burden of not teaching a despicable course. Then a couple of years ago, I started teaching a 'critical issues' class in our department. It's a required course and it's heavily theoretical. So here I was teaching this unpopular class, and the next thing you know, I'm the teacher of the year. My advice to anybody else who wants to win this award is that, if you're teaching classes that are popular, get out of them."
After being honored with this year's University Distinguished Teacher Award, there aren't many other teaching awards left at FSU for Kirby to receive. In 2003, he was named a Robert O. Lawton Distinguished Professor, which is the highest faculty award at FSU. He is a two-time recipient of the university's Teaching Incentive Program Award (1994, 1999), a two-time recipient of the University Teaching Award (1992, 1997), and has won the FSU College of Arts and Sciences' Teaching Award (1990).
"The way I think as a teacher is not much different than the way I think as a writer," said Kirby of his teaching style. "You need to have a plan, but you need to be able to deviate from that plan when circumstances dictate."
As such, Kirby begins his classes planning to cover six or eight key points. "I know which one I want to start with and I know which one I want to end with," he said. However, after years of classroom discussions, Kirby knows that new ideas bloom at unlikely times and students often ask questions that he could not possibly plan for. "If I'm in the classroom and a student asks a question that may have to do with a topic that I haven't thought of yet, I might need to point the discussion in this new direction. I might end up throwing out three of the points I was going to use and put in three or four that the students suggest."
A willingness to stay open to the natural ebb and flow of classroom discussion is as important to good teaching as having a genuine concern for students and their ultimate success, according to Kirby. "The students that I run into tend to be extroverts," he said. "They have things to say, they are socially gregarious, but that doesn't mean they're always the best students when I meet them. A teacher needs to know how to turn those qualities toward academic inquiry. The best of them are extremely inventive – I think more so than I was at that age. Good teaching is partly giving them direction and it's partly knowing when to stand back and let them produce on their own."
Read more about David Kirby in the Winter 2004 edition of Research in Review.