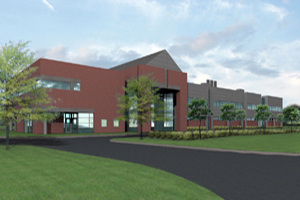 With the ceremonial scooping of several shovelfuls of dirt, Florida State University has broken ground on a new facility that could vault FSU to the top of the list of American universities specializing in the research of new materials.
FSU administrators, joined by Tallahassee-area economic development officials, celebrated the groundbreaking of the new Materials Research Building in Tallahassee's Innovation Park on Monday, May 21.
"With the additions of this new building and several faculty positions funded under FSU's 'Pathways of Excellence' initiative, we will be among the nation's best research centers in advanced composites," said Kirby Kemper, vice president of Research at FSU. "This truly marks the beginning of the next generation of lightweight, high-performance composite materials."
The $17 million building, which is scheduled to be ready by fall 2008, will be a two-story, 44,000-square-foot facility that houses 13 laboratories for the design, processing and characterization of advanced materials and systems. When completed, it will house FSU's Center of Excellence in Advanced Materials, which was established in November 2006 through a $4 million grant from the State University System's Board of Governors.
The new facility also will be the first LEED-certified building to be constructed by FSU. LEED, short for the Leadership in Energy and Environmental Design Green Building Rating System, is the nationally accepted benchmark for the design, construction and operation of high-performance, environmentally responsible buildings.
"Working closely with many industrial partners, our research will benefit the aerospace, auto, defense, electronics and wind-energy industries by providing lightweight, safe, energy-efficient and cost-effective composite systems," said Ben Wang, the Simon Ostrach Professor of Engineering at the Florida A&M University-Florida State University College of Engineering and director of the Center of Excellence in Advanced Materials.
"This building also will provide the resources for us to provide work-force training to attract industry and create jobs in the area," Wang said.
The new Materials Research Building will be located on Levy Avenue, adjacent to FSU's National High Magnetic Field Laboratory, Applied Superconductivity Center and Center for Advanced Power Systems, as well as the FAMU-FSU College of Engineering. The new building's proximity to those facilities is seen as one of the advantages of the location.
"Materials research, by its very nature, is multidisciplinary, involving basic sciences such as chemistry and physics, as well as various branches of engineering," Kemper said. "Building the new research facility in an area where so much cutting-edge work already is taking place will provide a healthy environment for the sharing of new ideas and approaches."
Even before the establishment of the Center of Excellence in Advanced Materials, FSU already was recognized for the innovative efforts of several facilities devoted to materials science. Among them:
The Center for Materials Research and Technology, better known as MARTECH (www.martech.fsu.edu), is an interdisciplinary center for education and research in materials science that has operated at FSU since 1986. Pulling in researchers from the fields of physics, chemistry, biological sciences and engineering, MARTECH focuses on magnetic, biological and hybrid micro- and nanotechnologies.
The High-Performance Materials Institute (HPMI, http://hpmi.net/), operated by the College of Engineering, is a multidisciplinary research institute striving to sustain U.S. leadership and accelerate growth in advanced composites by making multifunctional composites the design choice for lightweight, high-performance engineered systems. The new Materials Research Building will serve as the headquarters for HPMI and the Center of Excellence in Advanced Materials, which recently was awarded to FSU by the Board of Governors based on an HPMI proposal. One focus of the institute's research that has drawn particular interest is its work with "buckypaper," a material 10 times lighter than steel but 250 times stronger. Buckypaper has shown promise in a variety of applications, including the development of aerospace structures, the production of more-effective body armor and armored vehicles, and the construction of next-generation computer displays.
The Applied Superconductivity Center, which recently relocated to FSU from the University of Wisconsin, works closely with the National High Magnetic Field Laboratory to develop materials for the next generation of superconducting magnets. The center also develops new materials for instruments used in medical science.
"When you add all of our various research components together, it's clear that FSU is reaching critical mass in the field of materials science," Kemper said. "Once the new Materials Research Building is complete, I believe we'll be recognized as one of, if not the, preeminent university in the nation in this critical area of research."