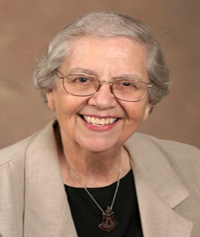 One of Florida State University's most tireless goodwill ambassadors has been recognized for her remarkable dedication and efforts in researching and preserving the history of FSU. The university has conferred upon Mary Lou Norwood an Honorary Doctorate of Humane Letters at a ceremony held in conjunction with the 60th anniversary of her graduating class of 1947.
"Mary Lou is diligent in her passion for FSU," said Donna McHugh, the university's assistant vice president for community relations. "Her incredible efforts to preserve and make others aware of FSU's history are remarkable."
"The Alumni Association joins with many others, especially those in the Emeritus Society, who have long admired and appreciated the work that Mary Lou has done on behalf of her alma mater," said Barry Adams, president of the FSU Alumni Association.
Norwood's personal history with the Florida State College for Women (FSCW) dates back to when she was a child. Born in Tallahassee on July 9, 1925, she grew up within a block of the FSCW campus, where she often played. She attended kindergarten, grammar and middle school at the FSCW Demonstration School and high school at the FSCW Florida High School. She went on to attend FSCW, where she received a Bachelor of Arts degree in English and minored in technical theater. She graduated in the transitional class of 1947, when FSCW became the coeducational Florida State University. She was a member of the only class for which both institutional names appear on the diploma.
"Few, if any, other individuals have been as profoundly influenced over a lifetime by the culture of Florida State as has Mary Lou," said Sarah Lewis Marxsen, president of the Class of 1947. "She has made too many contributions to FSU to name them all and is the personification of the concept that education is a lifelong venture."
For decades, Norwood has been consistently involved with numerous FSU projects and activities and continues to dedicate her time, energy and vast institutional knowledge to FSU. She is co-founder and co-chair of the executive committee for the Heritage Protocol, a university-wide effort to locate, record and preserve historic items and promote knowledge about the heritage of FSU. There is now a $100,000 Mary Lou Norwood Endowment for the Heritage Protocol, made possible by an anonymous donation. The university also now has an archivist to help in this initiative.
"When I think of the history, values and traditions of this institution I think of Mary Lou Norwood," said Nancy Marcus, the Robert O. Lawton Distinguished Professor of Oceanography at FSU and dean of Graduate Studies. "There is no doubt in my mind that without her commitment and intelligence, our understanding, knowledge, recognition and celebration of the history of this institution would still be hidden in the closets of its oldest buildings and in the minds of its many alumni."
Norwood's work with the FSCW and FSU synchronized swimming team, The Tarpon Club, includes being its lighting director for its home show from 1958 to 1992 and making two films about the club, "A Dip in Dixie" and "Tarpon Traditions." Norwood was the Class of 1947 chairwoman for planning, fundraising and dedication of the Heritage Tower, built in 1998, and still serves as adviser and consultant. Norwood also was the Class of 1947 chairwoman for editing and publishing history and is credited with being a driving force in the production of the book "Femina Perfecta" by Robin Sellers. In addition, Norwood is the writer and compiler of the book, "A Century of Women's Sports 1905-2005," published by the Seminole Boosters, and is currently working as co-writer and co-editor of a publication about the history of the former President's House at FSU, as recounted by the First Ladies of FSU who lived there.
"She has helped the university look forward toward a better future at the same time that she has relentlessly encouraged us not to lose sight of our past," said Talbot "Sandy" D'Alemberte, FSU president emeritus and professor of law.
Norwood has been recognized by FSU with a Circle of Gold award given by the FSU Alumni Association, a Mores Torch Award given by the FSU Faculty Senate and a Commitment to Excellence award given by the FSU Emeritus Society.