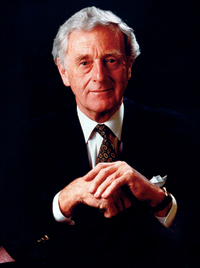 John Seigenthaler, who founded the First Amendment Center in 1991 to create national discussion, dialogue and debate about First Amendment rights and values, will speak at Florida State University Thursday, April 12, 2007, at the Claude Pepper Building.
Seigenthaler, the subject of a false Wikipedia 'biography,' will speak on: "The wonderful world of Wikipedia: Sinbad, Ann, Fuzzy and me."
A former president of the American Society of Newspaper Editors, Seigenthaler was an award-winning journalist for more than four decades at The Tennessean, Nashville's morning newspaper, and at his retirement, its editor, publisher and CEO. He retains the title Chairman Emeritus. In the early 1960s, Seigenthaler left journalism briefly to serve as assistant to Attorney General Robert F. Kennedy. His work in the field of civil rights led to his service as President John F. Kennedy's chief negotiator with the governor of Alabama during the Freedom Rides. During that crisis, while attempting to aid Freedom Riders, he was attacked by a mob of Klansmen and hospitalized.
In 1982, Seigenthaler became founding editorial director of USA Today and served in that position for a decade, retiring from both the Nashville and national newspapers in 1991.
In 2002, the trustees of Vanderbilt University created the John Seigenthaler Center, which houses the First Amendment Center he founded, the Freedom Forum (a nonpartisan foundation dedicated to free press, free speech and free spirit) and the Diversity Institute.
The First Amendment Center works nationwide to preserve and protect First Amendment freedoms through information and education. It also serves as a forum for the study and exploration of free-expression issues—freedom of speech, of the press, and of religion, and the right to assemble and petition the government.
The lecture is sponsored by the FSU College of Social Sciences' Anderson-Ashby Lecture Series. To learn more, visit the College of Social Sciences Web site at www.coss.fsu.edu or call (850) 644-6284.