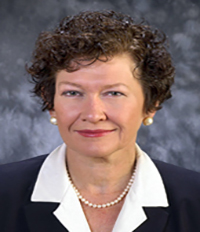 Florida State University alumna Julia Zimmerman will return to her alma mater to serve as the director of University Libraries, effective July 1.
Zimmerman, who currently serves as dean of University Libraries at Ohio University in Athens, Ohio, succeeds F. William Summers who has been serving as interim director since Althea Jenkins retired in 2006.
"Julia began her work in the library field at FSU, and we are fortunate to now welcome her home to reap the benefits of her vast experience," said Provost and Executive Vice President for Academic Affairs Lawrence G. Abele. "She has the vision and the leadership skills necessary to manage all of the functions of FSU's libraries."
As director of University Libraries, Zimmerman will oversee a staff of 129 and a budget of about $15 million. She will have daily oversight of six of the university's 10 libraries, including the main Robert Manning Strozier Library, the Paul A.M. Dirac Science Library and the Engineering Reading Room on the Tallahassee campus, as well as the Ringling Library in Sarasota and library facilities at FSU's Panama City, Fla., and Republic of Panama campuses. She will coordinate operations with personnel at the four other FSU library facilities.
"FSU is a very impressive institution that aspires to join the top tier of research universities, and it's an honor to be asked to lead its libraries at this point in its history," Zimmerman said. "I look forward to developing library resources and services to the level of excellence that a great institution deserves."
In her current position at Ohio University, Zimmerman oversees a budget of $12 million and about 105 full-time employees. During her tenure there, she developed a $25 million renovation of the main library and increased use of library materials and services by more than 30 percent.
Before joining OU in 1999, she served in several capacities at the Georgia Institute of Technology Library. Beginning in 1979, she has held positions as the head of the systems department, assistant director for information services and associate director. In that capacity, she was responsible for the day-to-day operation of the library. Before that, she was an assistant librarian and serials cataloger at Pennsylvania State University.
Although she had no idea at the time that it would lead to a lifelong career in library science, Zimmerman's first library job was as a clerk/typist at FSU's Strozier Library. She took the job after earning a bachelor's degree in English from FSU in 1970. She then earned a master's in librarianship from Emory University in Atlanta, Ga., in 1976.
She has been active in the American Library Association/Association of College and Research Libraries (ACRL) and most recently served on the ACRL Excellence in Academic Libraries Awards Committee. In addition, she serves as chair of the board of trustees of OhioNet, a membership organization that provides Online Computer Library Center and other products and services to libraries in Ohio, West Virginia and western Pennsylvania.