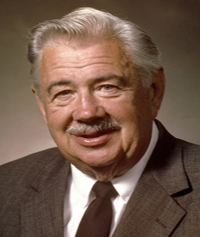 Marking the 156th anniversary of its founding, Florida State University will celebrate its seventh annual Heritage Day on Feb. 3 by honoring FSU President Emeritus Bernard F. Sliger, whose tenure from 1977 to 1991 encompassed a period of prolific growth and achievement.
Saturday's tribute to modern-day FSU's 10th and longest-serving president will begin at 11 a.m. at the FSU Alumni Center, 1030 W. Tennessee St. Sliger is expected to attend the event, which will feature the screening of a special video salute and the unveiling of a bronze statue of him created by artist and FSU alumna Melinda Copper.
Remarks from FSU President T.K. Wetherell will kick off the Heritage Day program, followed by reflections from long-time Sliger friends and colleagues Marjorie Turnbull—a former state representative and retired vice president for Institutional Advancement at Tallahassee Community College—and Gus A. Stavros, the businessman-turned-philanthropist whose generosity to FSU helped build its Stavros Center for the Advancement of Free Enterprise and Economic Education. During Sliger's tenure, Turnbull's late husband, Augustus B. Turnbull, served as provost. Sliger became the director of the Stavros Center after he retired as FSU president.
"Dr. Sliger remains one of Florida State's outstanding presidents, exemplifying the qualities any university would want in that office," Wetherell said. "He promoted higher academic standards and the growth of each faculty member, staff person and student. But for Bernie Sliger, FSU would not be the institution it is today."
Best-known as "Bernie," Sliger served as FSU president from 1977 to 1991 after four years as the university's executive vice president and chief academic officer. The popular leader was asked to return to the helm as interim president after his successor Dale Lick resigned in 1993. Sliger served in that capacity until Talbot "Sandy" D'Alemberte became president in 1994.
During Sliger's tenure and as student enrollment increased by nearly one-third, the university acquired the National High Magnetic Field Laboratory (after winning it away from the Massachusetts Institute of Technology); its Panama City campus; the Florida A&M University/FSU School (now "College") of Engineering; and the supercomputer. Meanwhile, FSU rose to the pinnacle of intercollegiate athletics and joined the Atlantic Coast Conference, got funding for the multimillion-dollar University Center, and first explored the idea of a College of Medicine.
Behind Sliger's modest manner was a keen intellect and a serious scholar highly regarded as an economist. A native of Trout Creek, Mich., Sliger held three degrees in economics—a bachelor's, master's and doctorate—from Michigan State University, and later taught there. He also taught at FSU, Louisiana State University and Southern University.
As president, Sliger was widely regarded as a friend to FSU students and faculty alike. He spearheaded the campus' first "President's Ice Cream Social"—a tradition that continues today, and frequently invited students to his backyard for volleyball or Frisbee games. A staunch faculty ally with an eye on FSU's mission as a research institution, he initiated "named professorships" to increase salaries and raise mission-boosting morale.
"Bernie was one of those exceptional university presidents who not only had impeccable academic credentials but was loved and respected by everyone," Turnbull said. "He never sought the limelight or the credit. In his warm and down-home way, Bernie made everyone else feel a part of his decisions. He and my late husband Gus made a great team and did amazing things together for the university."
Sliger, who didn't drive, was well known for his walks across the FSU campus, and his casual appearance—often a linen shirt and trousers—seemed to match his easy-going manner with students, faculty and staff.
After its unveiling on Heritage Day, the bronze statue of Sliger will be placed on Landis Green, at the heart of FSU's campus. It will be the first in a series of life-size bronze sculptures of FSU presidents to be created and placed on campus as part of its Legacy Walk—an art-filled historical walking tour focusing on FSU's architecture, sculpture and green spaces.
FSU alumna and Monticello, Fla., artist Melinda Copper created the Sliger sculpture. While that work was cast at a foundry in Georgia, much of her other sculpting takes place at the FSU Master Craftsman studios on Gaines Street, where students learn hands-on techniques and develop business acumen by working closely with successful area artists. Soon, established and student artists alike will be able to cast their artwork locally when the Master Craftsman Program completes its glass blowing and metal casting facilities by year's end.
The FSU Heritage Protocol aims to locate, identify, record, assist in the preservation of, and promote knowledge about the university's heritage. It seeks and collects university memorabilia of all types. To learn more about this ongoing initiative, visit http://heritage.fsu.edu/.