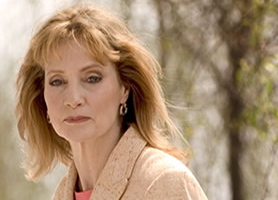 Florida State University's Francis Eppes Professor of Dance, legendary ballerina Suzanne Farrell, will speak at FSU's fall graduation ceremony.
FSU will hold its 2006 fall commencement on Saturday, Dec. 16, in the Tallahassee-Leon County Civic Center beginning at 9 a.m. Of 2,818 December graduates, 1,500 students representing 14 of FSU's 16 colleges are expected to participate.
Farrell was selected as the 54th recipient of the annual Capezio Dance Award by the Capezio Ballet Makers Dance Foundation in 2005. She was also recognized as one of the most influential ballerinas of the 20th century when she won 2005 Kennedy Center Honors.
Farrell's autobiography, "Holding On to the Air," was published in 1990 and "Suzanne Farrell—Elusive Muse" was an Academy Award nominee for Best Documentary Film in 1997. In 1999, Farrell directed and toured the acclaimed production, "Staging the Masters of the 20th Century Ballet." She won the National Medal of the Arts in 2003.
Farrell has been a tireless teacher of dance since retiring from the stage in 1989. She has been on FSU's faculty since 2000.
In other FSU ceremonies:
The College of Nursing's graduate school ceremony for eight M.S.N. Nurse Practitioners and two Post-Master's Nurse Educator Certificates will be held at noon on Dec. 15 in the main lobby of Vivian M. Duxbury Hall. The college also will hold a pinning ceremony at 3 p.m. the same day at First Baptist Church in Tallahassee for undergraduate commencement. Sally Karioth, an associate professor of nursing at FSU, will be the keynote speaker. Fifty-seven graduates who have achieved their B.S.N. degree will receive pins.
The College of Law will confer degrees on its 37 graduates at 12:30 p.m. Dec. 16 in Opperman Auditorium with International Bar Association Executive Director Mark Ellis as guest speaker. A reception will follow in the law school rotunda.
FSU's Army ROTC will commission three second lieutenants at 2 p.m. Dec. 16 in Miller Hall, University Center C.
FSU's Air Force ROTC will commission two second lieutenants at 3 p.m. Dec. 16 in the President's Sky Box at Doak Campbell Stadium.