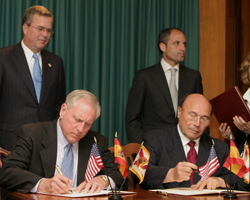 For nearly a decade, Florida State University has maintained a close relationship with Spain through FSU's popular study-abroad program in Valencia, the country's third-largest city. Now FSU President T.K. Wetherell has signed a cooperative agreement that further strengthens the university's academic ties to the 2,000-year-old city.
Joined at the Florida Capitol by Francisco Camps, president of the Autonomous Community of Valencia, and by Florida Gov. Jeb Bush, Wetherell signed a cooperative agreement between FSU and the newly formed International Valencian University in Spain. The agreement establishes FSU as the Valencian school's North American partner and serves as yet another example of FSU's growing prominence in the international academic community.
"For nearly five decades, FSU has been a leader in promoting academic studies abroad for American students," Wetherell said. "I am extremely proud of the new educational opportunities that have been created today between FSU and International Valencia University. We look forward to an exciting partnership."
Also present for today's event was Justo Nieto, chairman of the Board of Trustees of International Valencian University.
The agreement between FSU and International Valencian University aims to enhance the bridge between Spain and the United States by promoting academic exchange and encouraging the increased study of the languages, culture and history of both countries. The government of Valencia recently founded International Valencian University to prepare students within the Autonomous Community for the demands of the 21st century.
The plans to establish this new university were finalized in 2005 with the aim of promoting international programs, including distance learning, overseas academic exchange emphasizing the United States, and the development of master's and doctoral programs throughout Latin America. These programs will be developed in close collaboration with universities in partner countries.
FSU will become the first U.S. university to participate in this innovative academic endeavor, serving as International Valencian University's North American partner. Since 1997, FSU has maintained a study-abroad program in Valencia that has seen the participation of 1,350 Florida students. As part of this effort, the university has created the Valencian Community FSU International Programs Foundation, purchasing two buildings to be used as FSU's campus in the old city of Valencia.
An ancient city that is now Spain's third largest, Valencia is an exhilarating mix of history, art, intellectual activity, and civic pride. More than 2,000 years ago, it flourished in the reign of Caesar Augustus. In the 15th and 16th centuries, it wielded economic power throughout the Mediterranean. In the new millennium, it is consciously creating history with avant garde architecture and universities.
With more than 20 study-abroad programs located from Europe to Asia to Central America, FSU's International Studies Program (www.international.fsu.edu) is a worldwide pacesetter in international education. The program's extensive course offerings allow students to satisfy graduation requirements while living within diverse cultures the world over.