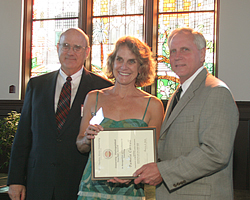 A Florida State University education professor who is working to address Florida's teacher shortage has been named the recipient of FSU's 2006 Distinguished Teacher Award. Pamela "Sissi" Carroll, who chairs the department of middle and secondary education in the College of Education, received the award at the 2006 Faculty Teaching Awards Ceremony, held Monday, April 10, in Dodd Hall.
Nominations for the Distinguished Teacher Award are initiated by students who seek to honor professors who have made a great impact on them, said Anne Rowe, FSU's dean of the faculties. Those nominations then are reviewed by a faculty committee, which makes
the final selection.
Carroll, the Dwight L. Burton Professor of English Education, has been a member of the FSU faculty since 1990. Her teaching and research interests include literature instruction, young adult literature, middle-grades literacy and English-teacher preparation. Prior to this year, she has received two undergraduate teaching awards while at FSU.
"It's an absolute thrill" to be chosen for the award, Carroll said. "It's especially humbling to know that not only the content of what I teach but the ways that I teach are constantly being analyzed by my students, because they are becoming teachers themselves. So it's particularly thrilling to be honored in this way."
Working with a "Succeed Florida" grant provided by the Florida Department of Education, Carroll currently is developing strategies to recruit more middle and high school teachers into the profession. Her efforts include introducing college students who aren't yet sure of their career plans to the career opportunities available in education; offering professional development via weekly seminars to college freshmen, sophomores and juniors who have expressed an interest in teaching, but who aren't necessarily majoring in education; and developing new programs to make it easier for college students with other majors to receive teacher certification.
The department of middle and secondary education trains students to teach English, science, math, multicultural issues and health, primarily in middle and high school. The department also focuses on the areas of community health and teaching English to adults as a second language.
Carroll "is the kind of individual who is known for encouraging her students, always being receptive to new ideas, working well with everyone and being helpful to all people," Rowe said. "It's difficult to sum up somebody's many talents, but those are the ones I think of first when I think of Sissi."
Carroll was quick to deflect praise back on her students.
"Definitely any good teacher is a person who has great students," she said. "I have finally learned after 20-something years of being a teacher to trust students to live up to expectations. I think students either live up to or down to a teacher's expectations, and it's really a matter of learning how much to turn over to students
and to trust them with.
"It doesn't mean that I don't come prepared to class at all; it means I try my hardest to set the stage for their learning and then to trust them to live up to that—and they do."
Carroll will receive a $7,500 stipend along with the Distinguished Teacher Award.
More than 40 other outstanding FSU faculty members also were recognized during the Faculty Awards Ceremony. They are:
Developing Scholar Awards (one-time awards of $10,000): Richard Bertram, mathematics; Darrin McMahon, history; Laura Reina, physics; Oliver Steinbock, chemistry and biochemistry; Gary Tyson, computer science
Distinguished Research Professor Awards (one-time awards of $6,000, as well as the distinction of using the title "Distinguished Research Professor" while at FSU): Jeffrey Chanton, oceanography; John Kelsay, religion; Stephan von Molnar, physics; Richard Wagner, psychology
Graduate Faculty Mentor Awards ($3,000 stipends): Thomas Joiner, psychology; Mark Winegardner, English; Lisa Waxman, interior design; Gerald Ferris, management; David Whalley, computer science
Undergraduate Teaching Awards ($2,000 stipends): Leslie Aspinwall, middle and secondary education; Jose Blanco, textiles and consumer sciences; Michael Brady, marketing; William Christiansen, finance; Lise Diez-Arguelles, management; Kathleen Erndl, religion; Deborah Floyd, childhood education, reading and disability services; Kenneth Goldsby, chemistry and biochemistry; Deborah Hasson, middle and secondary education; Sally Karioth, nursing; Jon Maner, psychology; Anthony Morgan, dance; Ricardo Navarro, interior design; John Parks IV, music; David Quadagno, biological science; Arthur Raney, communication; Svetoslava Slaveva-Griffin, classics; Nora Underwood, biological science; Lisa Wakamiya, modern languages and linguistics; James Whyte IV, nursing; Thomas Wright, music
Graduate Teaching Awards ($2,000 stipends): Lance deHaven-Smith, public administration and policy; Alfred Mele, philosophy
University Advising Awards ($2,000 stipends): Nancy Benavides, law; Ann DelRossi, social sciences; Kimberly Hicks, business; Deborah Perry, history
Honors Thesis Mentor Award ($2,000 stipends): Steven McClung, communication
"The Faculty Teaching Awards Ceremony is held to recognize some of the most outstanding faculty in teaching, research and advising," Rowe said. "We'd like to think of this event as recognizing outstanding individuals, but also knowing that they are representative of so many of our faculty."