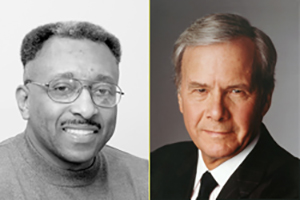 Two widely renowned and honored men with very different ties to Florida State University will address graduates at FSU's spring graduation ceremonies.
Restaurant owner and former pro football player J.T. Thomas, who holds the distinction of being the first black student-athlete to letter in football at FSU, will speak to graduates of the colleges of Arts and Sciences; Communication; Criminology and Criminal Justice; Social Sciences; and Visual Arts, Theatre and Dance. The ceremony begins at 7:30 p.m. on Friday evening, April 28, at the Tallahassee-Leon County Civic Center.
The following morning (Saturday, April 29), veteran television journalist and "The Greatest Generation" author Tom Brokaw, whose donation of thousands of letters and other historical documents helped bolster FSU's Institute on World War II and the Human Experience, will deliver his commencement address to new graduates of FSU's colleges and schools of Business; Education; Engineering; Human Sciences; Information; Motion Picture, Television & Recording Arts; Music; Nursing; and Social Work. He also will receive an honorary degree from FSU during the 9 a.m. event.
"Both of our spring commencement speakers rose to the very top of their fields through hard work and determination," FSU President T.K. Wetherell said of Thomas and Brokaw. "The university is honored to welcome two such distinguished men to our campus."
James "J.T." Thomas' relationship with FSU goes back more than three decades. An All-American defensive back, he played for the Seminoles for three seasons before being drafted in the first round by the NFL'S Pittsburgh Steelers in 1973. During a nine-year NFL career, Thomas was on four winning Super Bowl teams as a member of the famed "Steel Curtain" defensive squad that included other great players such as "Mean" Joe Greene, L.C. Greenwood and Jack Lambert.
After retiring from football in 1982, Thomas went on to success in the business world. He and a former teammate invested in the Applebee's restaurant chain, eventually owning franchises in Pennsylvania and West Virginia that now employ more than 1,000 people. Although Thomas since has sold his stake in the company, he continues to invest in other restaurants and recently opened Pennsylvania's first Red Hot & Blue barbecue restaurant franchise.
For more than a quarter-century, broadcast journalist Tom Brokaw has been one of America's best-known faces. From 1983 to 2004, he was the anchorman of "NBC Nightly News with Tom Brokaw," the nation's top-rated news program for much of that time. Among his many accomplishments, he won seven Emmy Awards and a Peabody Award. He was inducted into the Television Academy Hall of Fame in 1998.
Brokaw also has earned acclaim as an author. His 1998 bestseller, "The Greatest Generation," told the stories of Americans who came of age during the Great Depression and World War II and went on to build modern America. "The Greatest Generation Speaks: Letters and Reflections" followed in 1999, and "An Album of Memories: Personal Histories from the Greatest Generation" was published in 2001. His latest book, "Brokaw Non Fiction #1," is scheduled for release in 2007.
After completing his "Greatest Generation" trilogy, Brokaw sought to ensure that the thousands of letters he had received from members of the public were given a permanent home, properly preserved and used by future generations. In June 2001, FSU's Institute on World War II and the Human Experience was chosen as the repository for Brokaw's collection. The nearly 100 boxes of letters, memoirs, books and photos that comprise the Tom Brokaw Collection represent the largest single donation to the Institute. (More information on the Institute on World War II and the Human Experience is available at www.fsu.edu/~ww2/.)
More than 4,900 FSU students will graduate this spring. Approximately 3,400 of them are expected to participate in the two commencement ceremonies.