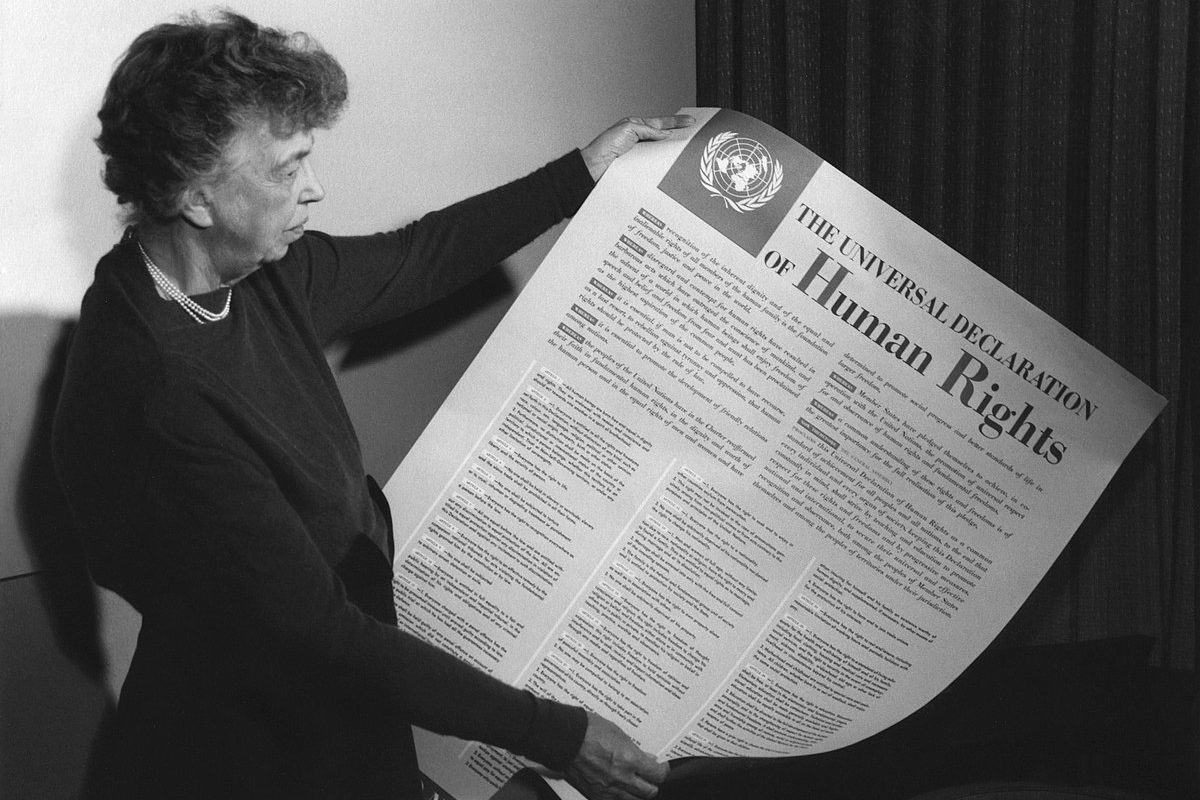 In honor of the 75th anniversary of the Universal Declaration of Human Rights, Florida State University's Department of Religion and the FSU Center for the Advancement of Human Rights will welcome religious scholars from around the world this week.  
The 2023 Human Rights Conference, 9 a.m. to 5 p.m. Friday, Oct. 27 at the Claude Pepper Center, will explore the intersection of religion and human rights through distinguished speaker presentations and Q&A sessions.  
"We plan to explore how the UDHR is crucial to understanding and resolving ongoing human rights issues in the 21st century," said Terry Coonan, associate professor of criminology and Center for the Advancement of Human Right (CAHR) executive director. "Students will also be invited to learn more about the new major offered by FSU in human rights."
The Universal Declaration of Human Rights is an international document adopted by the United Nations General Assembly that encapsulates the freedoms and rights of all human beings. Established in the wake of the Holocaust, the UDHR was the first international agreement on the basic principles of human rights, and it was realized through the efforts of Eleanor Roosevelt, who chaired the United Nations Commission on Human Rights that drafted the document.  
The UDHR establishes that nations must recognize all humans as being born free and equal in dignity and rights regardless of factors such as nationality, place of residence, sex, national or ethnic origin, color, religion, language or any other status.  
"This conference will commemorate the 75th anniversary of the Universal Declaration of Human Rights and discuss developments influenced by that document since 1948, as well as its contemporary relevance," said John Kelsay, FSU Distinguished Research Professor of Religion. "Everyone has some ideas about human rights, so this conference can help the general public, as well as FSU students and faculty, provide more shape and definition to those ideas." 
Attendee scholars will share original research and writings related to the Universal Declaration of Human Rights and its successes, failures and potential future implications. The event schedule includes reflections on the relationship between religion and human rights and will feature Q&A sessions throughout the day. 
Speakers include Sujata Gadkar-Wilcox from Quinnipiac University in Connecticut; Gene Zubovich from University of Buffalo in New York; Kate Temoney from Montclair State University in New Jersey; Rosemary Kellison from University of West Georgia in Georgia; Linda Hogan from Trinity College Dublin in Ireland; Jenna Reinbold from Colgate University in New York; Simeon Ilesanmi from Wake Forest University in North Carolina; and David Little from Georgetown University's Berkley Center for Religion, Peace & World Affairs in Washington, D.C.   
The conference is dedicated to the late Sumner "Barney" Twiss, who served as CAHR's inaugural distinguished professor of religion, ethics, and human rights at FSU and who played a key role in establishing the center as a nexus for interdisciplinary work at the university.  
This event is free and open to the public. Contact John Kelsay at jkelsay@fsu.edu with questions. 
About the speakers: 
Sujata Gadcar-Wilcox, associate professor of Legal Studies at Quinnipiac University, teaches comparative constitutional law and human rights law among other subjects. She has presented papers and published articles on domestic violence law in India, First Amendment jurisprudence in the United States and issues related to media studies and critical race theory. 
Gene Zubovich, associate professor of history at University of Buffalo, researches and teaches topics such as 20th century United States, U.S. and the world, history of human rights, American religious history and intellectual history. He has published several papers and the book "Before the Religious Right: Liberal Protestants, Human Rights, and the Polarization of the United States." He has another book in progress tentatively titled "A Global History of the American Culture Wars." 
Kate Temoney, associate professor and chair of the Department of Religion at Montclair State University is co-chair of the American Academy of Religion's Religion, Holocaust, and Genocide Unit; a member of the United States Holocaust Memorial Museum Committee on Ethics, Religion, and the Holocaust; and an editor for Genocide Studies and Prevention: An International Journal. Temoney teaches courses on religious ethics, the Holocaust, genocide, African religions, religions of the world, and religion and human rights. Her international publications and presentations address the intersections of religion, human rights, mass atrocities and theory of history. 
Rosemary Kellison, Associate Professor of Religion at Florida State University, is an FSU alumna. She specializes in comparative religious ethics and has been published in the academic journal Soundings, the Journal of Religious Ethics and the Journal of Feminist Studies in Religion. In 2018, she published the book "Expanding Responsibility for the Just War: A Feminist Critique." 
Linda Hogan, professor of Ecumenics at Trinity College Dublin, is an ethicist with extensive experience in research and teaching in pluralist and multi-religious contexts. Her primary research interests are intercultural and interreligious ethics, social and political ethics, human rights and gender. She has published numerous books and lectured on a range of topics in ethics and religion including ethics in international affairs, ethics of globalization, biomedical ethics, human rights in theory and practice and comparative social ethics.  
Jenna Reinbold, associate professor of Religion at Colgate University, studies the interaction of religion and law in the contemporary world. Her areas of emphasis include controversies over the separation of church and state in the U.S. and the role of religion in the propagation of  human rights. Reinbold teaches courses such as religion and the contemporary world; church, state, and law in America; and religion and human rights. She has published several articles and book chapters on her work.  
Simeon Ilesanmi, the Washington M. Wingate Professor of Religion at Wake Forest University, teaches courses in comparative ethics, international human rights, religion and law, ethics of war and peace and African religions. He is the author of the book "Religious Pluralism and the Nigerian State" and numerous articles and book chapters on African religion, ethics, war and politics.  
David Little, a research fellow at Georgetown University's Berkley Center, is a leading authority on the history of religious freedom, ethics and human rights and religion and conflict resolution. Little retired in 2009 as the T.J. Dermot Dunphy Professor of the Practice in Religion, Ethnicity, and International Conflict at Harvard Divinity School and as an associate at the Weatherhead Center for International Affairs at Harvard University.  
To learn more about religion research at FSU, visit religion.fsu.edu. To learn more about the FSU Center for the Advancement of Human Rights, visit cahr.fsu.edu.