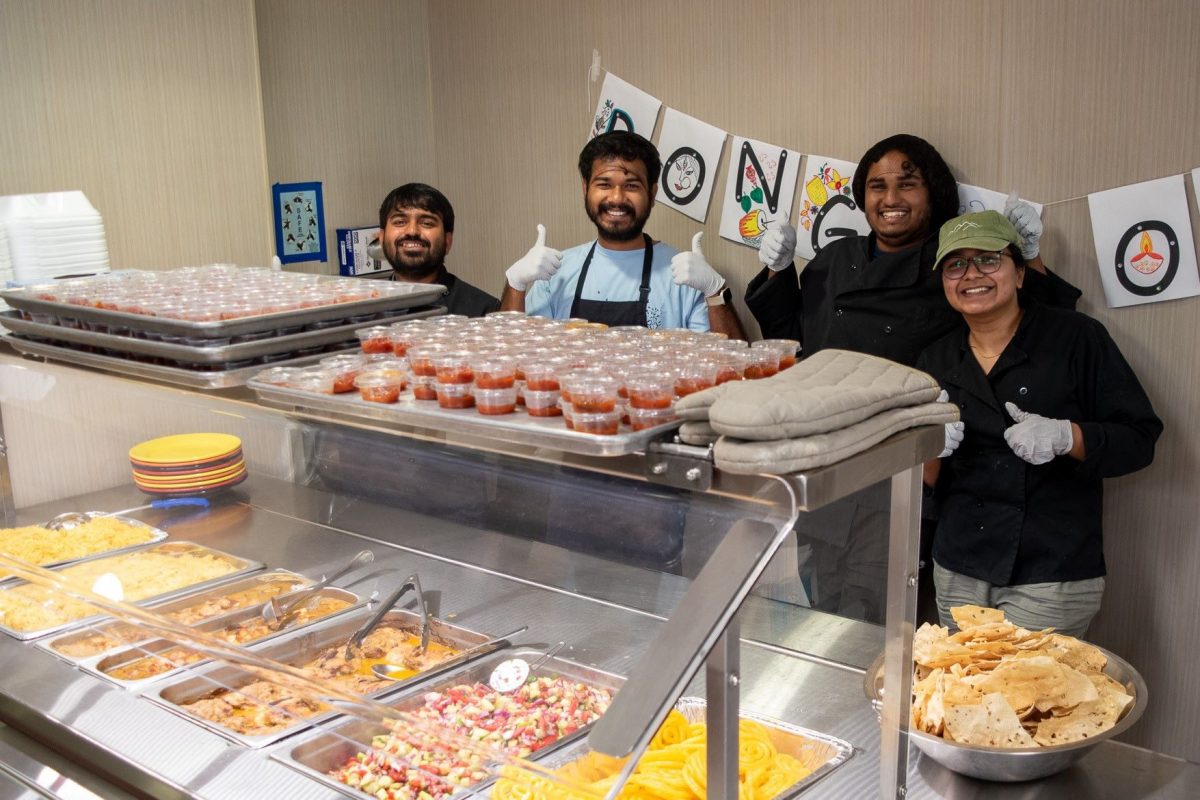 The Florida State University community was treated to authentic Bengali cuisine as the Bengali Student Association at FSU, also known as BongoNoles, hosted Global Café Friday, Sept. 29, in The Globe Dining Room.  
A student-centered program designed to increase awareness and appreciation of the cultural diversity on FSU's campus, Global Café serves as a fundraiser for student organizations who volunteer their time to help prepare, cook and serve the food. About 200 people attended Global Café: Bengali, which was the first Global Café of the fall 2023 semester.     
"Global Café is an opportunity to spend a culturally enriching lunch hour eating food, listening to music and meeting students from the featured culture," said Cindy Green, director of the Center for Global Engagement at FSU. "The BongoNoles selected an authentic menu with multiple dishes to provide a cultural experience for the Florida State community." 
For $10, attendees received a plate of chicken or paneer rezala, basanti polao, tomato chutney with papad, Bengali green salad, jilapi and doi er ghol.  
The region of Bengal is divided between modern day Bangladesh and the Indian state of West Bengal. BongoNoles was founded in 2014 to foster community among Bengali students and create solidarity between Bengali and non-Bengali students by showcasing the rich culture and tradition of Bengal to the whole student population at FSU. 
As the third-largest ethnic group in the world, the Bengali people are diverse in terms of religious affiliations and practices. They value warmth and hospitality, are connoisseurs of great food, indulge in festivities and have a long history of intellectual aura with immense love for literature, music and soccer. 
The total number of international students from India, including both newly admitted and continuing students, has increased greatly at FSU over the last few years. Total enrollment has gone from 177 students in Fall 2021 to 501 students in Fall 2023. Out of the 501 enrolled students from India this fall, 233 arrived as new students making India the country with the highest number of new students this semester. The number of international students from Bangladesh at FSU has also increased, rising from 10 students in 2014 to 74 as of Fall 2023.  
The tight-knit organization recruits Bengali students before they even arrive to campus, answering questions and helping them accommodate to life in the U.S. BongoNoles President Sudipto Saha and Cultural Secretary Sanwayee Kundu both joined the organization during their first year at FSU and have been giving back ever since.  
"As people pursue their studies outside their country, they look for exposure to different cultures and try to learn about the different cultures, but at the same time they don't want to forget their own roots," said Saha, a doctoral student from Kolkata, India, majoring in statistics.  
"It's the best of both worlds I would say because I get to pursue my education, and I have my community here so if I need anybody to talk to anybody in my language that is something I can do," said Kundu, a doctoral student from Kolkata, India, majoring in biostatistics.  
"My vision for the organization is to start engaging in open-to-all events to make people aware of our community and of the culture that we inherit," Saha said.  
"Our culture is very cozy, and I would like to say it's very welcoming and very friendly, and since food is one of the biggest parts of our culture, everybody in Bengal is a foodie so food is the best way to convey our culture to everybody who is not aware of it," Kundu said. 
Kundu served as Kitchen Director for the event and took a lot of care in the creation of the menu. She incorporated popular Indian food to satisfy the global palate and included traditional Bengali food, such as Jilapi, a typical breakfast or dessert, and Tomato Chutney, a dip and palate cleanser. 
"Planning a Global Café is a lot of work, but if you have the right people with you, it's kind of fun," she said.  
Preparations included deciding the menu and recipes, assigning members to different roles in the kitchen and dining room, buying ingredients, cooking, cleaning, serving the food and hosting guests in the dining room. 
"I've really enjoyed that people here are really accepting of different cultures and open to learning about different cultures," Saha said.   
The next Global Café will take place Friday, Oct. 27, featuring South Korea. International and multicultural groups interested in hosting a Global Café in Spring 2024 should email cge-programs@fsu.edu for more information.  
For more information about the Center for Global Engagement and Global Café, visit cge.fsu.edu. To learn more about BongoNoles, visit https://fsu.campuslabs.com/engage/organization/bongonole.