A group of undergraduate Florida State University researchers studying manatee deaths traveled to Paris, where they earned a silver medal at an international competition dedicated to innovation in synthetic biology.
FSU's International Genetically Engineered Machine (iGEM) team tied with eight other U.S.-based universities, including Yale, Duke and Stanford, in the annual iGEM Giant Jamboree at the Paris Expo Porte de Versailles.
The jamboree offers a chance for groups from around the world, mostly at the college level, to showcase projects that ethically use synthetic biology to solve real-world problems. This year, 360 teams from more than 40 countries participated.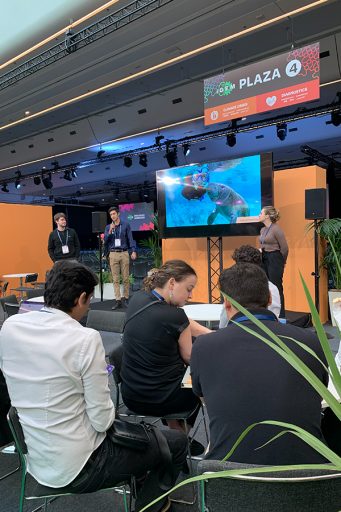 FSU's 12-member team focused on developing a biodegradable algaecide that can kill harmful algal blooms that block sunlight from reaching the seagrass manatees eat. As a photosynthetic organism, seagrass dies when it can't get sunlight, and manatees starve when they can't find enough.
"Being at the jamboree felt like I was witnessing the birth of a revolutionary new industry," said Gabriel Bonassi, who led the student team. "The iGEM competition is much more than bringing home medals. The purpose of the competition is to change the way we think about solving problems with synthetic biology and then take that thought process further to whatever professional endeavors ensue post-competition."
The problem of seagrass depletion and manatee starvation is particularly prevalent in the Indian River Lagoon on Florida's Atlantic coast. In some areas of the lagoon, 90% of the seagrass beds have disappeared. Environmental groups and state agencies attribute hundreds of manatee deaths in the lagoon to starvation.
Harmful algal blooms occur through a process called eutrophication, in which large amounts of nutrients such as nitrogen and phosphorus feed the growth of algae that covers the surface of waterways. Those nutrients sometimes come from fertilizer runoffs from farms and lawns or septic tanks.
Although algaecides can help, they are made with heavy metals that can negatively affect the ecosystem for a long time.
Safer options include the fungal toxin cercosporin, which scientists have shown to interrupt the development of harmful algal blooms. Cercosporin is also a cutting-edge — but very expensive — component of some new cancer treatments.
The iGEM team aimed to create a biosynthetic alternative to cercosporin. To do so, they sought to modify essential genes required for cercosporin production and clone them into Saccharomyces cerevisiae, commonly known as baker's yeast.
Yet they were unable to fully develop the large DNA molecule required to produce cercosporin. The molecule consists of some 12,000 base pairs, much larger than the typical 6,000 to 8,000 base pair molecules.
"The judges recognized the hard work and lessons learned," said Cesar A. Rodriguez, a co-principal investigator of this year's iGEM team, and entrepreneur in residence in FSU's College of Medicine.
He emphasized that FSU's team is Florida's most successful, earning silvers in 2020 and 2021, and the only gold medal in the state in 2019 for its project to combat citrus greening.
"Most importantly, the FSU iGEM mission was accomplished," Rodriguez said. "The students learned a lot and had an unforgettable experience in Paris."
After three days of competition, the FSU students visited iconic French landmarks including the Louvre, the Notre Dame Cathedral and the Eiffel Tower.
"Attending the jamboree in person, the team was challenged to and succeeded in articulating their complex, nearly yearlong project, and they were rewarded by celebrating in the City of Lights," said David Montez, associate director of FSU's Center for Undergraduate Research and Academic Engagement, or CRE. "This year's team exemplified student success at Florida State, where a group of students with diverse personal and academic backgrounds work together to push the boundaries of research to address a tangible problem in our world."
The iGEM program is a shared initiative of the College of Medicine and CRE. The program accepts students from any major and is housed in CRE, a unit of FSU's Division of Undergraduate Studies. Prospective team members for the 2023 team meet every Friday at 4 p.m. in the Innovation Hub's Pitch Room to discuss problem areas might want to tackle at the next competition.