When the Florida State football team travels to Ireland next August to take on Georgia Tech in Dublin, the trip isn't just about a football game — it's about deepening connections between the university, the State of Florida and Ireland.  
The Florida State Seminoles will face Georgia Tech on Sunday, Aug. 24, 2024, at the Aviva Stadium in Dublin, Ireland. 
Last week, a delegation from Ireland led by the Consul General of Ireland in Miami and the Lord Mayor of Dublin visited Florida State University to check out campus and discuss preparations for FSU's appearance in the Aer Lingus College Football Classic. 
The delegation included staff and leadership from the Aer Lingus College Football Steering Committee, Aer Lingus Airlines, multiple Irish corporate CEOs and executive leaders, Dublin local government administrators and Irish National Tourism leadership officials. The game is part of a larger mission to connect Ireland and the U.S. 
"This visit reflects enduring friendship and the deep ties that bind our countries," said FSU President Richard McCullough. "It's also a testament to the power of sport and the way it brings people together, transcends borders and fosters understanding. This journey is a gateway to a world of possibilities, with the potential for collaboration on research projects, cultural exchanges and business opportunities." 
Last year, Consulate General Sarah Kavanagh established the inaugural Consulate General of Ireland in Miami, which represents Ireland in Florida, Alabama, Mississippi, Puerto Rico and the U.S. Virgin Islands. She noted the significance of this game to bolstering the relationship between Florida and Ireland.  
"This game is more than a game," Kavanagh said. "It's going to be hugely important for Ireland and Florida's relationship together. We're working to strengthen our economic relationship, our political relationships, our cultural relationships and our people-to-people relationships and the game next year is going to be a fantastic microcosm of all that work." 
To kick off their five-day visit, the delegation visited the FSU Seminoles football practice to speak to Head Coach Mike Norvell. The visit was followed by a luncheon hosted by President Richard McCullough and First Lady Jai Vartikar.  
During the second half of their day, the delegation was treated to a tour of FSU's campus on their way to visit the Florida Capitol. They were joined by The Right Honourable Nigel Evans, member of Parliament for the Ribble Valley and deputy speaker of the House of Commons, who was visiting FSU as a guest lecturer and served on a moderated panel discussion about internship opportunities for students in British Parliament.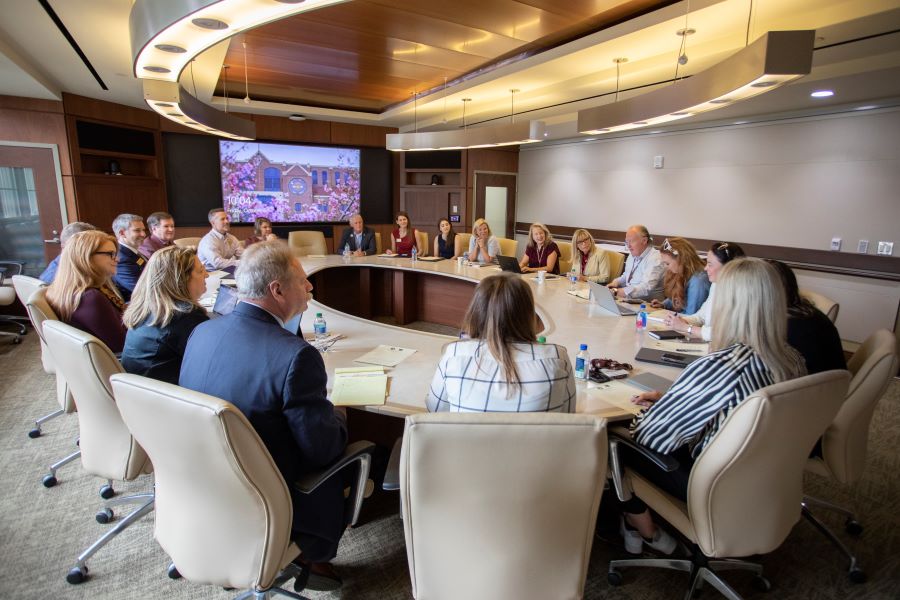 The Aer Lingus College Football Steering Committee had a meeting on campus followed by a luncheon with FSU leadership and deans at the Heritage Museum in Dodd Hall. The luncheon served as an opportunity to build connections and share ideas, as well as to highlight FSU's values and commitments. 
"This event is much more than a football game — it connects two nations and cultures with rich histories of resilience, innovation and collaboration," said Provost Jim Clark.  
The delegation then met with James M. Seneff Scholars from the College of Business, which was an opportunity to further develop connections between Ireland and FSU on a student level. The panel was selected from an elite honors program that helps students gain experience and knowledge through educational activities, volunteer experiences and networking activities.  
"I'm very grateful for the opportunity from the College of Business to be able to meet with some of the Irish Delegation," said Elizabeth Manning, a senior majoring in finance who participated in the panel. "I think that meeting the people who are putting on such a great event makes it more of a realistic experience. Talking to business leaders and answering questions about what we think the future climate of business will be is a great opportunity to share our thoughts about where the industry is going and how we will be future leaders in it." 
On Saturday, the Irish Delegation had the opportunity to watch the Seminoles win in Doak S. Campbell Stadium.  
"From what we've seen from the FSU community in the recent day, we're hoping the 2024 game just takes it up another notch. It's such a privilege and an honor to be gameday zero of college football," said Daithi De Roiste, the Lord Mayor of Dublin, Ireland. 
For more information about the 2024 Aer Lingus College Football Classic, visit seminoles2ireland.com.