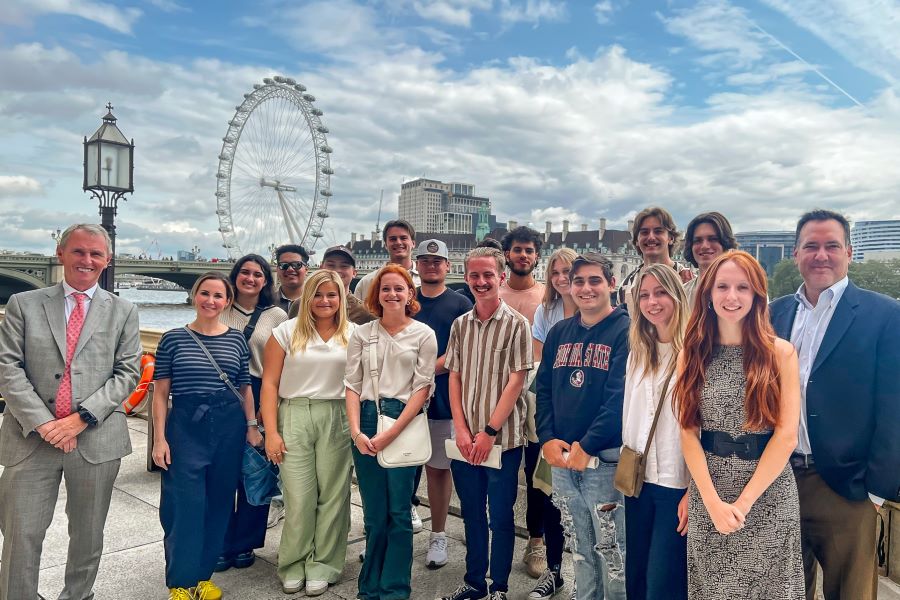 As vice president for Student Affairs at Florida State University, Amy Hecht is usually on campus interacting with students and overseeing a division with more than 1,000 employees.
This summer, though, Hecht fulfilled her dream of having a study abroad experience by teaching a course at the FSU London Study Centre.
"Having a global perspective is essential in educating the next generation of leaders," Hecht said. "We live and work in a global society and having the opportunity to live in another country with a different history, culture and way of being opens a person's eyes to new ways of thinking. It provides an appreciation and respect for differences."
The course, Leadership and Change (LDR 3215) is an advanced undergraduate leadership course that examines the change process and prepares students to be effective in leading change. It helps students understand their unique role in leadership on campus, in their profession and within the larger global society.
"Student Affairs plays an integral part in the experience of every student at FSU, providing the resources, tools and personnel to help them make the most of the opportunities available to them," said Kathleen Paul, director of the FSU London Study Centre. "As true in London as in Tallahassee, there are yet challenges and rewards unique to studying abroad. VP Hecht's presence in London created the space for an experiential discussion of student life abroad and, in so doing, both deepened the relationship between DSA and International Programs and ensured that whilst the London experience remains unique, the administrative support and encouragement remains wholly Nole."
Using London as the context and content for the course, LDR 3215 allows students to engage in hands-on, direct experiences with current British leaders and leadership issues. The class of 16 students took excursions to iconic sites like the National Portrait Gallery, the Victoria and Albert Museum, the British Museum, Churchill's War Rooms, the Imperial War Museum, the Museum of London, Docklands, the Royal Mews and the Hinde.
"The students loved engaging with the city and museums," Hecht said. "It was surreal to walk to work each day alongside buildings and monuments, many of which are older than the United States."
During the first week, the class enjoyed a behind-the-scenes tour of Parliament from Right Honourable Nigel Evans, member of Parliament for the Ribble Valley and deputy speaker of the House of Commons. The class also listened to the prime minister address the House of Commons about the recent NATO meeting. Hecht's class was connected with this tremendous opportunity by Justin Roth, an FSU alumnus ('97) and FSU Board of Trustees member. Roth interned for Evans when he was a student at FSU London.
This experience highlighted the opportunities that alumni can offer students through their relationships and insights.
"Study abroad at its core is experiential learning," Hecht said. "Our students are living in a new country and navigating transportation, grocery shopping, nightlife, culture and schoolwork. My course used the city as a teaching tool, and it's something the program encourages. Why would a student want to be lectured in a classroom when they go study abroad? They want to explore and have these unique experiences that London (or Florence or Valencia) can provide."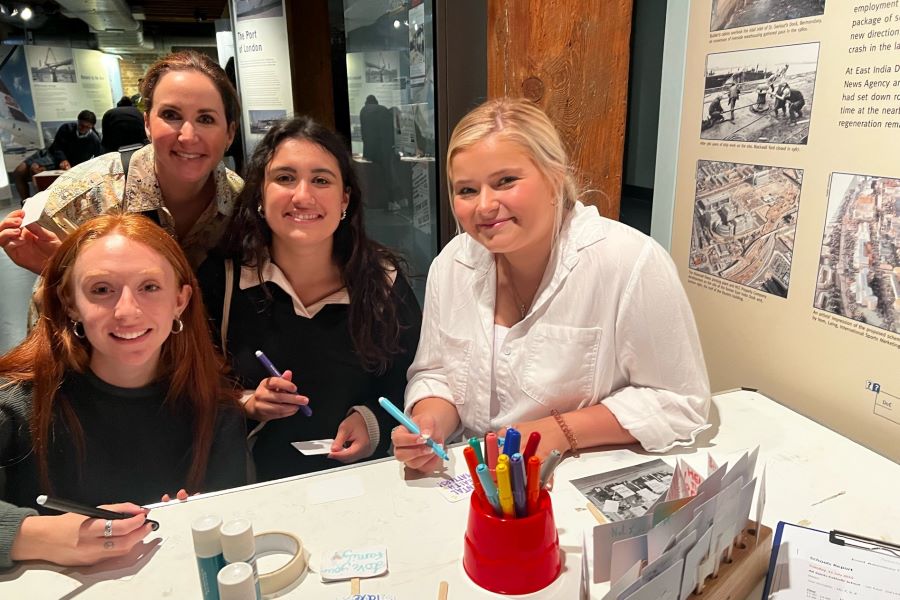 Tracey Dowling is the program director for Experiential Learning at The Career Center, which is housed in the Division of Student Affairs. She also traveled to FSU London this summer to teach Experiential Learning Abroad (SDS 3940), which engages students to "try on" a professional environment through an internship abroad at the FSU London Study Centre.
Students in SDS 3940 at FSU London interned at places like Breaking Barriers, a specialist refugee employment charity, and Penta Group, a stakeholder solutions firm. The course uses a combination of site visits, museum tours and career talks from alumni to help students process their internship as a global, cross-cultural experience and to translate that experience onto their resume.
Alumni who spoke to students in SDS 3940 include Jenny Valfre ('17, marketing), marketing coordinator, Taco Bell UK; Kate McMahon ('19, international affairs, political science and creative writing), policy and parliamentary advocacy officer at RESULTS UK; Dana Chinitz ('07, merchandising), talent manager for Lululemon; and Takamasa Tokuda ('09, human resource management) head of online and technical marketing at Sony Europe.
These alumni underscored the importance of professional branding, specifically demonstrating how to highlight transferable skills through resume reviews, cover letter critiques, LinkedIn profile pointers as well as mock interviews.
"A hallmark of Florida State is our very loyal alumni base, so it was a no-brainer to reach out to those Seminoles currently living in London in order to harness their expertise in working cross-culturally," Dowling said. "These alumni provided our students with invaluable tips on articulating their completion of an internship abroad as a differentiating experience for future career successes."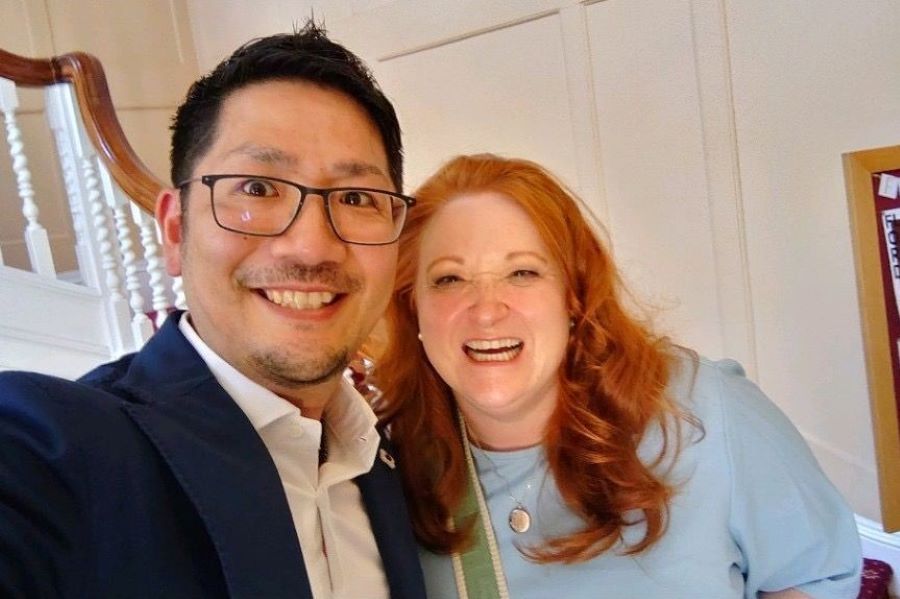 ---
Hecht and Dowling were just two of more than 100 domestic FSU faculty members teaching abroad this summer.
"I got to know my 16 students as individuals and see their learning through their reflections and our class discussions," Hecht said. "It was incredibly fulfilling and gave me an even greater respect for our faculty who do this all the time."
Two of Hecht's students were wrapping up FSU's First Year Abroad (FYA) program, which offers students the opportunity to spend their first year of college abroad at one of International Programs' study centers.
"Hearing about their experiences was incredible," Hecht said. "I have so much respect for their bravery and resilience in seeking to spend a full year abroad right from high school. They experienced all the transitional challenges a typical student would coupled with a new culture and country that is far from home. Their learning and maturity are so apparent when you speak to them about their experience – it's so impressive!"
Hecht said she is grateful for the care and thoughtfulness that International Programs provides to FSU students and faculty.
"There is so much more opportunity for collaboration and communication now that I have had this experience and developed a greater understanding," she said. "I was always proud of FSU but seeing firsthand the global impact we have was incredible."
During their annual visit in October, staff from the FSU London Study Centre are teaming up with The Career Center to host an information session about the FSU London Internship Program. The event will also feature previous interns and is set to take place at 4:30 p.m. Monday, Oct. 23, at the Dunlap Success Center, Room 2201/2202. Visit calendar.fsu.edu for more information.
For more information about International Programs, visit international.fsu.edu.