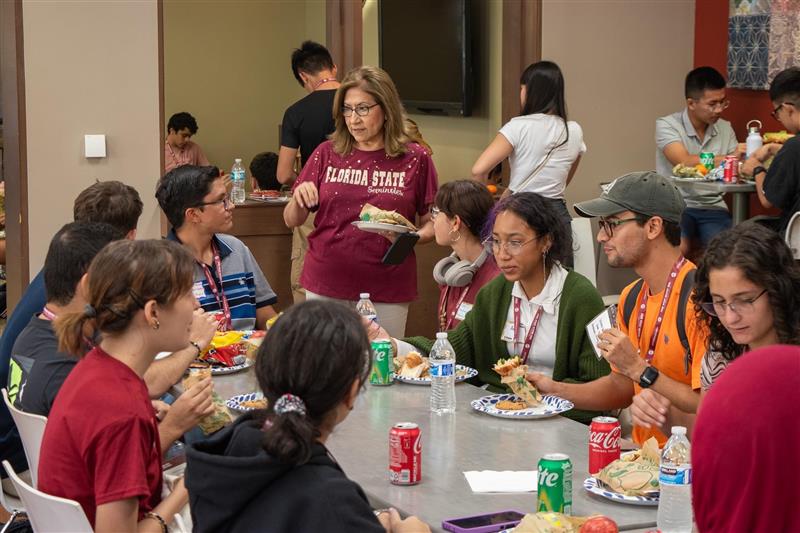 Florida State University's Center for Global Engagement welcomed one of its largest cohorts of international students during three orientation sessions Aug. 11, Aug. 18 and Aug. 25.
About 600 students from 74 countries attended the sessions, where they learned about campus resources and met other international students from around the world. The most-represented countries in the fall 2023 cohort are India, China and Panama.
"International students enrich the learning environment by enhancing the university's awareness and understanding of various cultures and global issues," said Cindy Green, director of the Center for Global Engagement at FSU. "They serve as important resources to learn about the world and infuse the campus with unique perspectives."
The Center for Global Engagement (CGE) at FSU provides immigration advising and ongoing support to over 2,000 international students and over 250 international scholars and faculty.
The CGE also runs FSU's Global Exchanges, which offers FSU students a unique opportunity for cultural immersion and in-depth academic learning at one of more than 45 international partner universities. In exchange, the partner university sends an international student to study at FSU for one or two semesters.
This semester the CGE welcomed 37 exchange students from 19 partner institutions in 11 countries: India, Japan, France, Germany, the Netherlands, Taiwan, South Korea, Austria, UK, Spain and Denmark.
In exchange, 20 FSU students will study at 12 international partner universities in 11 countries:  Demark, the Netherlands, Australia, Finland, South Korea, Taiwan, Austria, France, UK, New Zealand and Japan. Of those 20 students, four will be on a global exchange for the entire academic year.
FSU students interested in a global exchange are invited to attend Global Exchange Info Sessions, offered every Tuesday at 12 p.m. and every Friday at 1 p.m. in Room 2300 of The Globe (110 S. Woodward).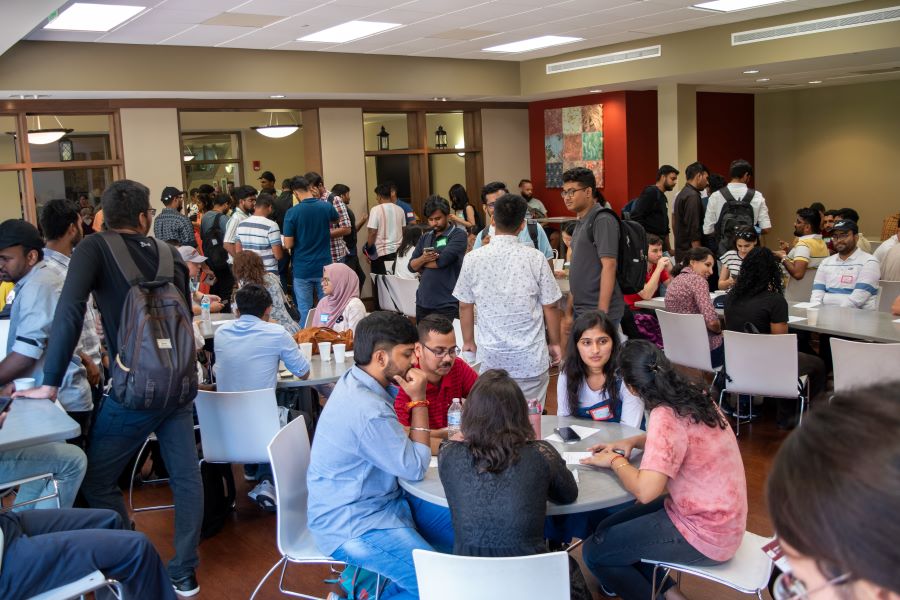 To support and assist incoming exchange students as they adjust to life at FSU, the CGE's Global Noles program pairs them with students who volunteer to mentor incoming exchange students. Global Noles volunteers ensure that exchange students become involved in campus life as quickly as possible and that they make the most of their experience at FSU.
Forty-four of FSU's incoming international undergraduate students have transferred from FSU's Republic of Panama branch campus, which serves as a hub for partnership development and U.S.-style education in Latin America. Students from the FSU-Panama campus come from various countries in Latin America, as well as the Republic of Panama.
The CGE also runs intercultural programs that promote, support and enhance opportunities for international education at FSU and in Tallahassee. International students and scholars at FSU have the opportunity to act as cultural ambassadors of their home countries to the local community through the Global Ambassadors Program.
Every Friday classes are in session, the CGE hosts International Coffee Hour from 5 to 6:30 p.m. in The Globe. FSU students, faculty, staff and their invited guests interact while enjoying refreshments from a featured culture.
Each semester the CGE also hosts several Global Cafés, a student-centered program designed to increase awareness and appreciation of the cultural diversity on campus.
This semester the CGE will host the Bangladeshi Student Union for a Global Café Friday, Sept. 29.
To coincide with the inaugural Media, Communication, and Cultural Studies: Asia-Pacific (MCCAP) Conference Oct. 26 and 27, the CGE will host a Korean Global Café Friday, Oct. 27. Both events will start at 11:30 a.m. in The Globe Dining Room and will continue until food runs out. The cost is $10 per plate, cash or check only.
Another intercultural program run by the CGE is the Engage Your World Speaker Series, which brings together diverse groups of students, faculty and staff to engage in a conversation about global challenges. The CGE will host two Engage Your World Speaker Series this fall on Thursday, Nov. 2, and Thursday, Nov. 16.
To learn more about the CGE at FSU, visit cge.fsu.edu.