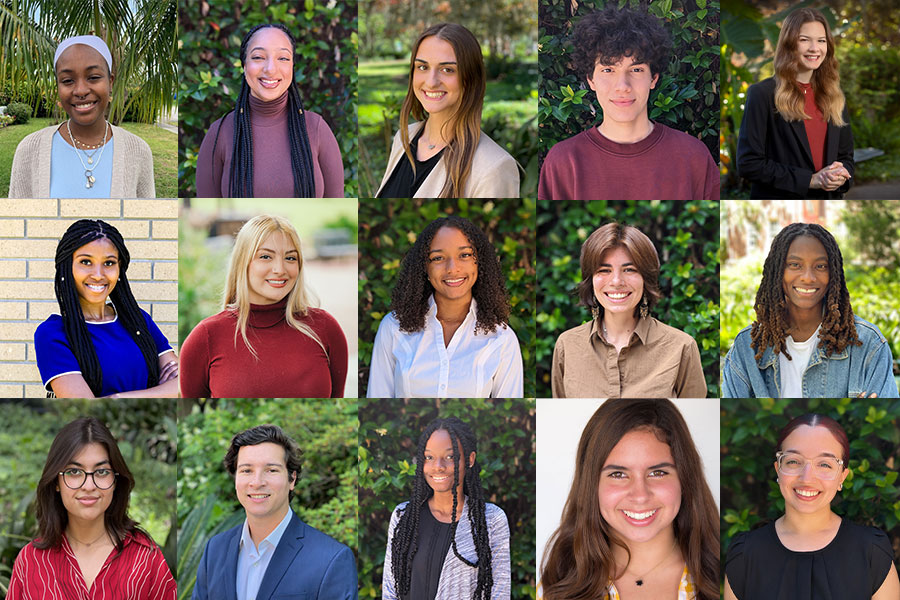 Fifteen Florida State University students will build foreign language skills and experience culture abroad this summer after earning scholarships through the  Benjamin A. Gilman International Scholarship Program.  
The Gilman Scholarship is awarded by the U.S. Department of State and gives students the opportunity to study or intern in foreign countries with the aim of building proficiency in diverse languages and cultures and preparing individuals for a globalized world.  
The Gilman allows participants to tailor the program toward their education and interests, said Jesse Wieland, associate director of the Office of National Fellowships.    
"What makes the Gilman Scholarship such a fantastic award is its degree of malleability," Weiland said. "Students can apply their funding toward research opportunities, traditional study and classroom-based experiences, or internships. FSU's robust network of international opportunities makes it significantly easier for students to find programs that align with their academic or professional aspirations." 
The Gilman Scholarship program was founded in 2001 and is named after the late Benjamin Gilman, who served for 30 years in the U.S. House of Representatives and chaired its House Foreign Relations Committee.  
Sophie Allen is a double major in psychology and biomathematics whose research interest focuses on memory. She's continuing that work at the University of Toronto, in Canada, where she's already attended a conference on memory research. 
"I really want to gain more knowledge about memory and really hone the questions I want to ask as I look to go to graduate school," she said. "Toronto is a hub for memory research so I was really excited to have an opportunity to not only go abroad but come here." 
Allen, who hails from Wauchula, Florida, joked that earning the Gilman meant she finally had to get her passport.  
Juliana Cano, of Miami, said she also hasn't traveled much and is excited to be heading to Valencia, Spain, for two months. Cano called the Gilman win "surreal." 
"I've always been a big dreamer and wanted to explore and my mom always encouraged that," she said. "Growing up with a single mom, I never really traveled so I want to take every opportunity to travel and learn about different cultures."    
Cano is an English major concentrating in editing, writing and media who is heading into her senior year this fall. Thanks to her Colombian roots she speaks Spanish.  
"Latin-American Spanish is different but I'll take a bit of the language with me," she said. "I've always been fascinated with Spain and wanted to connect with people who speak Spanish."   
Shantae James is a double major in international affairs and political science and will be a senior year this fall. She will travel to various spots in Europe from Prague, Czech Republic, while she pursues her interest in human rights.  
"Prague's location allows travel to a lot of other countries with ease," she said. "We are doing an excursion to Auschwitz in Poland for more in-depth knowledge of the Holocaust."  
James, who is from Montego Bay, Jamaica, said before she lands in Prague, she'll be stopping in Barcelona for two weeks to work with a food-rescue organization providing aid to migrants in Spain. The Gilman experience is one she thinks will benefit her for years.  
"Gilman offers all kinds of networking opportunities and engagement with their alumni," she said. "I'm looking forward to that in the future. Right now, I am really excited about going." 
Wieland encouraged interested students to pursue the Gilman.  
"Students are able to apply for and secure funding through the Gilman Scholarship up to a full year in advance of their program abroad and there are two separate application cycles in fall and spring," he said.  
For more information, visit https://onf.fsu.edu. 
This year's Gilman winners, their major and destination country are: 
Sophie Allen
Double major in Psychology and Biomathematics, Canada 
Mishalynn Brown
Communications, United Kingdom 
Juliana Cano
English, Spain
Kayla Costume
Finance, United Kingdom 
Lucas Deininger
Engineering, United Kingdom 
Valentina Fajardo
Engineering, France 
Nicolas Florez-Ortiz
Theater, United Kingdom 
Laila Hayes
Medicine, Spain 
Shantae James
Double major in International Affairs and Political Science, Czech Republic 
Jasmyn LaCue
International Affairs, Japan 
Lindsey Loheac
Biological Science, Costa Rica, Thailand, South Africa 
Diana Morillo
International Affairs, Morocco 
Ari Rodriguez Urdaneta
Hospitality and Tourism, Taiwan 
Vi Rogers-Rivera
Political Science, Spain 
Maria Taylor
Psychology, United Kingdom