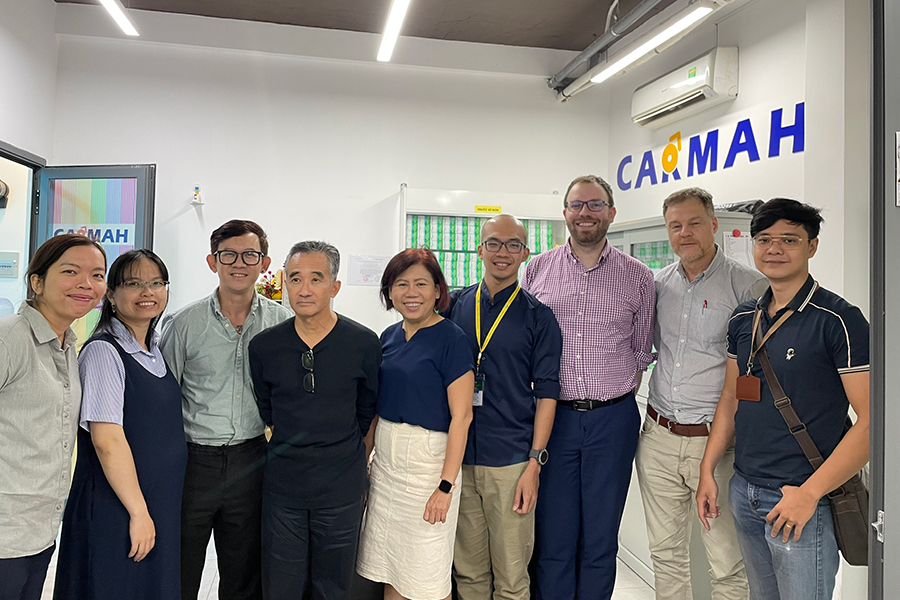 Florida State University nursing researchers are collaborating with partners across the globe in Vietnam to improve access to quality health care information, including sexual health services, for sexual minorities in the country.
The Center of Population Sciences for Health Equity (C-PSHE), housed in the FSU College of Nursing, is working with the Center for Applied Research on Men and Community Health (CARMAH) in Vietnam on a project that aims to reduce minority stress and HIV stigma among gay and bisexual men. The project is funded by a grant from the Fogarty International Center at the National Institutes of Health (NIH).
"International collaborations are crucial in the globalized world and addressing challenges such as HIV/AIDS requires a collective effort and an understanding of interconnectedness," said Frankie Wong, founding director of the C-PSHE and the McKenzie Endowed Professor of Health Equity Research in the College of Nursing.
CARMAH was established in 2013 by a group of activists including Dr. Donn Colby, a senior research physician at the U.S. Military HIV Research Program who holds a courtesy appointment in the FSU College of Nursing. The organization focuses on providing sexual minority individuals with health care information and services, particularly related to HIV testing and sexual health.
Dr. Rochelle Walensky, director of the Centers for Disease Control and Prevention, visited CARMAH in March as part of the 20th anniversary of the U.S. President's Emergency Plan for AIDS Relief (PEPFAR). CARMAH has adopted the strategy of PEPFAR to provide tailored HIV services and create a future where all individuals can lead healthy and fulfilling lives. Vietnam was one of the original countries, and the only Asian country, included in the first PEPFAR cohort.
The partnership between CARMAH and FSU's C-PSHE began when Wong and Colby co-wrote a successful proposal to the NIH. This collaboration has led to the implementation of a two-year intervention study funded by the NIH that aims to reduce stigmatization associated with sexual orientation and HIV among gay and bisexual men in Vietnam.
"Collaborations allow for shared knowledge, resources and problem-solving to tackle complex global health issues effectively," Wong said. "As the world faces various challenges, including the ongoing COVID-19 pandemic and the urgent need to address climate change, such collaborations will continue to play a vital role in shaping a healthier and more equitable future."
The study draws inspiration from a program developed by John Pachankis, the Susan Dwight Bliss Professor of Public Health and director of the LGBTQ Mental Health Initiative at Yale University. While Pachankis' program involves one-on-one interventions conducted by licensed clinical psychologists, the adaptation developed by Wong and Colby explores the effectiveness of a group intervention approach.
Initial data collection and focus group discussions indicate that individuals in Vietnam prefer group settings, where they can share stories and find support from peers facing similar challenges related to family acceptance and disclosure of their sexual orientation.
"In a country like Vietnam, it's a collective country, so individual therapy isn't something people are used to," Wong said. "So, I said, let's try to do it in a group."
Vietnam, like many other Asian countries, has cultural norms influenced by Confucianism, which places importance on family and traditional values. While same-sex relationships are not criminalized in Vietnam, the cultural emphasis on family and marriage may present challenges for full societal acceptance. However, compared to other countries with strong religious influences, such as the Philippines and Indonesia, Vietnam demonstrates relatively more openness and acceptance toward homosexuality.
Wong, who has previously worked in countries like China, Russia, South Africa, and Tajikistan, emphasized the importance of international collaborations in finding innovative solutions and promoting health equity worldwide.
"We are in a global environment now," Wong said. "We are no longer in the 16th century. We must find a way to understand our interconnectedness and find similarities to solve problems together."
For more information about the CPSHE and Dr. Walensky's visit to CARMAH, visit cpshe.fsu.edu. To learn more about the College of Nursing, visit nursing.fsu.edu.