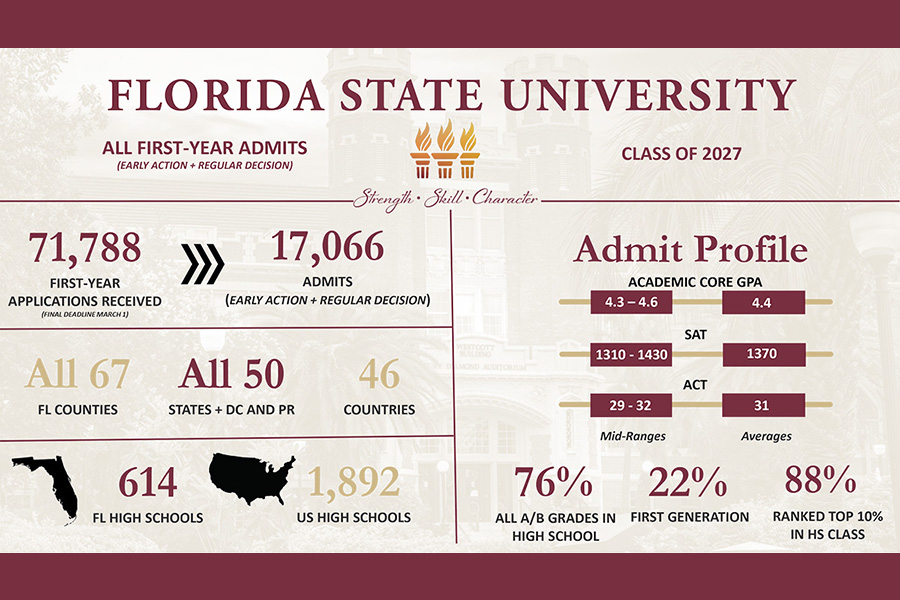 Florida State University's reputation as one of the top public universities in the country has resulted in more than 71,000 students applying for a place in the first-year Class of 2027.
FSU, the nation's No. 19-ranked public university, released its regular admissions decisions on Feb. 15 for those who applied by Dec. 1, 2022. Florida residents who applied for early action received their decisions on Dec. 15, 2022.
This year's total number of first-year applications is expected to grow as prospective students have until March 1, 2023, to apply.
FSU's Class of 2027 reflects excellent geographic diversity with 17,066 admitted students from all 50 states; Washington, D.C.; Puerto Rico; and 46 countries around the world. Seventy-nine percent of the admitted class comes from 614 high schools within the state of Florida with all 67 counties represented. Twenty-two percent of FSU's admitted class are first in their family to go to college.
This year's admitted students also are academically accomplished. Students admitted for Fall 2023 had an average core GPA of 4.4, (4.3 – 4.6 middle 50th), an ACT composite score of 31 (29 – 32 middle 50th), and an SAT total score of 1370 (1310 – 1430 middle 50th). Seventy-six percent of the admitted students earned all A & B grades in a rigorous academic curriculum.
Eighty-eight percent of the admitted students were ranked in the top 10 percent of their high school class. The top three areas of study for admitted students were business, biological science and engineering.
FSU expects to enroll 6,000-6,200 first-year students for Summer/Fall 2023.