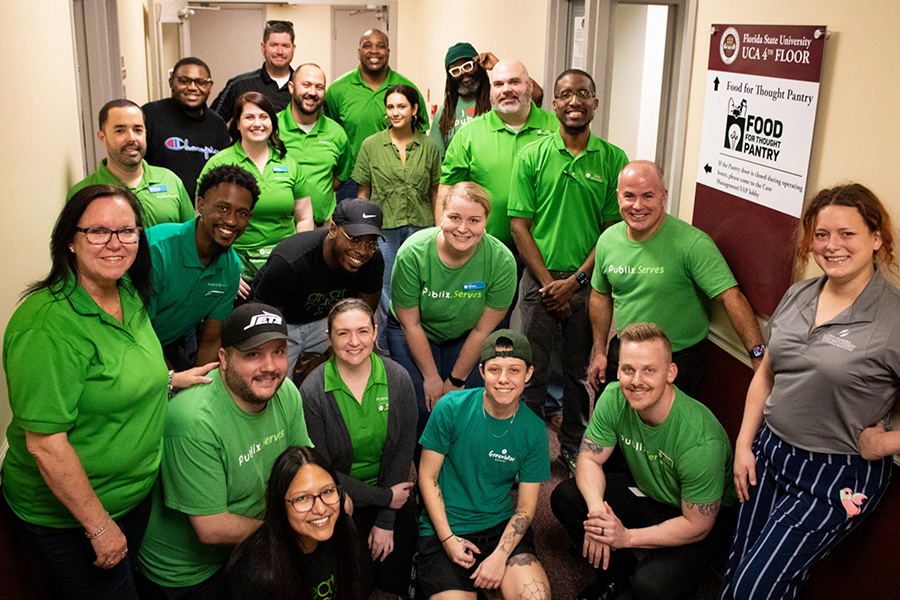 Hunger and food insecurity are realities everywhere – even on college campuses.
According to Census data, U.S. students who don't live on campus or with relatives are especially at risk of poverty. That includes students at FSU, and the university and its partners are doing what they can to help.
The Department of Student Support and Transitions runs FSU's Food for Thought Pantry to serve enrolled students who are facing food insecurity. The pantry partners with Second Harvest of the Big Bend, plus various volunteers, in an effort to keep the shelves and freezers stocked.
"The Pantry fills an important role on campus by providing food, including produce, and hygiene products at no cost to students and with low barriers to access," said Haley Gentile, a case manager at the Food for Thought Pantry. "Food insecurity has many faces; whether a student is navigating gaps in their budget due to cost-of-living increases or because of an unforeseen crisis, the Pantry is here to help supplement their monthly grocery bills without judgement."
In the first three weeks of the new academic year, the Food for Thought Pantry served 434 different students for a total of 791 visits. That compares with the same period of 2021, when the Pantry served 89 students for a total of 129 visits.
Officials expressed appreciation for the support the Pantry receives from the community. Last month, volunteers from Publix stores throughout Tallahassee served at the Food for Thought Pantry by providing inventory checks, stocking the shelves and organizing the space.
FSU also continues to address the problem statewide, partnering with the University of Florida in an annual friendly competition to see who can collect the most food donations. This year's competition will take place Nov. 16-30, before, during and after the schools' Nov. 25 football game in Tallahassee.
The Food for Thought Pantry is open from 8 a.m. to 5 p.m. Monday through Friday in University Center A, Suite 4148. The Pantry appreciates donations, including non-perishable food items, cash and gift cards. To view a wish list of items or donate, visit dsst.fsu.edu. Interested parties can also coordinate donations with staff by emailing foodpantry@fsu.edu.
"By subsidizing food access and reducing stress resulting from financial instability," Gentile added, "the Pantry hopes to facilitate student success in the classroom and in their activities across campus and in the community."