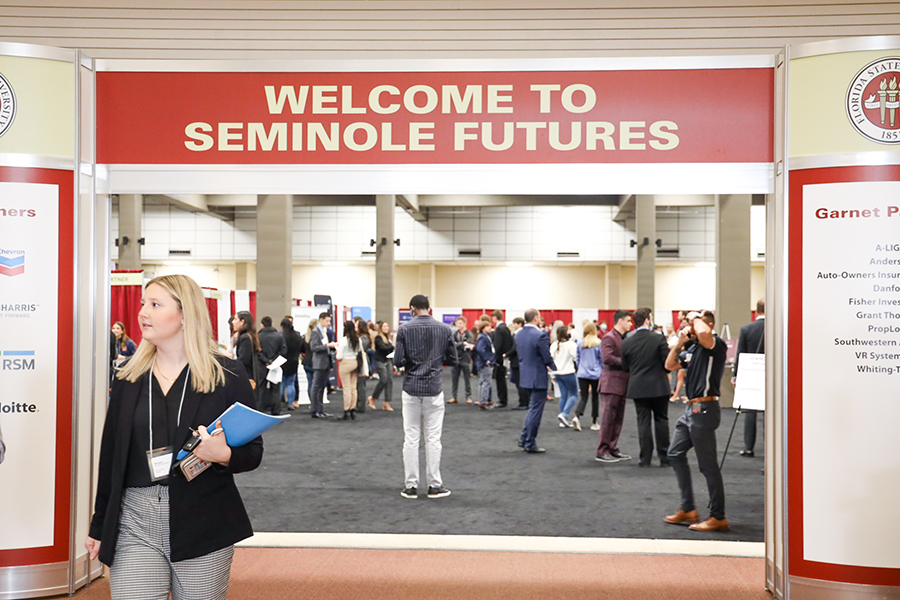 The Florida State University Career Center is connecting students with nearly 350 organizations during five fall 2022 career fairs, including a part-time job fair from 11 a.m. to 3 p.m. today and Thursday at the Student Services Building.
The events aim to give students the opportunity to meet and network directly with hiring recruiters from on-campus departments, local and national organizations, and graduate-school programs from across the country.
"Our career fairs provide students the perfect venue to prepare for career success by exploring opportunities in a variety of industries, enhancing networking skills and connecting with prospective employers," said Leslie Mille, interim director of the FSU Career Center.
Nearly 60 local employers and on-campus departments are expected to attend The Career Center's event today and Thursday.
Coming events also include the STEM Career & Internship Fair and Seminole Futures, FSU's largest all-majors career and internship fair.
The STEM Career & Internship Fair kicks off Career Fair Week at 9 a.m. Tuesday, Sept. 20. More than 110 organizations in the engineering, computer science and technology fields will flood the first, second and third floors of the FAMU-FSU College of Engineering building looking for students from all majors to fill full-time, part-time, internship and co-op positions.
Registered organizations include Amazon, Georgia Pacific, Honeywell, Johnson & Johnson and Jacksonville-based JEA.
"The STEM Career & Internship Fair provides JEA with access to an extensive array of student talent," said Raven Simmons, a talent acquisition specialist with JEA, the largest community-owned electric utility company in Florida. "We are fortunate to have had multi-year success with our cooperative program that consistently includes students from the STEM fair. We look forward to engaging and continuing to offer real work-life experiences for students."
Seminole Futures will take place from 9 a.m. to noon and 1 p.m. to 4 p.m. Thursday, Sept. 22, at the Donald L. Tucker Civic Center. More than 175 recruiters from corporate, non-profit and government-affiliated organizations will attend the event seeking skilled, goal-oriented and creatively driven students and alumni.
"Whether looking for an internship or a full-time job, it's very easy to navigate which employers are looking for which types of students," said junior actuarial science major Benny Pirrone, who secured an internship with Wakely Consulting Group. "The career fair made it possible to connect, have a conversation, and share résumés with employers to build a connection and a possible future relationship. If it weren't for the in-person connections, I may have never been able to have the opportunity that I had."
After the STEM and Seminole Futures career fairs, The Career Center also hosts day-after interviews on campus so employers and students can connect further about opportunities.
Other events this fall include:
The Diversity & Inclusion Networking Event (D.I.N.E.) will take place from 5 to 7 p.m. Wednesday, Sept. 21, at the Donald L. Tucker Civic Center.
The Virtual Career & Internship Fair will take place Wednesday, Oct. 5, online via NoleNetwork/Symplicity.
The Graduate, Professional and Law School Fair will take place from 10 a.m. to 2 p.m. Wednesday, Oct. 19, at the FSU Student Union.
Prior to the fairs, students can attend résumé cafés, workshops and employer panels to help them prepare. Employer panel topics range from maximizing your 30 seconds with a recruiter to being your authentic self at the career fair. The résumé cafés invite employers to campus to meet with students one-on-one and provide résumé critiques and advice.
Students are encouraged to register for the fairs on NoleNetwork, The Career Center's system for linking students and alumni directly with hiring employers and Career Center programs.
The Career Center provides students with comprehensive, innovative and inclusive career and employment services that help guide them in every step of their career journeys. The Career Center connects students with professionals and professional opportunities through NoleNetwork, FSUshadow, ProfessioNole Mentors, InternFSU and more.
For more information about the FSU Career Center, visit career.fsu.edu.