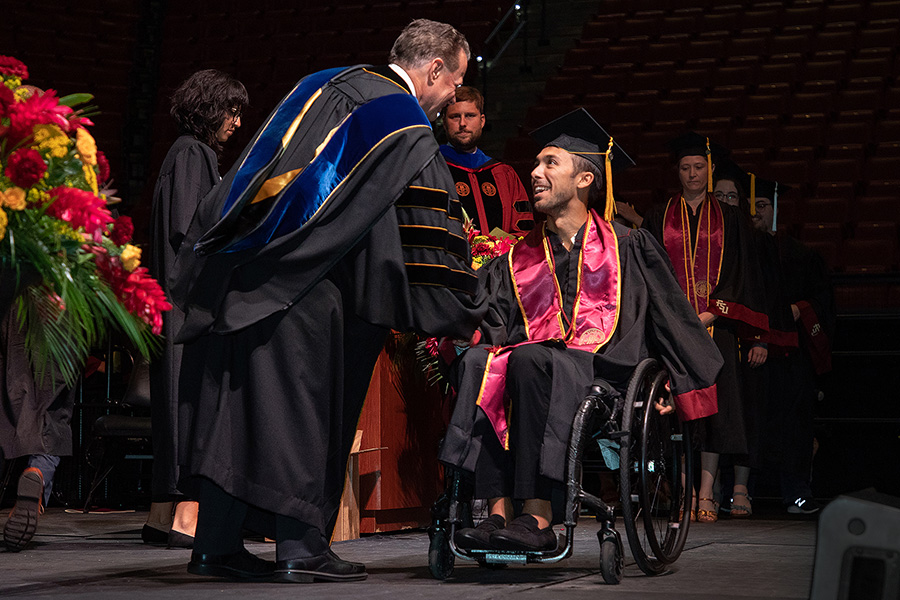 In one indescribable moment four years ago, Will Cotter went from regularly playing soccer to losing the ability to walk. He went from routinely spearfishing in deep waters to learning adaptive ways to get back down to the bottom. And he went from knowing how to ride a bike using his feet to learning how to ride a handcycle with his arms.
In a diving accident with friends, he had shattered his spine.
"The best way to describe it is you basically just have to relearn how to live your life," he said.
Take it from him. Cotter this summer graduated magna cum laude from Florida State University with a degree in biological science, and now he's aiming for a career in neuroscience – following his brother and grandfather into medicine.
He sees his new path as a way to help others who have sustained similar injuries and others that affect the brain.
"Having suffered a spinal cord injury, I experienced how drastically it can change your life," Cotter said. "That's the reason I am so determined to help others who have been through trauma — I recognize how terrifying it may be and how easy it is to feel hopeless. I want to encourage people to find strength within themselves and to reassure them that there is always hope for a better future if they keep a positive mindset."
Faculty members know him for his family's FSU pedigree – his mother, father and brother all graduated from the university – and for the example he has set.
"Will is an extraordinary young man who has overcome seemingly impossible odds," said Mark Zeigler, a teaching professor in the College of Communication and Information. "He is fearless and compassionate, and he has the potential to make a big impact on others, his community and our world."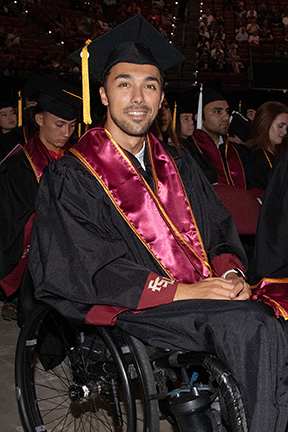 In the spring of 2018, Cotter was on the cusp of beginning the next chapter of his life, at FSU. He had already gotten his student ID and was finalizing his housing arrangement for the fall. As a longtime soccer player plagued by multiple knee and ankle injuries, he wanted to pursue a medical career in orthopedics.
Then everything changed.
While spending a day on a lake with teammates from the Tampa Bay United soccer club in Palm Harbor, north of St. Petersburg, Cotter opted to forgo the jet skis and stay on the dock. He wanted to dive into the water, something he'd done flawlessly thousands of times, and thought it'd be fun to jump from the roof covering a boatlift.
He jumped and, to his surprise and shock, hit bottom. The impact produced a distinctive thud and a shrill ringing in his ears. He desperately scraped for the surface but discovered he was unable to move his legs or core. Scared, struggling and drowning, he wondered if he'd make it before a friend finally pulled him up, saving his life.
Cotter sustained injuries to two cervical vertebrae and suffered a cervical break in his neck.
The impact instantly paralyzed him from the chest down. He was taken to Tampa General Hospital, where doctors operated for seven hours and fused vertebrae C4 through T1, which make up the space from the neck to the shoulders.
Cotter and his family eventually soon learned he probably would never be able to walk again.
One week after his surgery, he was transported to the Shepherd Center in Atlanta, which focuses on medical treatment, research and rehabilitation for people with spinal cord injury and disease. It was there where Cotter learned how to live with a spinal cord injury, spending six long months doing physical and occupational therapy practically every day.
And it was there where he got a visit from John Thrasher, FSU's president at the time and now president emeritus, and First Lady Jean Thrasher. He also got a visit from Zeigler.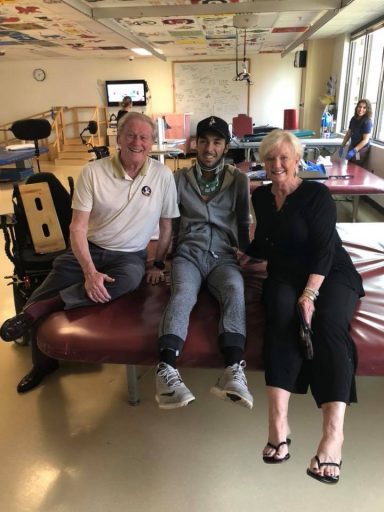 "I wouldn't be where I am today without the support system that I had," Cotter said. "I know how challenging it can be and how it really tests a person, and it's easy to feel like you're hopeless and there's nothing to look forward to. But you just have to find it inside of you to have hope and continue to try and achieve your goals and live a happy life."
Cotter decided he wouldn't let this accident redefine his life. Six months after the accident, he moved into an FSU residence hall and started the spring 2019 semester. He even did his own shopping, cooking and cleaning.
"It was a little nerve wracking just because I had spent six months in the hospital having a ton of people around to help out, and I basically was just living the life of a normal college student," he said. "Just the stuff that you'd normally go through, but with a little bit of an added challenge."
Cotter thrived at Florida State. He pledged the Theta Chi fraternity and made the President's list, successfully balancing his classes while still attending therapy at Tallahassee Memorial Hospital twice a week.
Yet the injury changed his life, and it gave him a chance to see a new field of medicine firsthand — neuroscience.
"After I got hurt and had that experience, I saw how that field is growing and how there's so much research to be done on different injuries like spinal cord, stroke, brain injury, and shifted my interests."
Cotter's mother and father, Gabi and Geoff, and brother, Robert, preceded him at FSU. Robert, now a medical student at Yale University, was halfway through his junior year when Will's accident happened.
Zeigler, the teaching professor in the College of Communication and Information, knew Will's parents during their time at the university. He taught Robert in class and would run into Will on campus all the time.
Zeigler never taught Will but pronounced him a graduate during a summer commencement ceremony at the Donald L. Tucker Civic Center. Zeigler, the reader of students' names at the ceremony, read Will's name, then stepped from behind the podium and gave the graduate a hug.
"Watching his FSU journey since summer 2018 has been one of the great joys of my career," Zeigler said. "I love him dearly."
Cotter plans to take a year off but stay busy. He's looking to shadow doctors back home in the Tampa area, with the hope of securing an internship in a hospital.
He'll also submit applications to medical schools and perhaps embark on improving his Spanish through a month-long immersion trip to Spain. He has built a foundation in the language through his mother, a Guatemala native, and eight years of Spanish in school. Also, a grandfather completed medical school in Guatemala and practiced in the U.S.
"I want to be fluent in Spanish because it's part of who I am," Cotter said. Also, he said: "Being bilingual will only expand the population of people I could treat when becoming a doctor."