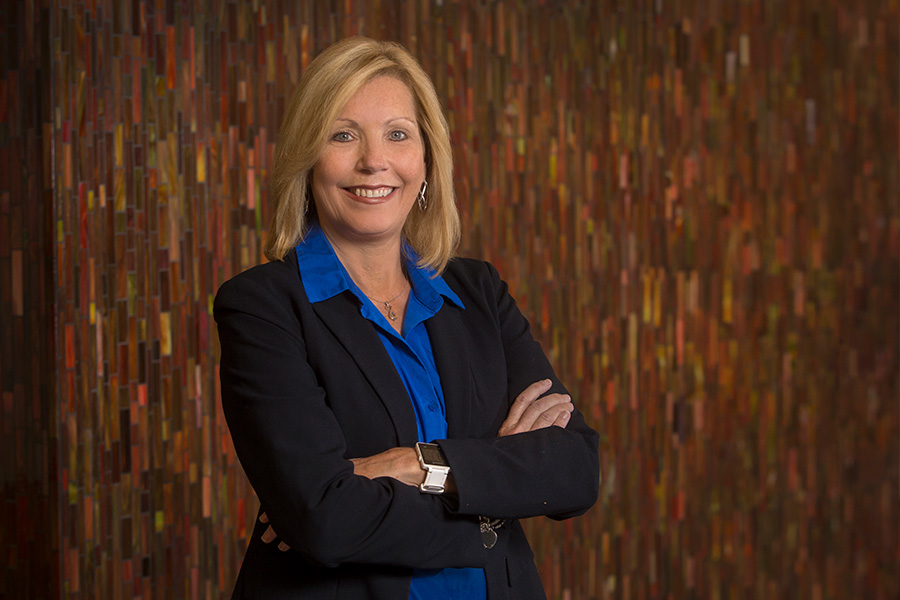 Myrna Hoover has spent a career focused on helping Florida State University students, alumni and stakeholders forge their professional paths.
A two-time FSU alumna, Hoover earned both her undergraduate and master's degrees in communications at Florida State. She first became associated with The Career Center through a graduate assistantship during her master's program.
Now, after almost four decades at Florida State, including about 10 years as director of The Career Center, Hoover is retiring from the university. Her last day is July 29.
"It has been my honor to serve at FSU and The Career Center for over 36 years," Hoover said. "Knowing I have been able to give of my time and talents to the same institution that gave me my career start has allowed me to have a fulfilling, successful career."
The Career Center provides comprehensive career services, trains career service practitioners and conducts life/career development research. It also disseminates information about life/career services and issues to the university community — even to the nation and the world.
As director, Hoover played a crucial role in elevating The Career Center's national reputation. She significantly expanded the center's service and launched programs including the mandatory Graduating Senior Survey, ProfessioNole Pathways & Badges, FSUshadow, InternFSU, the ProfessioNole Clothing Closet and Match Major: Your Career Blueprint.
Hoover also fostered partnerships and collaborations across campus. This embedded career liaisons in FSU's colleges and increased student engagement with career services from first-generation college students, historically underrepresented groups and the Panama City and Republic of Panama campuses.
"Myrna Hoover leaves a lasting legacy at Florida State University as countless Noles have benefitted from her work at The Career Center over the past 36 years," said Vice President for Student Affairs Amy Hecht. "From the FSUshadow Program and InternFSU to the ProfessioNole Clothing Closet, she has found innovative ways to elevate The Career Center offerings that have made an immense impact on the career preparation and possibilities of FSU students and alumni. We are grateful for Myrna's leadership in the Division of Student Affairs and The Career Center and wish her all the best in her retirement."
Under Hoover's leadership, The Career Center received the National Career Development Association's 2018 Exemplary Career Center Award and The Princeton Review's Top 20 Career Services ranking.
And for nine consecutive years, students have hailed The Career Center as their No. 1 way to find employment after graduation, according to the FSU graduating senior survey.
"This university's and The Career Center's commitment to student success speaks for itself," Hoover said. "The Career Center has long been recognized as a national leader in delivering quality career services through training career counselors, developing cutting edge career theory and research, utilizing technology to meet students where they are, and working with students one-on-one to help them design a career that not only meets their values, interests and skills but prepares them for their next career step."
Throughout her career, Hoover served on numerous committees of the National Association of Colleges & Employers (NACE). She served as chair of the State University System Career Center leaders and as president of the Florida Association of Colleges & Employers (FloridaACE), of which she's a lifetime honorary member.
She has contributed as a publisher and author. In 2013, she published the National Career Development Association's monograph "Employer Relations and Recruitment: An Essential Part of Postsecondary Career Services," and in 2022 she co-authored a chapter titled "Increasing Student Access and Learning in Employment and Internship Experiences" in the peer-reviewed book "Delivering on the Promise of High-Impact Practices."
Hoover has been recognized extensively for her contributions to the career services profession. She won the Florida Association of Colleges & Employers 2002 Brownlee Award, the Southern Association of Colleges & Employers 2018 Southern Star Award and the FSU Alumni Association's 2019 Grad Made Good Award. In 2018, the Tallahassee Democrat featured her as one of "25 Women You Need to Know."
In 2022, Hoover earned induction into the National Association of Colleges & Employers Academy of Fellows – the highest honor in her profession.
She also received the inaugural Florida Association of Colleges and Employers (FloridaACE) Lifetime Impact Award, presented to a current or former member of FloridaACE who has made notable and significant contributions with distinguished achievement to the association and/or the profession of career services/university relations/talent acquisition.
The award henceforth will be named the "Myrna P. Hoover Lifetime Impact Award."
In this next phase, Hoover said she plans to consult in the career services profession and volunteer for the Homeless Coalition and Meals on Wheels.
She also plans to travel extensively and spend more time with family and friends, including her two sons, both Tallahassee residents and Florida State alumni.
"A long bucket list awaits," she said.