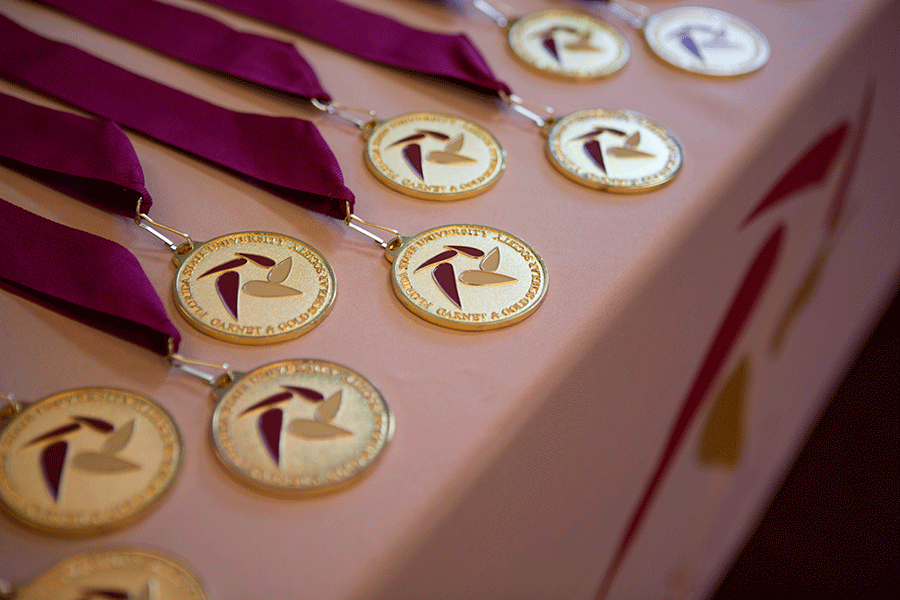 Florida State University welcomed 16 new inductees into its prestigious Garnet & Gold Scholar Society this summer during a virtual induction ceremony Thursday.
Established in 2010, the Garnet & Gold Scholar Society facilitates student involvement and recognizes undergraduate students who excel within and beyond the classroom in at least three of five areas: international experience, internship, leadership, research and service.
"We are proud to welcome this new group of inductees to the Garnet & Gold Scholar Society," said Amy Hecht, vice president for Student Affairs. "They are a wonderful representation of the university, and we are pleased to give them recognition for their involvement in bettering the campus and community."
To become an inductee of the Garnet & Gold Scholar Society, students must meet the engagement criteria and submit a synthesis reflection project in their final semester before graduation. Participants are recognized during graduation and receive a designation on their official university transcript, making the students more marketable to potential employers or graduate programs.
"As Garnet and Gold Scholars, your achievement speaks to your desire to make the most of your Florida State education and reflects well on the values of this university," said President John Thrasher. "You have set a shining example for your fellow students and for all those who will follow in your footsteps. I am so proud of you."
The inductees, along with their state/country, hometown and academic major(s), are:
COLORADO
Colorado Springs, Colorado
Faith Matson, Editing, Writing, and Media
FLORIDA
Fort Lauderdale, Florida
MacKenzie Ellis, Behavioral Neuroscience
Phabie Jean, Psychology
Gainesville, Florida
Joshua Shultz, Geology and Environmental Science
Jacksonville, Florida
Thomas Ossi, International Affairs and Political Science
Lakeland, Florida
Charlie Gardner, Finance and International Affairs
Miami, Florida
Juliette Sosa, Biological Science
North Palm Beach, Florida
Madison Hayes, Studio Art and Art History
Ocala, Florida
Hanya Noussier, Advertising
Orlando, Florida
Hana Grubb, Biochemistry
Oviedo, Florida
Allen Byrd, Economics and Philosophy
Parkland, Florida
Chris Gutierrez, Psychology and Social Work
Pensacola, Florida
Hunter Welch, History
Sarasota, Florida
Max Kunkel, Political Science
Tampa, Florida
Shannyn Reigle, Political Science
SPAIN
Madrid, Spain
Volga Acebes del Castillo, Management Information Systems and Geography