In his summer commencement address Friday, Florida State University President John Thrasher reminded new graduates that they are now —and forever— part of the FSU family. 
Throughout his remarks, which he delivered in two ceremonies inside the Donald L. Tucker Center, Thrasher conveyed his deep affection for FSU, a love he said began more than six decades ago when he enrolled at Florida State. Thrasher's remarks are among the last official duties he'll perform as president as he's set to retire next month.   
"I have loved this university since I first set foot on this campus as a 17-year-old freshman in 1961," he said. "I arrived in Tallahassee with nothing but a suitcase and enough money in my pocket to rent a room a few blocks from here on Jefferson Street." 
Thrasher noted how he got a job serving dinner at a sorority house but added, with a laugh, that the big draw of the job was the free food.  
"At FSU, I learned something new every day – not just about the disciplines of business and law, but about perseverance, leadership and making lifelong connections," he said.
"Florida State helped me to see possibilities that I never even dreamed of. And your degrees will open doors for you, too." 
Florida State awarded a total of 2,923 degrees Friday. That includes 1,817 bachelor's degrees, 921 master's and specialists' degrees, 144 doctorates, three Juris Doctor and 38 Juris Master and L.L.M. degrees. About 1,600 students attended the ceremonies.   
Thrasher sought to define FSU as a place of opportunity and one that afforded him a future he might otherwise not have had.  
"I had very humble beginnings. Neither of my parents had more than an eighth-grade education, and we didn't have much money. I'm not sure anyone had very high expectations for me," he said. "So, when people ask me how I managed to achieve so much success, I tell them the truth: I owe it all to God, Jean and Florida State." 
The president closed his remarks with thanks and a promise that the bond graduates have forged with FSU will endure.  
"I've been fortunate in my career to serve my state, my country and my university. Florida State will always be home to me, and it gives me great joy knowing that wherever your life's journey takes you — you, too, will forever be part of the FSU family." 

— John Thrasher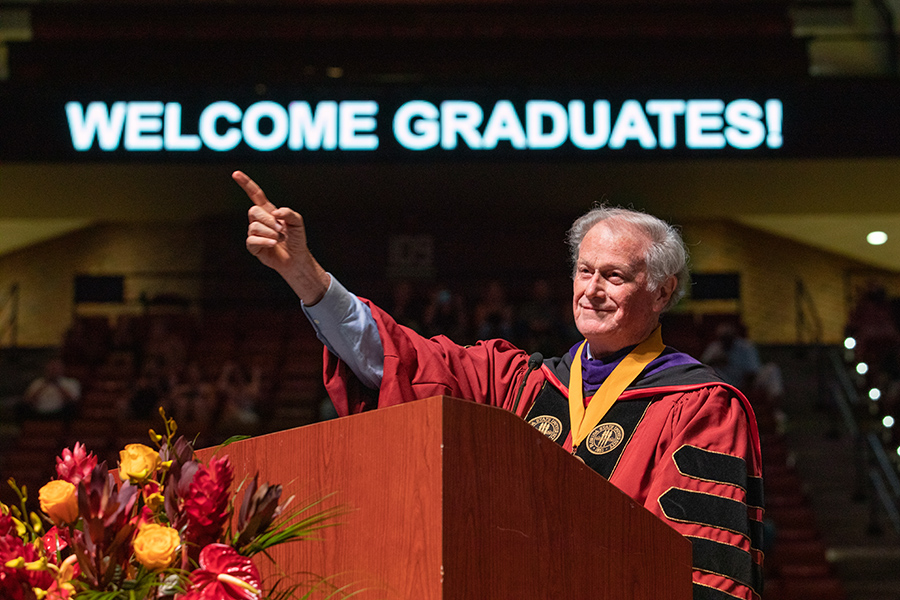 "I've been fortunate in my career to serve my state, my country and my university. Florida State will always be home to me, and it gives me great joy knowing that wherever your life's journey takes you — you, too, will forever be part of the FSU family." 
The notion of family and humble beginnings hold particular meaning to first-generation college student Porche' Whitby Okafor, who earned her doctorate in criminology and criminal justice Friday. Whitby Okafor said the support of others helped her reach this point.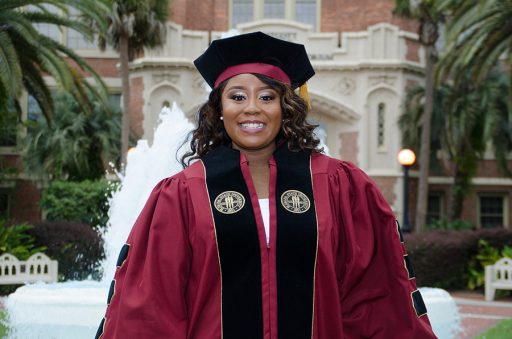 "As a first-generation student, this just goes to show how the support from family and community along the way can help you do amazing things," she said.
"My great-grandmother only received a sixth-grade education and she always emphasized the importance of education. Although she's no longer here physically, I know that she is very proud of me and would celebrate this special moment." 
Whitby Okafor, who hails from Yorktown, Virginia, is moving on to teach at Le Moyne College in New York next month. She said she'll be taking lessons learned both inside and outside the classroom at Florida State.  
"The sense of community and support that I've received here has been tremendous," she said. "I've met some remarkable people and have had incredible experiences with the students, staff, and faculty here. These experiences really helped to define who I am today as a person and academic."
Orlando native Sophia Akel is leaving FSU with two degrees, one in philosophy the other in economics, in just three years. The hard work has been worth it, she said.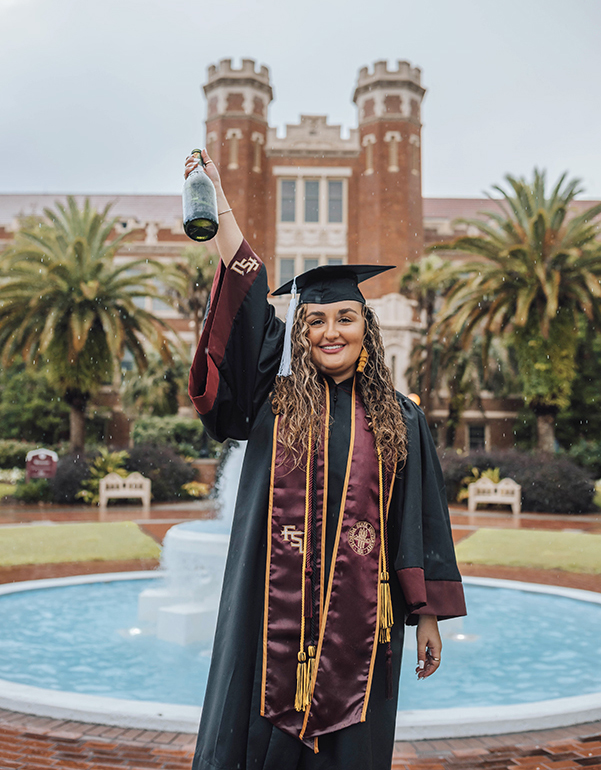 Akel said she'll miss the sense of community she enjoyed at FSU.   
"The professors here are truly dedicated to getting to know their students on a personal level," she said. "It's also common to share many classes with the people in your major, which makes the huge school feel really small." 
Akel is set to continue her education in the FSU College of Law where she earned a full academic scholarship. 
"I'm really excited that I get to be sort of a 'mega' Seminole by attending law school here at Florida State University as well," she said. "There's no other school I'd rather be at to obtain higher education." 
Melek Kochan, originally from Hollywood, Florida, is also a first-generation student. She is graduating with a bachelor's degree in Editing, Writing and Media within the Department of English at FSU.  
"Walking in the 2021 summer commencement ceremony is unbelievable to me," Kochan said. "Not only am I walking across the stage for myself, but for my family members who have never been able to attend a university."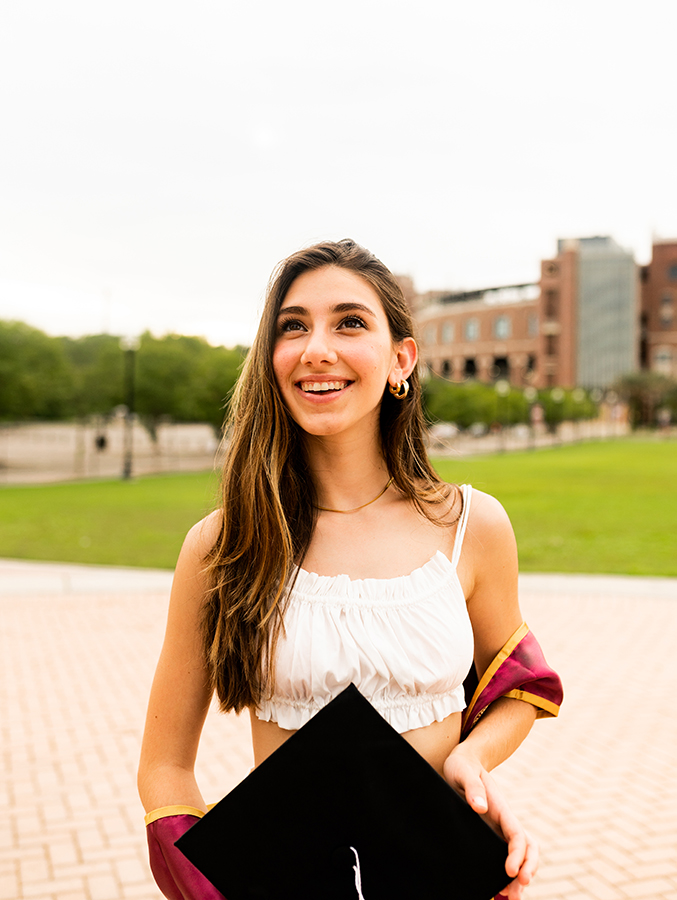 FSU became a second home for Kochan where she was able to grow and connect with students through clubs, internships and various opportunities on campus. 
"FSU is full of diversity, something I truly value in a community," Kochan said before adding that she'll harness her passion for education and helping the underprivileged by working for a nonprofit organization. "I feel incredibly blessed to be given the opportunity to receive such fine education and finally give back to the people who have brought me here." 
Philadelphia native Khyle B. Wooten earned his doctorate from the College of Music and is now an assistant professor of Choral Music Education at the University of Tennessee – Knoxville. 
"I am taking this moment to celebrate this great achievement with my family," he said. "This is everything to me." 
While at FSU, Wooten served as assistant conductor of the Women's Glee Club and Chamber Choir. He also conducted the FSU Gospel Choir for three years and was accepted into the Future of Music Faculty Fellowship with the Cleveland Institute of Music. 
Looking toward his future, Wooten hopes to train future generations of Black and Brown choral conductors, create academic literature on the lives and works of Black women composers and curate safe spaces for professional growth among Black and Brown choral conductors.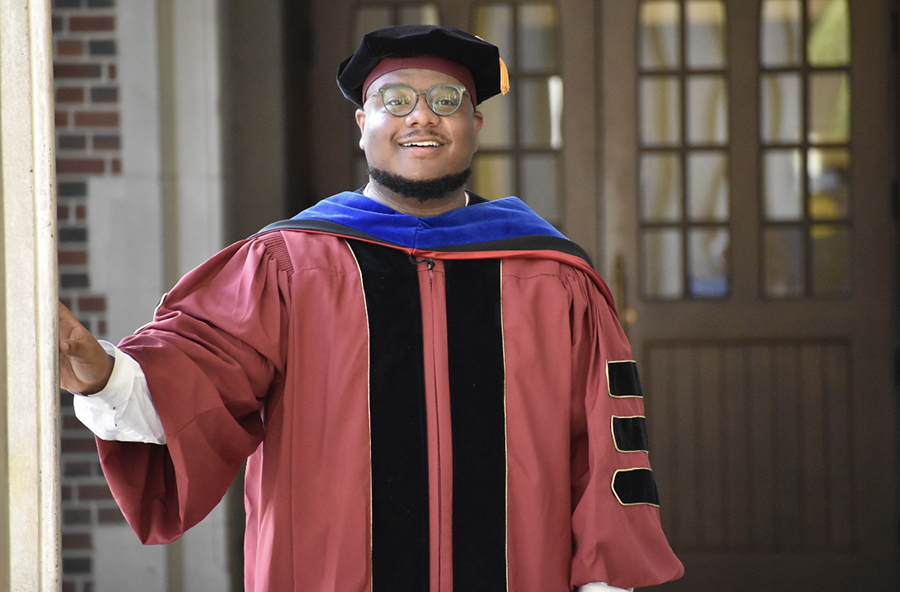 "Walking in this summer commencement ceremony will be a moment of triumph," he said. "It is a moment that celebrates my hard work and tenacity." 
Reflecting on her time at Florida State, Alexandra Boudreau of Lakewood Ranch, Florida, said her time in Tallahassee has changed her.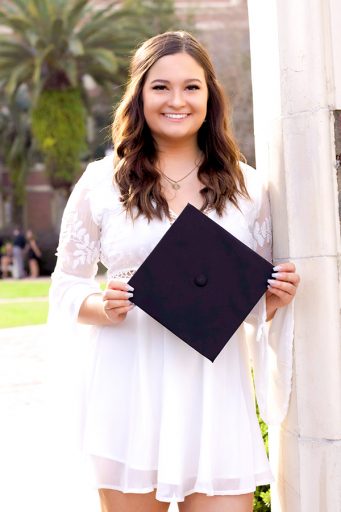 Boudreau said her love of service led her to earn her degree in hospitality at the Dedman College of Hospitality after initially planning on being a criminology and psychology major. 
"I absolutely didn't know what I wanted to be," she said. "I kind of came back to the fact that I love serving people and by talking with advisers and mentors about my passions, they helped me define my path. I really found my place, found my people and what I wanted to be. My experience at FSU has validated my sense of passion for serving others."  
Boudreau earned her degree in three years and said her time at FSU, while brief, has been profound.  
"If I were to put my FSU experience into one word — transformative," she said. "It was entirely transformative, and I owe the people at FSU who helped lead and mentor me along the way."
She added: "No matter where the world takes me, I am so excited and so happy to say that I am from Florida State."