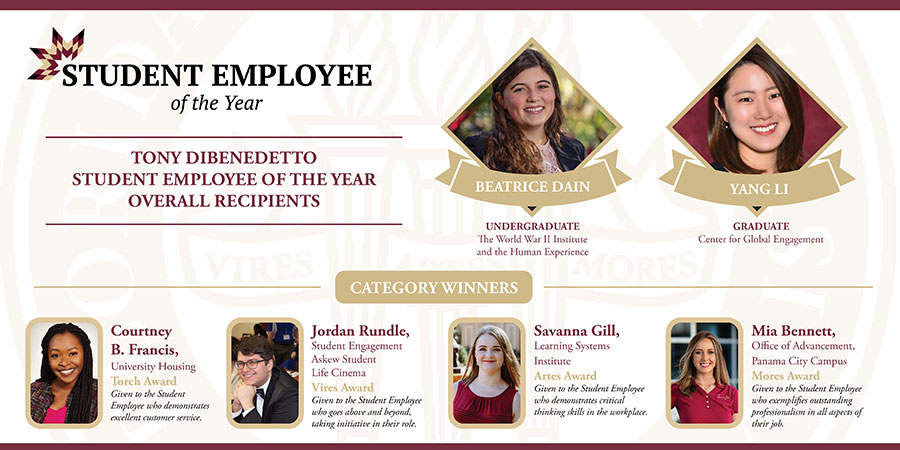 The Florida State University Career Center hosted its seventh annual Student Employee of the Year (SEOTY) award ceremony Friday, April 16, to recognize the positive impact student employees continue to have on the university community.
"This ceremony aims to highlight the invaluable contributions of our student employees," said Li Pon, SEOTY program manager and senior assistant director for experiential learning. "It is even more important to recognize their service and impact in our day-to-day operations during a year that was challenged by the COVID-19 pandemic, social and racial injustices across the country, and contentious elections."
More than 70 nominations were received from departments and divisions from both the Tallahassee and Panama City campuses.
"The work of our student employees is one of the many reasons why we are recognized for our institutional excellence," said Myrna Hoover, director of The Career Center. "Student employees provide essential roles in many offices, and they also provide us with valuable information and feedback from a student's perspective on how to improve our services and programs. Those of us lucky enough to employ these incredible students have an opportunity to provide a meaningful experience that helps them develop skills for their future career and often these mentee-mentor relationships turn into friendships that last a lifetime."
FSU's Student Employee of the Year awards are named for Tony DiBenedetto, an FSU alumnus, 30-year executive, serial entrepreneur, thought leader and former Tribridge chairman and CEO. DiBenedetto credits much of his growth and development to the skills he learned from supervisors during his time as an FSU student employee.
These overall awards are bestowed upon one outstanding undergraduate student employee and one outstanding graduate student employee who demonstrate strength, skill and character, while delivering exceptional customer service and always going above and beyond the duties of the role.
Beatrice Dain, with The Institute on World War II and the Human Experience, received the Undergraduate Tony DiBenedetto Student Employee of the Year Award.
Dain, a senior from Gainesville, Florida, who is double majoring in international affairs and anthropology, received the top honor for undergraduate student employees for her notable contribution as an archival assistant with the Institute on World War II and the Human Experience.
Each year, FSU's Tony DiBenedetto Undergraduate Student Employee of the Year winner is advanced for consideration at the regional level through the Southern Association of Student Employment Administrators (SASEA). This year, 290 students were nominated in the region, and SASEA recognized Dain as one of three Student Employee of the Year regional honorees. This is the second time FSU's institutional winner has received regional recognition.
"For me, this award serves as a testament to the value for undergraduate students working at the Institute on World War II and the Human Experience," Dain said. "I am one of many who has fallen in love with archival work through the institute. For the past two years, I have worked with hundreds of primary documents from World War II and created aids or detailed guides for researchers. I feel very fortunate to work at the institute alongside so many incredible people who help preserve the legacies of those who served during World War II and to be recognized at the regional and national level."
Yang Li, a doctoral candidate from Dalian, China, studying educational leadership and policy analysis, received the Tony DiBenedetto Graduate Student Employee of the Year Award for her work with international student programming at the Center for Global Engagement.
"Professionally, this award indicates that the efforts to promote international students' success attending college in the U.S. are recognized, and hopefully there will be more attention garnered to this marginalized group in higher education," Li said. "As an international student, I am genuinely thankful to be a member at the Center for Global Engagement and to witness the care and concern to international students from every staff member."
The Career Center also honored student employees with category awards, each named after an aspect of the institutional seal. The 2021 Category award recipients are:
The Vires (Initiative) Award recognizes the student employee who consistently goes above and beyond their job duties, taking initiative in his or her role. Jordan Rundle, a triple major in actuarial science, statistics and economics from Riverview, Florida, was nominated by the Askew Student Life Center.
The Artes (Critical Thinking) Award recognizes the student employee who best demonstrates critical thinking skills in the workplace. Savanna Gill, a double major in mathematics and FSU-Teach from Plant City, Florida, was nominated by the Learning Systems Institute.
The Mores (Professionalism) Award recognizes the student employee who exemplifies outstanding professionalism in all aspects of the role. Mia Bennett, graduate student in Corporate and Public Communication, from Freeport, Florida, was nominated by the office of Advancement, FSU Panama City Campus.
The Torch (Customer Service) Award recognizes the student employee displaying exemplary customer service. Courtney B. Francis, higher education doctoral candidate from St. Thomas, Virgin Islands, was nominated by University Housing.
To further celebrate the critical work done by our FSU student employees, The Career Center is encouraging departments to share photos of their student employees on-the-job using the hashtag #NolesAtWork.
For more information on Career Center services, programming or initiatives, visit career.fsu.edu.