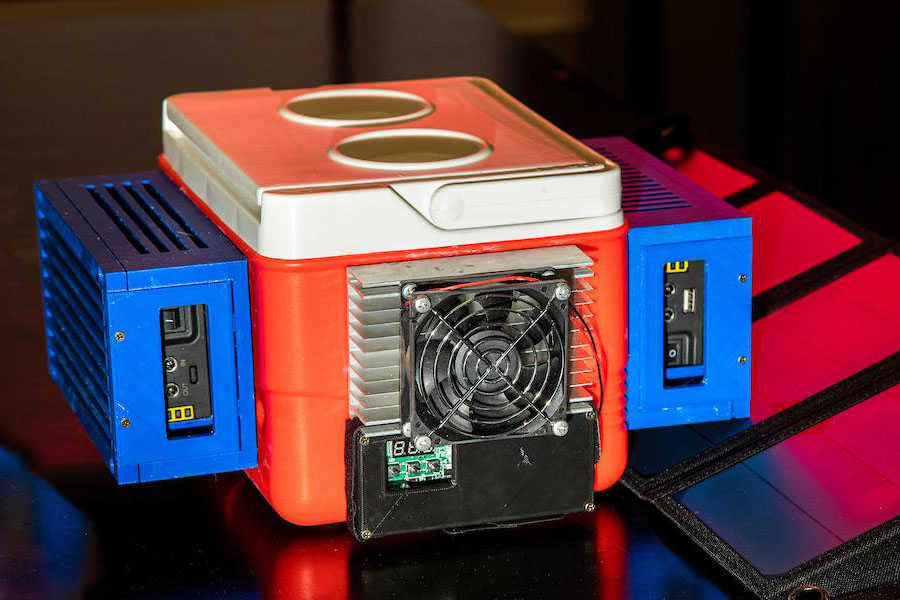 A team of FAMU-FSU College of Engineering students who have designed a portable cold-storage unit for medication will compete against 12 other ACC schools for the ACC InVenture Prize in a shark-tank style entrepreneurial competition.
The competition and award ceremony will be broadcast at 7 p.m. Wednesday, April 21, on local PBS stations.
The team representing FSU from the FAMU-FSU College of Engineering is composed of six engineering students: Travis Amaral, Zoe Dillehay, Nick Georgevich, Keon Glass, Diego Mendoza and Andrew Sayers. As part of their senior design project – a graduation requirement for engineering students – the group designed a unit named Medi-Kool, which is designed to preserve temperature-sensitive medication such as insulin.
"Medi-Kool is such an important product as it has the potential to end extremely preventable suffering and death that isn't often thought about by members of the community who aren't dealing with it firsthand," Dillehay said. "In 2021 people should not be dealing with a lack of appropriate medication, and this is an area that we can help."
The team is now seeing how that project could potentially be scaled up and have been competing in entrepreneurial competitions such as ACC InVenture and the InNOLEvation Challenge, hosted by the Jim Moran College of Entrepreneurship.
The lack of proper cooling for insulin and other temperature-sensitive medications during a power outage causes hundreds of otherwise preventable deaths. Diabetic complications are among the leading causes of death after a natural disaster.
Currently, no product on the market provides a comprehensive solution for storing temperature-sensitive medication during a long-term power outage. While Medi-Kool is designed to store a full prescription of insulin, it can also store glaucoma eye drops, EpiPens for life-threatening allergic reactions, and any other drugs or vaccines that require refrigeration.
The team previously won the "Most Scalable" award at the InNOLEvation Challenge, a business competition for FSU students interested in creating a product or service that is the solution to a problem or need.
They also are being supported by faculty from the College of Engineering, College of Medicine, College of Entrepreneurship, College of Social Sciences and Public Policy and the Innovation Hub.
"This year's FSU team has not only had a creative and impactful invention to present, but also has demonstrated fantastic team spirit and commitment," said Ken Baldauf, director of the FSU Innovation Hub. "Competing at this level takes a lot of time and effort. To make that investment on top of finishing a demanding degree in Engineering is no small feat."
The ACC InVenture Prize debuted in 2016 and has been going strong since. North Carolina State University is serving as the 2021 host, though the competition and award ceremony will be virtual. The winning team received $15,000 with the second and third place teams receiving $10,000 and $5,000, respectively.
Florida State University will serve as the host institution next year.
The award ceremony featuring all of the pitches will be broadcast at 7 p.m., Wednesday, April 21, on WFSU-TV and streamed from https://accinventureprize.com/.
Read more about the Medi-Kool team at the FAMU-FSU College of Engineering website.