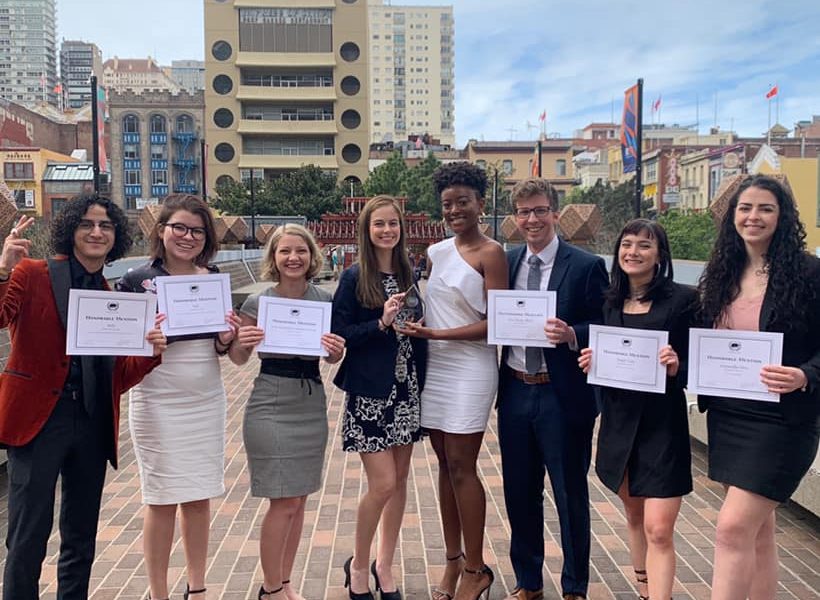 For the second year in a row, Florida State University's World Affairs Program's Model United Nations team earned a Top 10 ranking by the North American College Model U.N. World Division. 
The team was ranked No. 10 by Best Delegate, an organization dedicated to promoting and supporting student Model UN teams in competitions and conferences in a broad range of regions.
The team was undefeated in their size category during the spring 2020 semester, winning Best Large Delegation awards at Model UN Emory and Florida Crisis Simulation — two Southern conferences — and Best Small Delegation at the University of California at Berkeley Model UN.
This followed a fall 2019 semester where they won awards at the University of Pennsylvania, the University of North Carolina and the National Collegiate Security Conference in Washington, D.C.
The team's rise to Top 10 status in the past two years was aided by its ability to expand its travel and competitive opportunities thanks to generous support from donors during the 2018 Great Give, FSU's online giving event.
WAP 2019-2020 Director Jake Mason also credited "a historically large and phenomenal freshman class," who quickly developed into award-winning delegates.
"The dedication of our members to promote our team on the circuit and campus continues to amaze me," Mason said, noting the "unconventional" ending of the competitive season, which was cut short due to COVID-19.
WAP won Best Small Delegation at the Model UN conference at Berkeley the last weekend in February. All eight of the organization's traveling delegates won awards in their committees: Outstanding Delegate to Jake Mason; Honorable Mention to Aliyah Hurt, Allie Odishelidze, Sebastian Rivera, Kathryn Vigrass and Lucy Walsh; Verbal Commendations to Karissa Hammett and Alisson Sealy.
Earlier in February, WAP won Best Large Delegation at the Florida Crisis Simulation in Gainesville, Florida. Fifteen team members came home with special recognition: Best Delegates Nicholas Bamberg, William Fulmer, Karissa Hammett, Mary Thomas and Ryan Villacorta; Outstanding Delegates Alain M. Acanda, Allen Byrd, Lauren Callahan, Noelle Du Bois and Jessica Middleton; Honorable Delegates Shelby Fleshood, Melissa Pregasen, Nolan Rudolph, Alisson Sealy and Lucy Walsh; Verbal Commendation to Matthew Putnam.
The organization started the spring conference season strong at the beginning of February with a Best Large Delegation award at Model United Nations Emory. Here again, individual team members were recognized for their outstanding work: Best Delegates Shelby Fleshood, Aliyah Hurt, Jessica Middleton and Mary Thomas; Outstanding Delegates Alain M. Acanda, Chase Freeman, Jake Mason, Kathryn Vigrass and Lucy Walsh; Honorable Delegate Alisson Sealy; and Verbal Commendation to Jensine Weingold.
"In addition to our excellent overall performance, the program also set records for our highest points per delegate ratio at two of the conferences," Mason said.
Mason, a recent graduate in International affairs, economics and Chinese and recipient of a Fulbright scholarship, was recognized by Best Delegate for his leadership of the program and his competitive record. He placed on the 2019-2020 North American Collegiate Model U.N. All-Star Team, a program designed to recognize exemplary individuals in the college Model UN community.
The program will be led in 2020-2021 by Aliyah Hurt, a Social Science Scholar who is pursuing a dual degree in public health and political science.
Best Delegate provides in-person programs that directly impact over 3,700 students and teachers worldwide every year. Its website is used by more than 750,000 Model UN participants from around the world every year and is the thought leader in the development of the global Model United Nations community. Best Delegate has consulted for the United Nations, and its work has been featured in the New York Times.