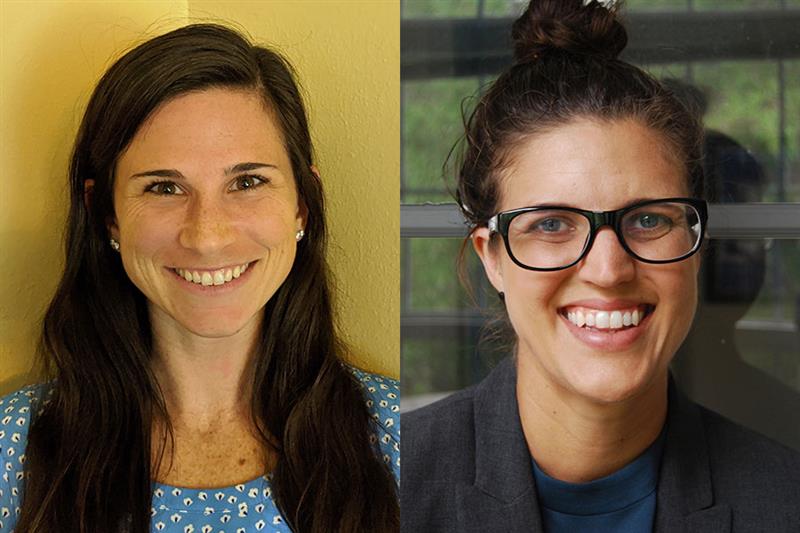 Only two graduate students in the entire state of Florida were awarded prestigious Scholar Awards from the Philanthropic Educational Organization (P.E.O.), and they're both enrolled in programs at Florida State University.
Jessi Thomsen, a doctoral candidate in the English Department with a specialization in Rhetoric and Composition, and Brittany Mathes, a doctoral candidate in the Department of Psychology with a specialization in Clinical Psychology, will each receive a stipend from the International Chapter of the P.E.O. Sisterhood to support their study and research.
The P.E.O. Scholar Awards are one-time, competitive, merit-based awards intended to recognize and encourage academic excellence and achievement by women who are completing the last two years of their doctoral degree.
"The community of women who established this award and chose the recipients aren't coming from our disciplines, they're coming from all different types of work," Thomsen said. "This supportive community allows us to think about our work and how it is received by people outside of our little bubbles. A huge component of this award and the organization is that the community doesn't end with the award, and that relationship is not a one-time thing but something that's established and continues forward."
The organization, which was founded in 1869, seeks to celebrate the advancement of women in academia through scholarships, grants, awards and loans.
"As women, we don't always acknowledge our hard work and accomplishments," Mathes said. "It's an honor to be recognized for my work, and it's especially meaningful coming from other women."
Over the past five years, the Office of Graduate Fellowships and Awards has developed a collaborative relationship with the Tallahassee-based P.E.O. chapters to identify women in graduate programs at FSU who contribute important and impactful research to their related disciplines.
Adrienne Stephenson, assistant dean of The Graduate School, Sara Hart, associate professor in the Department of Psychology, and Emily Pritchard, research faculty in the College of Medicine, work together to promote P.E.O. scholarships and awards at FSU and connect graduate students with women of the P.E.O. in the community.
"My colleagues and I recognize that the scholars who receive this prestigious award share the goal of the P.E.O. International to change the lives of people around them through scholarship and service," Stephenson said.
Mathes' research focuses on interpersonal relationships and how they impact different forms of psychopathology. Her dissertation looks at the efficacy of an online treatment targeting hostility and its impacts on alcohol use.
"Past research suggests that people who have hostile attitudes or perceive other people in a negative way are at-risk for alcohol abuse, so I wanted to see if intervening on those attitudes can impact drinking behaviors," Mathes said. "The motivation for this project came from wanting to test an alternative treatment that could be more impactful than the options we have now."
Online treatment options have always been important, but considering the COVID-19 pandemic, Mathes stressed that such treatment options are especially relevant.
"Ultimately, I'm interested in helping people, that's why I got into clinical psychology in the first place, and my research is very much in line with that," Mathes said. "With everything that's happening right now, it's made online treatment even more relevant and put it in the forefront of people's minds that we need to be thinking about other modes of treatment delivery."
A more conceptual project, Thomsen's dissertation looks at reflection as it is theorized and practiced in writing, both in the classroom and in the world. Her research investigates decolonial and new materialist frameworks for reflection in writing, in addition to the Western framework for reflection, with the goal of constructing a synthesized understanding of reflection for writing.
"I'm curious about what happens if we theorize reflection through different lenses," Thomsen said. "If we have a very Western notion of reflection, then we're rendering invisible reflective practices that come from other cultural backgrounds. I'm putting a new materialist framework and a decolonial framework up against this Western framework that we already have in place. If we think about reflection through these different lenses, how does it help us with writing but also how we understand our place in the world and how we operate in the world around us?"
The broader scope of Thomsen's project hones in on how different forms of reflection learned in the classroom have implications for how people relate to the world around them.
"There's something really important about how we understand our relationship with writing, maybe particularly through reflection, and connections to broader sustainable practices," Thomsen said.
Thomsen was inspired to move from Omaha, Nebraska, to Tallahassee after working with the scholarship of Professor Kristie Fleckenstein and Kellogg W. Hunt Professor Kathleen Yancey, two esteemed educators in the English Department.
"They've pushed me with my research," Thomsen said. "What I've appreciated in the Rhetoric and Composition program is that there is recognition that we are students, researchers and academics, but we are also people. Having that kind of support in this program has made me feel like I can be a healthy individual as I am pursuing this work, and that has been crucial."
Mathes, who is originally from Princeton, New Jersey, said attending FSU for graduate school is "one of the best decisions I've ever made."
"The collaboration and openness in the department and across FSU has been great," Mathes said. "I really wanted a program with a good balance of research and clinical work, and FSU's program definitely has that. I'm coming out of the program feeling like I received strong training in both areas. Overall, it was a great decision to come here, and that's coming from someone who, for undergrad, went to FSU's rival, the University of Miami."
For more information about the P.E.O., visit peointernational.org. To learn more about the P.E.O. Scholar Award or similar awards, visit the Office of Graduate Fellowships & Awards, ogfa.fsu.edu.