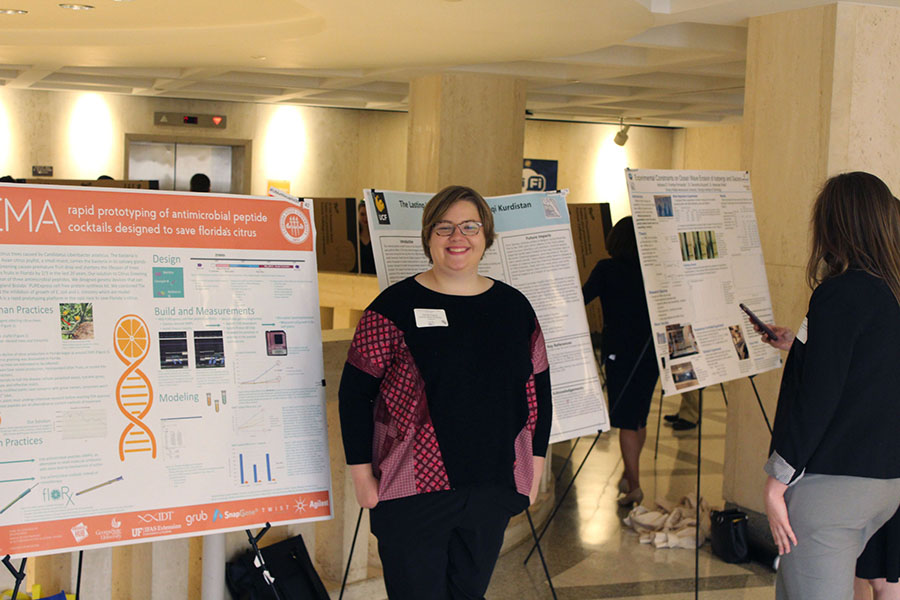 Four Florida State University undergraduate students had the chance to present their research among legislative members at the Florida State Capitol on Monday, Feb. 10.
The inaugural Undergraduate Research Posters at the Capitol was put on by the Florida Undergraduate Research Association (FURA) to provide a way for undergraduate students to engage directly in the political process.
Students presented their research posters in the Capitol from 10 a.m. to noon. They also had time for optional appointments with their local representatives in the afternoon and a chance to tour the Historic Capitol.
This year, over 50 students from 15 institutions all across the state of Florida were represented. Each institution had the opportunity to bring up to four students.
"The FSU Center for Undergraduate Research and Academic Engagement (CRE) is proud to have taken the lead role in organizing this inaugural Florida Undergraduate Research Posters at the Capitol event, bringing undergraduate researchers together from all around the state, on behalf of the newly formed Florida Undergraduate Research Association," said Latika Young, director of the CRE at FSU. "We are especially proud of our four undergraduate researchers who were selected to represent Florida State University."
The four Florida State undergraduate students presented research representing a wide array of fields and social issues.
The FSU students and the projects they're presenting are:
Natasha De La Cruz – Sunrise, Fla. "Remote Sensing in the Chesapeake Bay: A Focus on Harmful Algal Blooms." Her research and poster discuss the issue of harmful algal blooms (HABs) becoming more commonplace in the Chesapeake Bay due to nutrients from agricultural and urban runoff entering the Bay.
Elias Larralde – Delray Beach, Fla. "Melodies of Mirages: Exoticism, Folklore, and 'performing' Santeria." His project seeks to understand how outside processes, such as cultural appropriation, affect the construction of identity as manifested through artistic and religious expressions. Larralde argues that songs and their performances have an intrinsic ability to either reiterate or defy one's social and cultural place in society.
Sabrina Mato – Naples, Fla. "Splintering Off: Catalonia's Search for Sovereignty." Mato's project is an analytical narrative project that dissects Catalonia's declaration of independence in 2017 through individual stakeholders' lens and deciphers the international impact this referendum and self-governing movement has had on Spain.
Hannah Pascoe – Jacksonville, Fla. "FLOEMA: The Antimicrobial Peptide Cocktail Designed to Save Florida's Citrus." Pascoe's research proposes a solution to citrus greening, reflecting the ongoing efforts to save Florida's iconic oranges and bring the citrus industry back home.
"Students had the chance to share their research with legislative members from their respective districts, providing a chance to engage more directly in the political process, while also sharing how their engagement within undergraduate research has prepared them for future graduate school and career opportunities," Young said. "It is our hope that this event will continue to demonstrate the importance of supporting undergraduate research as an educational practice that creates the leaders of tomorrow that we need in Florida and around the world."
The night before the event, the attendees ate dinner together at FSU's historic Suwannee Room dining hall. Following dinner, attendees received final advocacy training and had time to meet other students and faculty in the Nancy H. Marcus Great Hall of FSU's Honors, Scholars, and Fellows House.
To view the full program and find more information, please visit https://www.floridaundergradresearch.org/posters-at-the-capitol.