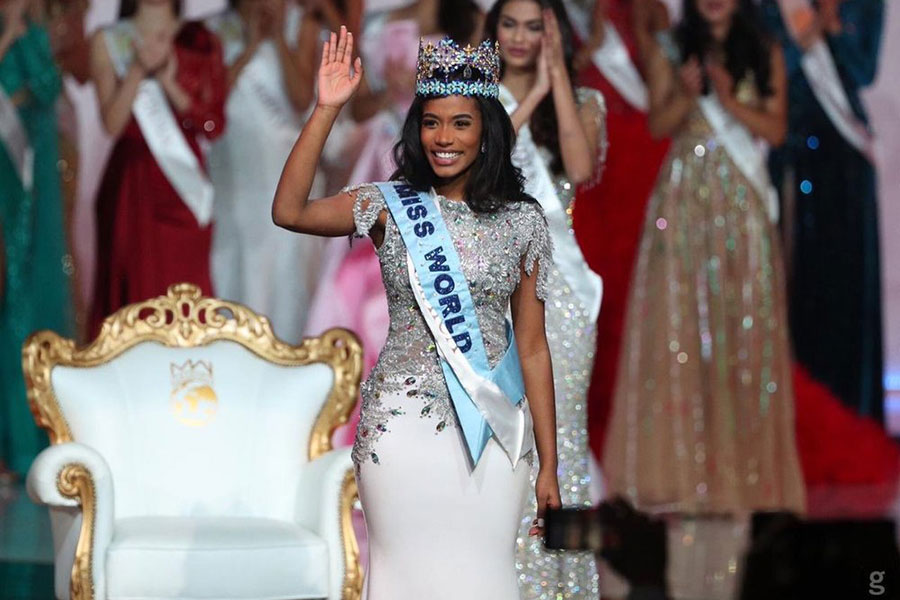 When Florida State University undergraduate Toni-Ann Singh of Jamaica was crowned Miss World on Dec. 14, 2019, in London, it marked the first time that black women have simultaneously held the titles of five of the world's top beauty pageants.
Before Singh made beauty pageant history, the 23-year-old was a Florida State student pursuing bachelor's a degree in women's studies and a minor in psychology with aspirations to one day become a medical doctor. She knows she has a long way to go but she is very driven to making this dream a reality so that she can better impact her global community.
As Miss World, Singh is living in London and traveling around the world to promote "Beauty with a Purpose," a global platform that inspires and empowers thousands of young women to use their talents to raise awareness and funds in aid of humanitarian causes that make real and lasting tangible differences to the poor, sick and disadvantaged.
Recently, Singh took time out of her busy schedule as Miss World to talk with Florida State University News about her background, her experience at FSU, competing in Miss Jamaica and Miss World and what the future holds for her.
Where did you grow up?
"I was born in Jamaica, but when I was about 9 years old, I moved to the United States to Naples, Florida. I grew up in Naples and attended Community School of Naples for high school, but I always went home to Jamaica in the summers. I call it home because that's how it felt — like I was going to school in America and coming home to Jamaica."
Why did you choose FSU?
"Coming from a Caribbean background and being a first-generation student, you don't really know much about the schools that are available in the U.S. You know some of the names everyone knows, like Harvard. I never even got to see Florida State in person before I started school. I just had to do some research myself online. I liked how it looked and I read a lot of reviews. I applied and got in, and I was very excited.
"I spoke to another student at my high school whose parents went to FSU, and she said they were 'Nole-blooded.' I had a whole bunch of questions about that, and I liked the sound of what I heard. It seemed like God was leading me to FSU, so that's where I went."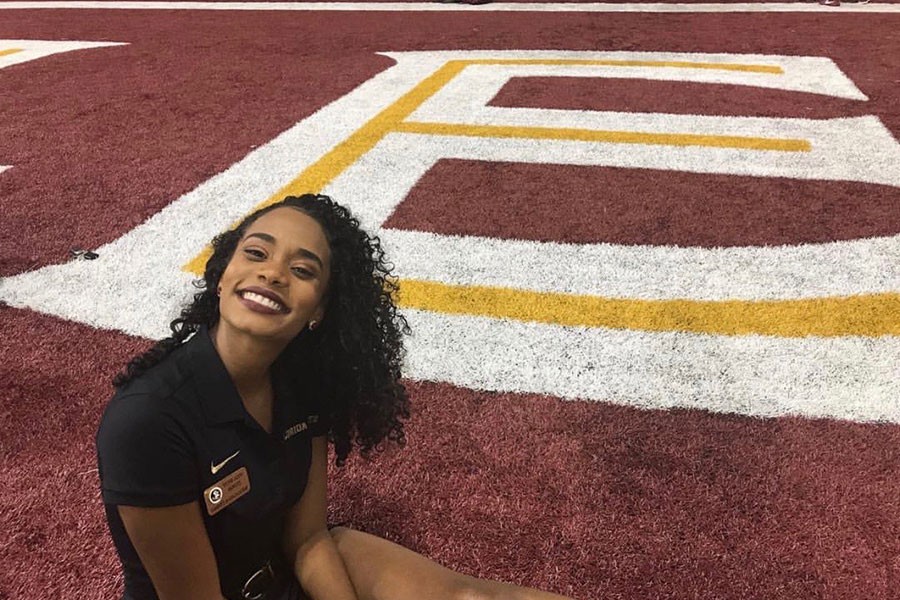 What were you involved in at FSU?
"I was heavily involved on campus. I started as a member of the Caribbean Students Association because my country is a big part of my identity and one of the things I really care about. I found this group of students who I identified with culturally and also wanted to serve the community.
"When I was a sophomore, I actually competed in my first pageant at FSU. It was a student-run pageant held by the Caribbean Students Association and not very extravagant at all. It was in The Globe and there were probably less than 100 people in the audience. I won and became Miss CSA, which gave me an executive board position in the organization.
"Through being involved in CSA, I realized there was a lot of work to be done because I saw the benefit of having a type of touchstone on campus. We're so far from our families, and we all go through so many different things. I needed that kind of home base. So, the next year, I became president of CSA. It was a great experience, and I'm excited because I implemented certain events, like monthly Sunday dinners, that are still happening today.
"Because of being FSU's CSA president, I was able to work with the Florida Caribbean Students Association, which is all of the organizations in the state. During their annual meeting, someone pushed me to compete in their pageant as well. And, I won again and became Miss Florida Caribbean Students Association. At that pageant, someone who had competed in Miss Jamaica asked me if I ever thought about entering. I said 'No, these school pageants are fun, but they're not actual pageants. I don't know how to walk in the shoes or do any pageant-type of things.' But I put that idea in my book and thought about it.
"I was also on the board of the Black Student Union as social and events chair and in SGA as secretary of diversity and inclusion. I was a member of the FSU gospel choir and a Garnet and Gold Guide."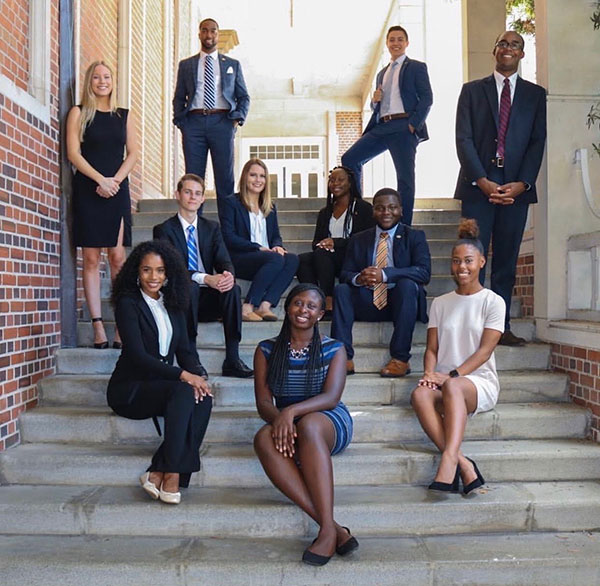 How did you find out you were accepted to compete for Miss Jamaica?
"I had applied a really long time ago to the Miss Jamaica pageant and forgot about it. Then, I got an email last summer inviting me to compete, but I had to be in Jamaica for about a month. I had just enrolled in summer classes at FSU. It was a really tough decision, but I had to grit my teeth and choose. I decided that I was getting the call (to compete for Miss Jamaica), so I would answer it."
How did it feel to win Miss Jamaica?
"I didn't think I would win. I thought, at best, I would gain a platform to fight for the women around me. The reason I finally decided to compete in Miss Jamaica was because I could use my advantage to push girls and women and give them a stronger voice.
"Where I'm from in Jamaica is the most rural part of the country. They literally call it the forgotten parish. One of the biggest and most prominent issues in that parish is teenage pregnancy. They have no way to stop the cycle. I thought if I got this platform, then the government of Jamaica would take a closer look at the area and figure out what we could do to change the narrative. I just wanted to get people to start listening.
"When they said 'Toni-Ann Singh,' I didn't know what to do. The funny thing is that when I won, I didn't know Miss Jamaica goes on to compete in London in the Miss World pageant against 111 other countries.
"I didn't really know how I would prepare for the actual Miss World pageant, but all of a sudden, I had Jamaica's prime minister talking to me about the country's women's centers. My psychology and women's studies classes were coming in handy when I was speaking about what these women need. I talked about how we could make changes that transcend borders."
What was it like competing in the Miss World pageant?
"The Miss World pageant is a little different. It's the oldest pageant and has done away with a lot of unimportant things like the swimsuit competition. When they say beauty pageant, we're talking about Beauty with a Purpose. They're more concerned about what you're advocating for and if you can articulate what you're passionate about and how you can help us change the world.
"We were in London for a month before the pageant. My roommate was so prepared with her outfits — she even had a photo album of what she should wear and when. I didn't even know what I was going to put on. My clothes weren't all designer. I think I got some stuff from a thrift store or on sale. It was so different for me. I had no idea what to expect."
Your talent for the pageants was singing. You sang at events around FSU, including the opening of the Civil Rights Institute, but Miss World was a much bigger stage. How was that experience?
"Miss World is a viewership of billions of people because it's not just watched by the United States and the United Kingdom. It is broadcast in Indonesia and China and India. Countries all over the world are watching and they said I would get to sing. I was terrified, but I was so excited because how many times do you get an opportunity like that.
"I had to sing right after (host) Piers Morgan interviewed me on live TV, which was tough. While everyone else had a little break before their talent portion, I'm backstage trying not to fall into complete shambles.
"When I took the stage to sing, I thought, 'This is my moment. This is my introduction to the world. This is a re-introduction to myself and what I'm capable of. This is me regaining my voice.' I sang Whitney Houston's 'I Have Nothing.' I took my moment, and I thought that was my win.
"Now, we've actually recorded the song in Abbey Road Studios. It's the oldest recording studio in the world and where The Beatles recorded their music. We've put the recording out into the world and any money it makes at all in terms of views on YouTube or downloads, every single penny goes into Beauty with a Purpose, which supports all of the Miss World initiatives around the world. I think that's an exciting legacy for me."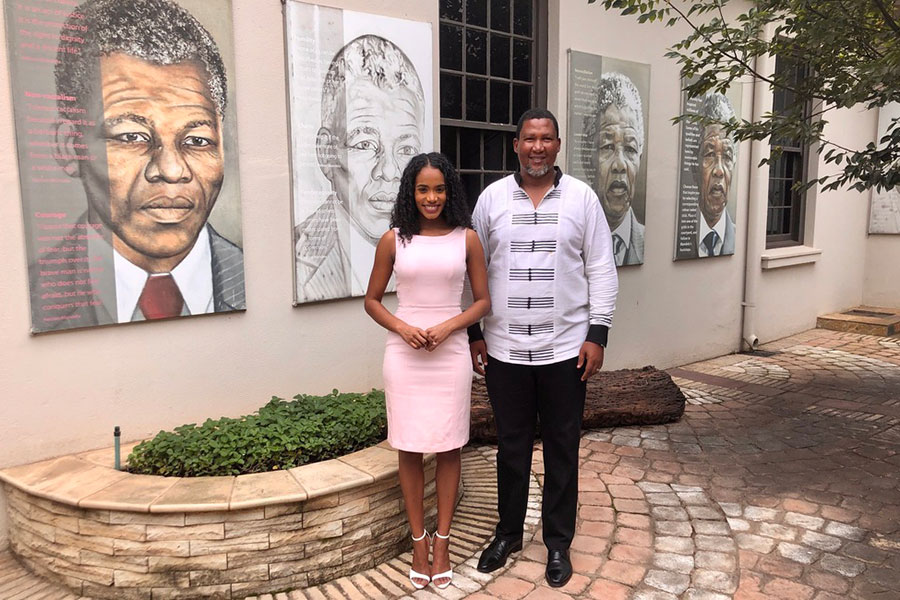 As Miss World, what kinds of things are you doing? Where are you traveling? What's the coolest thing you've experienced?
"I had the coolest trip recently when I visited the Mandela family in South Africa. I was invited there by Chief Mandela, Nelson Mandela's eldest grandson, to celebrate his mother's 70th birthday in Mvezo and donate 1,300 pairs of shoes as part of Beauty with a Purpose's continued support of local schools and children. I also got to sing to her Etta James' 'At Last,' and speak about Beauty with a Purpose and initiatives we're trying to start.
Where the Mandela family is from in South Africa is Mvezo. It's a very small village and is still up-and-coming. Clean water is sometimes hard to find. Electricity is still a struggle. After I sang, Chief Mandela made a speech to me specifically, and he said he hoped being there in the place of Mandela and seeing the humble beginnings of Mandela, gives me an idea of what people are capable of no matter where they come from or what they have. They can leave a legacy or mark on the world regardless of where they were born or how much money their family has. I was so emotional because their village looks a lot like where I come from in Jamaica.
I also was just in Mauritius, an island nation in the Indian Ocean. I was able to speak to girls at a school in a very rural area. I didn't even know where Mauritius was. I told them they were capable in the same way I am capable."
After your reign as Miss World ends next December, what are your plans for the future?
"Last year, you couldn't have told me that I would be Miss World, so I'm learning that you never know what's going to happen and I shouldn't even try. I'm grateful though, and this opportunity has given me a platform to help women.
"I think that in the future I would like to use this platform, and the power of it, to create some real change. Not just for the women of Jamaica, but for the women of the world. I know I have found my purpose, and I'm really happy to have found it."
How has your FSU experience helped you during your Miss Jamaica/Miss World experience?
"FSU has been a phenomenal learning experience. I've met so many awesome teachers and faculty. I've met people who have taken their time to make sure I'm OK, to share love with me, to share encouragement. Many times, in college you feel homesick and miss your family. I've been able to step into certain offices and get a kind word or a prayer. I am so grateful for what I've experienced at FSU and for the opportunity to go here. I will always have love for FSU, and I will always, in any way I can, come back and support FSU. I'm 'Nole-Blooded' forever."