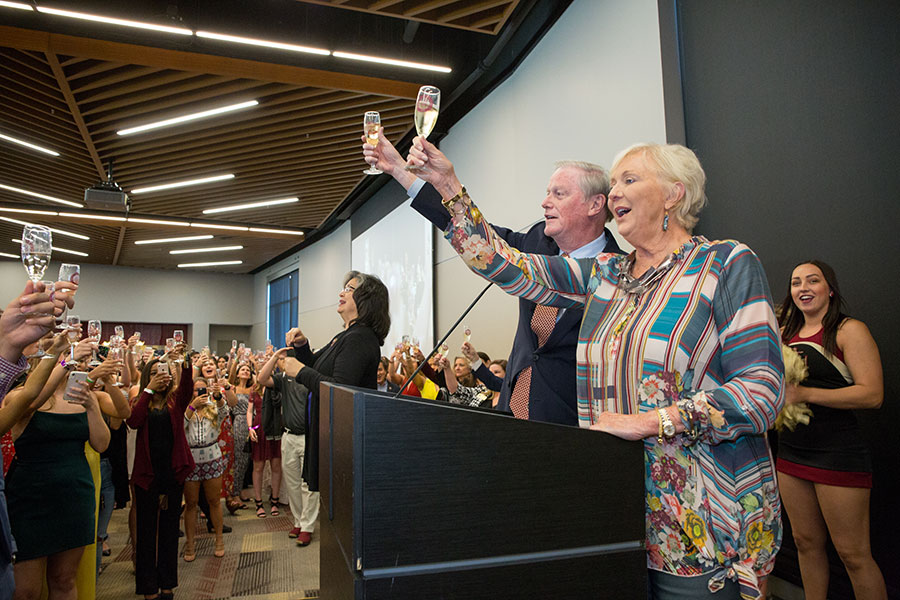 After years of studious efforts, seniors at Florida State University raised a glass of champagne to celebrate their upcoming graduation during the annual President's Senior Toast Tuesday, April 23.
Since 2013, the President's Senior Toast has brought together graduating students to commemorate their time at FSU along with President John Thrasher and other university administrators.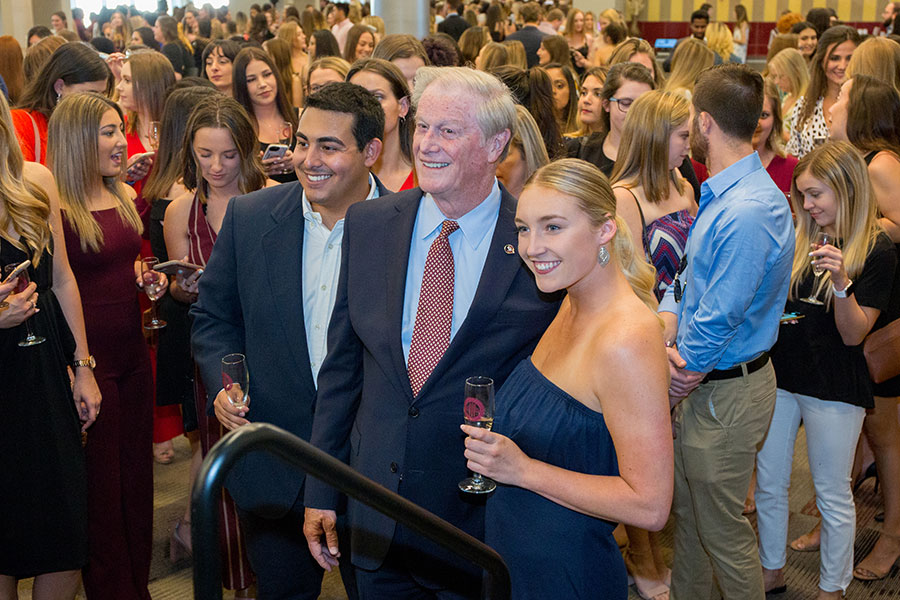 "It's a celebration for our seniors who have done a lot for Florida State," Thrasher said. "This is our way of giving back to them and saying thank you and wishing them the very best."
More than 2,000 members of the Class of 2019 enjoyed complimentary appetizers along with their champagne while mingling with friends at the Dunlap Champions Club, a 70,000-square-foot private club within Doak Campbell Stadium that overlooks the football field, FSU campus and downtown Tallahassee. It was a rare opportunity for students to have access to the exclusive club, which opened in 2016.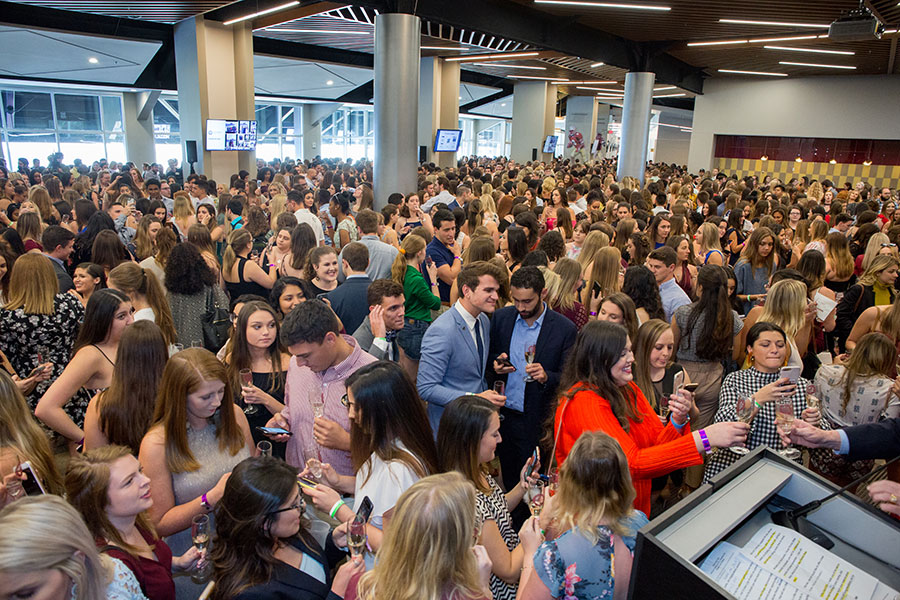 Victoria Diaz, who will graduate with a bachelor's degree in criminology, described this time in her life as bittersweet.
"I'm so excited because I'm going to law school next year, but I don't want to leave FSU," Diaz said. "It's hard. But this event signifies that we did it, we made it to this point and we are graduating."
The graduating students experienced a moment of nostalgia as they searched for their signature on the Class of 2019 banner that they autographed as incoming freshmen. Those who didn't sign the banner four years ago at freshman orientation took the opportunity to do so before graduation.
Jessica Clark, who will graduate with a bachelor's degree in retail entrepreneurship, said that she was proud to attend the President's Senior Toast.
"This shows that FSU really cares about the graduating seniors," Clark said. "They'll put on an event for us to signify such a big moment. Whether you have plans after graduation or not, you just know you made it after four years."
The soon-to-be alumni were reminded that graduation is not necessarily the end of their relationship with FSU. The FSU Alumni Association, FSU Student Alumni Association and the Tallahassee Seminole Club had booths set up for those interested in staying connected with Florida State after graduation.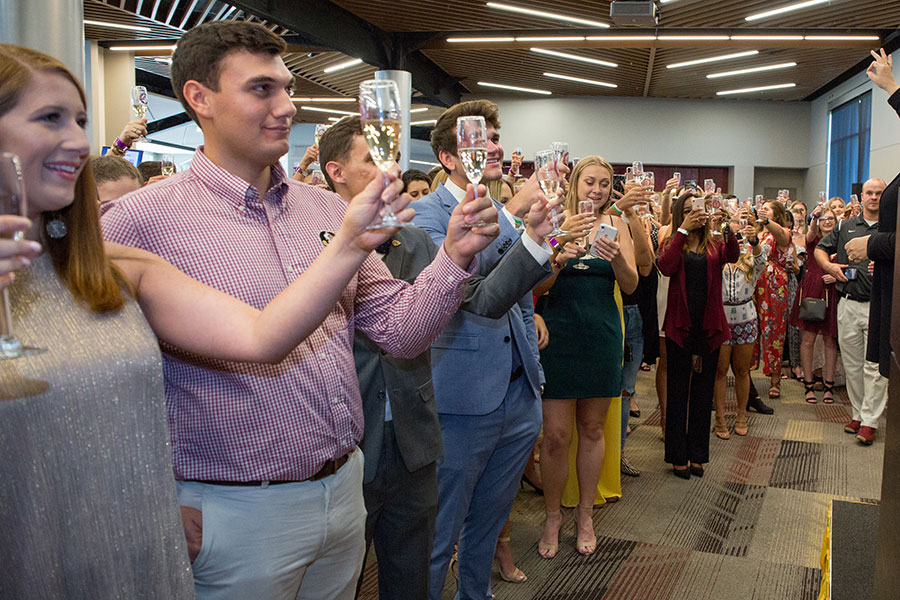 Rahul Nair, who will graduate with a degree in political science, said the President's Senior Toast serves as a testament to how FSU stays connected to its students.
"I think the Senior Toast is a testimony to students' experiences here at Florida State and to all of the great work that they're going to do within their community, corporate, professional and social lives within the next few years," Nair said. "I think the president and administration doing this is a fantastic show of gratitude to the students who have put out their best in their four years here. FSU is a university that's constantly innovating and continuing to move in the right direction."
Students waited to take pictures with President Thrasher in a seemingly endless line, but he didn't mind. To him, these students are like family.
"It's an honor and a privilege to be here and do this tonight," Thrasher said. "You all have learned a lot of new things, discovered new things, followed your passions and I hope you had a little bit of fun. I want you to always remember this: you're all part of the FSU family. I hope you'll come back often, I hope you'll always remember that Florida State is your family and that we appreciate all you've done."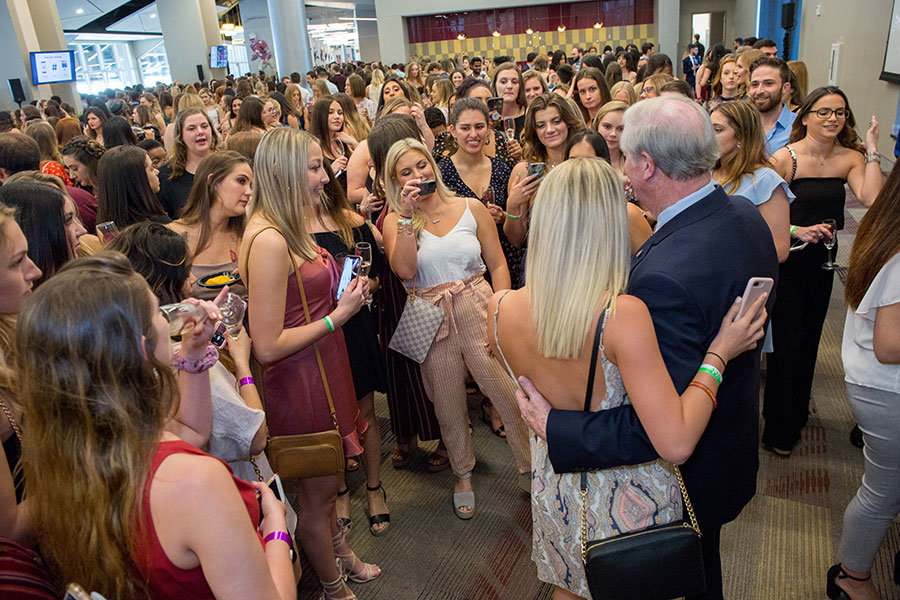 Thrasher toasted the Class of 2019 with a reminder to students to take the Seminole spirit with them wherever they go.
"To the class of 2019, I wish you all the very best as you begin the next phase of your life," Thrasher said. "And I hope your journey will always be paved with garnet and gold."