Florida State University students enjoyed ice cream and other refreshments during a sunny day on Landis Green Wednesday, April 10, during the annual President's Ice Cream Social.
The President's Ice Cream Social is a longstanding tradition at FSU during the spring semester where the university's president, along with other university administrators, scoop ice cream for students.
President John Thrasher and his wife, Jean, scooped the coveted chocolate ice cream at this year's event. Many students posed for pictures with the Thrashers, soaking in their one-on-one moment with FSU's president.
The Ice Cream Social is a special chance to forge relationships with students, Thrasher said.
"It's our opportunity to see the kids and say hello to them," Thrasher said. "They've had a long year, and it's a special day for us. We get to say hello to them and wish them the best for the rest of the semester. It's a really fun day."
The event has grown throughout the years, just like the university has. It takes a lot of ice cream to make this event happen — 450 gallons, to be exact. Providing all of that ice cream to Landis Green on a hot afternoon is the kind of job that could only be handled by an FSU alumnus.
Alan Asker, the president of Asker Distributors, graduated with a business degree from FSU in 1975. He's been distributing ice cream on behalf of Edy's to the President's Ice Cream Social for more than 25 years, and has watched the event evolve into what it is today.
"Today, we brought about 450 gallons of ice cream," Asker said. "This started at the President's mansion, then they moved it the Union, and then they finally decided on Landis Green."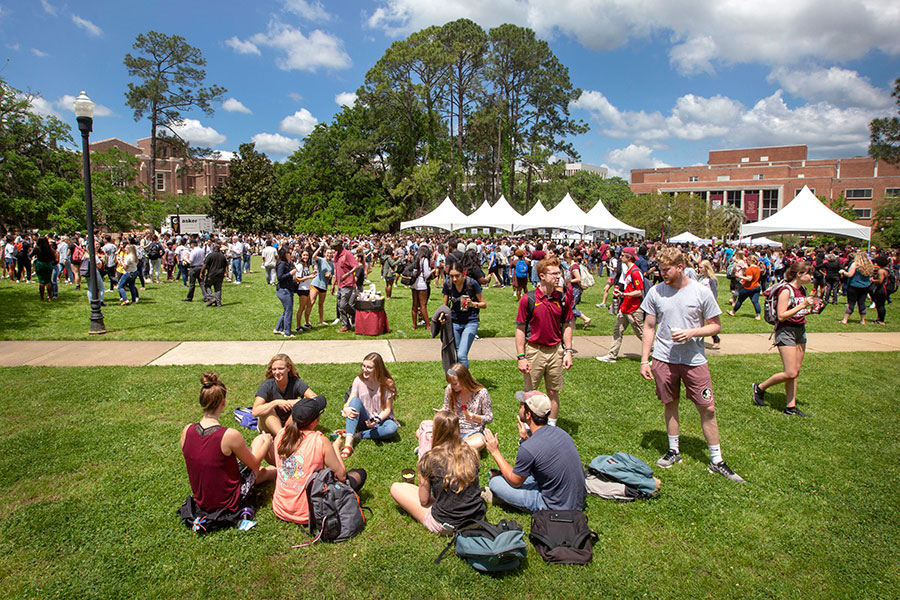 In addition to seven different flavors of Edy's ice cream, students enjoyed other tasty treats such as popcorn, Coca-Cola products and gourmet ice pops by Hyppo. The event also included entertainment with a DJ, a garnet and gold bounce house, corn hole and other fun games.
Calista Flores, a sophomore majoring in media communications, was one of the hundreds of students who enjoyed ice cream on Landis Green. She expressed her gratitude to FSU for hosting events like the President's Ice Cream Social.
"The President's Ice Cream Social means that the president really cares a lot," Flores said. "He's out here serving ice cream and making an effort to meet students. It shows that we go to an amazing university because we have staff and a president who care so much about us."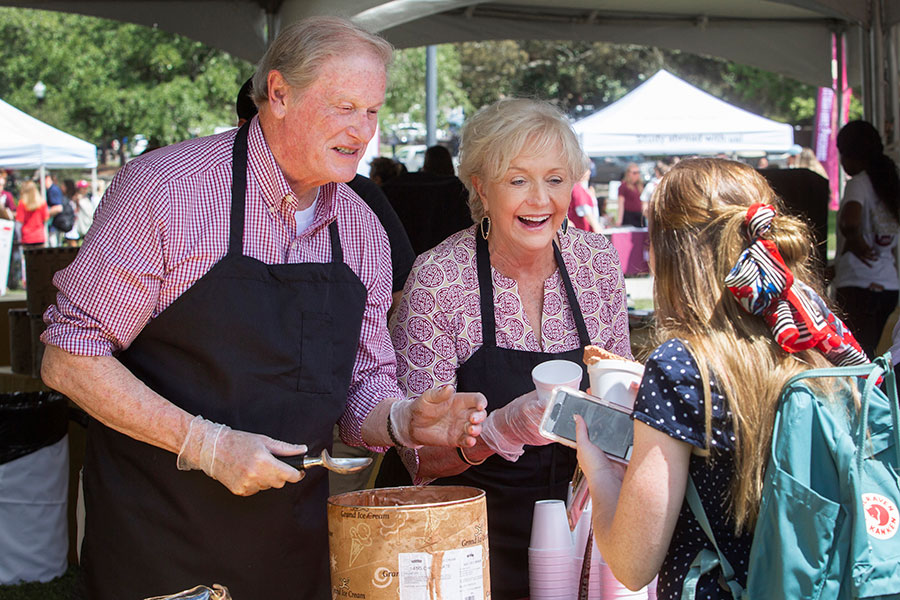 This year's President's Ice Cream Social was sponsored by Asker Distributors, Edy's Grand Ice Cream, Hyppo Gourmet Ice Pops, Coca-Cola and Legacy Catering by Sodexo.