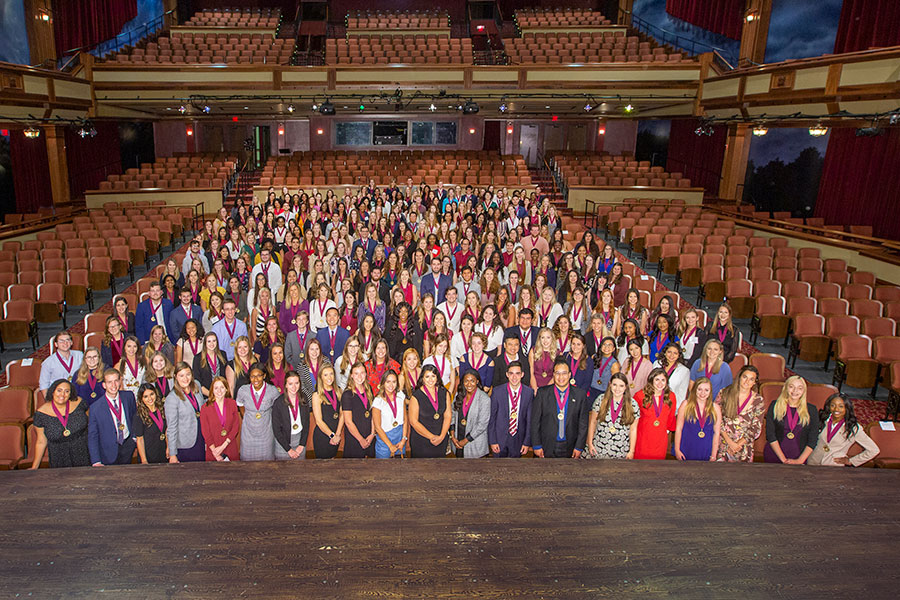 Florida State University welcomed 314 new inductees into its prestigious Garnet & Gold Scholar Society during a special ceremony on Thursday, April 25.
Since 2010, the Garnet & Gold Scholar Society has encouraged student involvement and recognized undergraduate students who excel within and beyond the classroom in at least three of five areas: international experience, internship, leadership, research and service.
To become an inductee of the Garnet & Gold Scholar Society, students must meet the engagement area criteria and submit a synthesis reflection project before graduation. Participants are recognized during graduation and receive a designation on their official university transcript, both of which make the students more marketable to potential employers or graduate programs.
The inductees, along with their hometowns and academic majors, are:
Abington, PA
Aodhan Sweeney, Physics and Astrophysics
Americus, GA
Kenneth Carson, Social Work
Apollo Beach, FL
Destinee Gatlin, Biological Science
Arlington, VA
Luis Santos, Biological Science
Athens, GA
Lakiera Bailey, Criminology
Atlanta
Kiera Akins, Biological Science
Sarah Costello, International Affairs, French
Kayla Hope, Family and Child Sciences
Lindsey Kirkland, International Affairs
Sarah Simm, Environmental Science and Policy, Spanish
Austin Yap, Biological Science
Baltimore, MD
Jordan Clark, Psychology
Bartow, FL
Kimberlee McMillin, Political Science, Sociology
Belleair, FL
Melissa Kratzke, Nursing
Big Pine Key, FL
Reef Landrum, Political Science, Physical Science
Boca Raton, FL
Angela Ging, Information Communication and Technology
Tirzha Herman, Accounting
Amanda Hirschman, Biological Science, Classical Archaeology
Julianne Weiss, Political Science, Spanish
Jenna Wolff, Communication Science and Disorders
Boynton Beach, FL
Alyssa Poe, Biological Science
Brevard, NC  
Mia Trupiano, Biological Science
Bridgewater, NJ
Allison Moore, Psychology
Brooksville , FL
Sierra Cannon, Nursing
Callahan, FL
Jayla Mitchell, Information Communication and Technology
Cape Coral, FL
Kerry Waldron, Nursing
Caracas, Venezuela
Lilayali Garcia, International Affairs, Political Science
Carriere, MS
Zara Hood, Risk Management and Insurance, Economics
Casselberry, FL
Morgan Bradley, Clinical Professions
Charlotte, NC
Brianna Cruz, Criminology
Madelyn Dotson, Biological Science, Spanish
Haley Reid, Physics
Cheyenne, WY
Rhonda Liu, Psychology
Chicago, IL
Caitlyn Bahmandeji, Spanish
Cincinnati, OH
Connor Colby, Clinical Professions
Clearwater, FL
Nicole Catalano, Economics
Trinity Lakin, Sociology, Psychology
Erin Osborne, Political Science
Cocoa, FL
Jonathan Guarine, Economics, Political Science
Makayla Mccombs, Nursing
Cocoa Beach, FL
Madalyn Touma, Political Science
Coral Springs, FL
Kisha Cadet, Psychology
Amanda Campos, Marketing
Samantha Coccia, Nursing
Fania Jean, International Affairs, Media/Communications Studies
Darien, CT
Ryan Costantino, Finance
Davie, FL
Ofir Hagag, Clinical Professions
Brooke Hagerott, Biological Science
Deerfield Beach, FL
Ivelisse Arriaga, Marketing
DeLand, FL
Joseph Hennessy, Music, International Affairs
Rachel Murray, Social Entrepreneurship, Political Science
Delray Beach, FL
Shaimaa Khanam, English, International Affairs
Sydney Resnick, Biological Science
Destin, FL
Allyson Corlett, Public Relations, Psychology
Essex Junction, VT
Elise Carney, Biological Science
Estero, FL
Victoria Kinley, Social Science
Eustis, FL
Agnes Dy, Nursing
Excelsior, MN
Olivia McConnell, International Affairs, Economics; French
Fernandina Beach, FL
Courtney Adkins, International Affairs
Flagler Beach, FL
Hannah Drosdick, Sport Management, Media/Communication Studies
Fleming Island, FL
Lauren Carstens, Dietetics
Meghan Jeney, Nursing
AngelaTavolieri, Biochemistry
Gabrielle Payne, Nursing
Fort Lauderdale, FL
Chevonese Henry, International Affairs, Political Science
Brittny Nail, Mathematics, Economics
Hannah Theisen, Psychology, Editing, Writing, and Media
Carelyn Tiburcio, Editing, Writing, and Media; Humanities
Emily Botta, English Education
Nathalie Domond, Philosophy, Political Science
Karen Duarte, Media/Communication Studies, Editing, Writing, and Media
Fort Myers, FL
Amarachukwu Ezenwa, Communication Science and Disorders
Fort Pierce, FL
Nadea Wilson, Criminology
Saleshia Ellis, African American Studies, Social Science
Fort Walton Beach, FL
Irangel Castro, Chemical Engineering
Morgan McInnis, Nursing
Fort White, FL
Alexa Hatcher, Nursing
Fort Worth, TX
Allison Rockwood, Nursing
Freeport, FL
Isabella Tommasone, Creative Writing, Psychology
Friendship Heights, Washington, DC
Laila Kunaish, Psychology, Media/Communications Studies
Gainesville, FL
Claire Riley, Nursing
Germantown, TN
Katherine Griffin, Political Science, Spanish
Gifford, FL
Kadasha Eliacin, Media/Communication Studies, Commercial Entrepreneurship
Greenwood, IN
Ian Judd, Psychology
Harbor Springs, MI
Nash Perreault, Nursing
Hernando, FL
Bridget Kabacinski, Information Communication and Technology
Hialeah, FL
Denis Aleman, Psychology
Daniela Castro, Biomathematics, French
Derrick Pacheco, Marketing, Management
Highlands, NC
Jessica Barloga, Hospitality and Tourism Management
Homestead, FL
Yandry Varela, Exercise Physiology
Hope Valley, RI
Brooke Foster, Criminology
Houston, TX
Anne Frappier, Hospitality Management
Inverness, FL
Fiona Mand, Communication Science and Disorders
Jacksonville, FL
Jessica Bachansingh, Retail Merchandising and Product Development
Christian Castetter, Finance
Jennifer Farman, Psychology
Raegan Gruber, Nursing
Samantha Jones, International affairs, Editing, Writing, and Media
Katherine Kincaid, Voice Performance
Jessica Koros, Physics
Allison Lang, Political Science, International Affairs
Alexandra Mathis, Biological Science
Lauren McGarry, Biochemistry
Courtney Otwell, Communication Science and Disorders
Benjamin Redmon, Economics
Tatum Shannon, International Affairs, Chinese
Viraxay Sihachak, Nursing
Kara Stanaland, Finance, Economics
Erin Wadhams, Japanese Language and Culture
Jonathon Zayas, Information Technology
Margaret Breen, Nursing
Piper McInall, Music – Liberal Arts, Anthropology
Ashlei Phillips, Clinical Professions
Ciara Quinn, Human Resource Management
Sarit Sandler, Digital Media Production
Jupiter, FL
Emma Hartshorne, Nursing
John Rothwell, International Affairs, Middle Eastern Studies
Brooke Van Nice, Nursing
Kissimmee, FL
Kelly Blake, Political Science
Lake City, FL
Jordan Ryder, Nursing,
Lake Placid, FL
Elizabeth Gloria, Sport Management
Lake Worth, FL
Jorge Mejia, Geography, International Affairs
Lakeland, FL
Samantha Kunin, Economics, International Affairs
Sarah Cameron, Criminology
Lakewood, CO
Joseph Struzeski, Statistics
Longwood, FL
Emily Holt, Advertising
Los Angeles, CA
Brittney Alfaro, Economics, International Affairs
Lutz, FL
Ashley Sutch, Nursing
Manalapan, NJ
Chloe Craig, Criminology, Statistics
Marathon, FL
Sharon Rodriguez, Geography, Philosophy
Sarah Dodamead, Physics and Astrophysics
Margate, FL
Clarena Castro, Dietetics
Mcdowell, VA
Elizabeth Brown, Anthropology
Melbourne, FL
Noelle Lewis, Criminology, Psychology
Maegan Stepp, Media/Communication Studies
Mexico City, Mexico
Roberto Flores, Piano Performance, Social Science
Miami, FL
Lauren Cancio, Biochemistry
Sonya Clark, Sport Management
Jayda Craig, Sociology, Social Entrepreneurship
Ashley Flaquer, Studio Art
Dachely Hernandez, Nursing
Caitlin Lazarus, Hospitality and Tourism Management
Briani Mazur, Psychology
Julian Melchor, Biological Science
Jessica Michelle Pagliery, Psychology
Morgan Payne, Public Relations
Lourdes Ramos, Psychology, Economics
Alexis Rodriguez, Psychology
Ankevia Taylor, Editing, Writing and Media
Manasicha Wongpaiboon, Psychology
Destinee Haller, History, African American Studies
Miami Lakes, FL
Alejandra Gancedo, Political Science, Literature
Milton, FL
Mariah Bortolin, Nursing
Miramar, FL
David Carre, International Affairs, Economics
Adia Celestine, Information Communication and Technology
Princess Gafaru, Media/Communication Studies, Editing, Writing and Media
Caroline Mozo, Interior Design
Tahina Paul, Sport Management
Stacey Pierre, Biological Science
Alyssa Rogers, Biological Science
Mobile, AL
Sydney Adkins, Nursing
Montclair, NJ
Amir Muhammad, Political Science, Social Science
Monticello, FL
Jermeika Rivera, Nursing
Naples, FL
Caroline Brothers, Nursing
Christian Gaya, Computer Engineering
Celeste Hebra, Exercise Physiology
Kaileen McHugh, Economics
Eleanor Reidy, Marketing
Danielle Stevenson, Exercise Physiology
Savannah Grant, Political Science, International Affairs
Nashville, TN
Shelby Young, History, French
Naugatuck, CT
Chloe Bevan, Biological Science
Navarre, FL
Kaylin Colvin-Reece, Retail Merchandising and Product Development, Retail Management
New Kent, VA
Kara Harris, Exercise Physiology
New Orleans, LA
Matthew Tonglet, Criminology, French
Sabrina Schweitzer, Nursing
New Port Richey, FL
Jake Wahl, Exercise Physiology
Niceville, FL
Maci, Maldonado, Nursing
North Attleboro, MA
Eilish Mendonca, Criminology, Psychology
North Palm Beach, FL
Emily Campana, Editing, Writing and Media
North Ridgeville, OH
Jacob Truett, Biology/FSU-Teach
Ocala, FL
Mary Green, Social Work
Odessa, FL
Valencia Beckwith, Biological Science
Orange Park, FL
Heather Duncan, Economics, International Affairs
Orlando, FL
Farah Ali, Criminology, Psychology
Amy Columbus, Family & Child Sciences
Tiffany Efianayi, Marketing
Emma Harmon, Music Education
Malia Hart, Communication Science and Disorders
Elizabeth Ruta, Biomathematics
Logan Saliga, Information Technology
Michael Villalonga, Biological Science
Chennel Chantiloupe, Family and Child Sciences
Tyler Kitchen, Political Science, International Affairs
Danielle Quinn, Nursing
Ormond Beach, FL
Joshua Lambert, Political Science, International affairs
Oviedo, FL
Emily Ng, Communication Science and Disorders
Pahokee, FL
Kelly Ramirez, English, International Affairs
Palatka, FL
Abriyah Campbell, Family and Child Sciences
Palm Beach, FL
Ashleigh Carr, Political Science
Palm City, FL
Ishani Patel, Biological Science, Psychology
Bliss Rose, International Affairs
Panama City, FL
Kyle Hudson, Nursing
Shelby Jacobs, Professional Communication
Antonio Lopez, Commercial Entrepreneurship
Parkland, FL
Roei Golan, Clinical Professions
Parrish, FL
Alexis Federico, Psychology
Daniel Horne, Nursing
Pembroke Pines, FL
Lindsey Reyes, Economics
Shannon Reynolds, Nursing
Pensacola, FL
Sarah Manning, Communication Science and Disorders
Luke Stachler, Psychology
Peyton Pelham, Clinical Professions
Pineville, PA
Morrall Garcia, Marketing, Management
Pittsburgh, PA
Elizabeth Palumbi, Meteorology
Plantation, FL
Ciara Giordano, Nursing
Ponte Vedra Bch., FL
Wendy Parkulo, Theatre, Marketing
Port Orange, FL
Jessica Walley, Nursing
Kirk Webster, Environmental Sciences
Port Saint Lucie, FL
Justin Lee, Hospitality and Tourism Management
William Ortiz, History, International Affairs
Katherine Jeansonne, Chemical Sciences/FSU-Teach, Mathematics/FSU-Teach
Punta Gorda, FL
Courtney Saunders, Political Science, International Affairs
Raleigh, NC
Bethany Martin, Public Relations
Eleanor Moore, Psychology
Red Hook, NY
Allysia Mondello Marketing
Riverview, FL
Hunter Dennis, International Affairs
Rockport, MA
Emily Dailey, Environmental Science
Roswell, GA
Cassondra Franklin, Nursing
Saint Cloud, FL
Eliza Chase, Economics, International Affairs
Saint Petersburg, FL
Megan Hill, Economics, Criminology
San Juan, Puerto Rico
Alana Gutierrez, Criminology
Megan Reinhart, Nursing
Sarasota, FL
Hannah Dale, Nursing
Samantha Gogola, Biological Science
Sheridan Hager, Exercise Physiology
Kayla Wagler, Psychology, Spanish
Demi Giannopulos, Exercise Physiology
Emily Koch, Nursing
Seminole, FL
Amanda Engelhardt, Nursing
Alexis Benz, Nursing
Shelby, NC
Michael Advent, Literature, International Affairs
Simpsonville, SC
Rachel Glanton, Physics, Russian
South Burlington, VT
Samantha King, Clinical Professions
Spring Hill, FL
Victoria Inzana, Criminology, Literature
Springfield, VA
Kathryn Casello, Social Work, Political Science
St. Augustine, FL
Alexandra Basili, Biological Science, Italian
St. Cloud, FL
Elizabeth Murray, Social Work
St. Lucie County, FL
Alyssa Guiel, Nursing
Stafford, VA
Rebekah Cammuse, Management Information Systems
Stuart, FL
Katherine Olney, Psychology
Sugar Land, TX
Caroline Cayll, Information Communication and Technology
Sunrise, FL
I'yanna, Barker, Psychology
Dameisha Dacosta, Human Resource Management
Switzerland, FL
Mary Montague, Media/Communication Studies, Editing, Writing and Media
Tallahassee, FL
Kaitlyn Bludau, Advertising
Sarah Burgess, Editing, Writing and Media
Morgan Davis, Professional Sales
Ashley Dawdy, Biological Science
Leanne Duke, Biochemistry
Jacob Goldstein-Greenwood, Psychology
Mirna Hanna, Biological Science, Psychology
Michelle Le, Family and Child Sciences
Julia Marshall, Marketing
Erin McCord, Economics, Political Science
Gillian Morton, International Affairs, History
Courtney Reed, International Affairs, Middle Eastern Studies
William Roberts, Civil Engineering
Rachel Scarboro, Computational Science
Zoe Tribley, Chinese Language and Culture, Editing, Writing and Media
Elizabeth Vandervort, Biochemistry
Tampa, FL
Katherine Bernstine, Media/Communication Studies, International Affairs
Kathleen Coffey, Communication Science and Disorders
Abigail DeLisle, Nursing
Khaina Duncan, Information Communication and Technology
Kensie Funsch, Psychology
Jillian Grall, Nursing
Rebecca Heidenberg, Exercise Physiology
Jennifer Izaguirre Quijano, Industrial Engineering
Sydney Kinsey, Biological Science
Jasmine Soto, Nursing
Jaelee Edmond, Management, Political Science
Tarboro, NC
Andrea Montoya, Psychology
Tarpon Springs, FL
Michela Sieman, History
Elizabeth Truman, Family and Child Sciences, Philosophy
The Villages, FL
Bailey Oliver, Communication Science and Disorders
Valencia, Carabobo, Venezuela
Ariana Morales Rapallo, Civil Engineering
Valrico, FL
Anne-Marie Rada, Psychology
Vero Beach, FL
Natalie Gandolfo, International Affairs
Cassandra Nicolace, Advertising
Kara Mase, Communication Science and Disorders
Wakulla County, FL
Natalie Henderson, Clinical Professions
Warrenton, VA
Elicia Smith, Information, Communication and Technology
Wellington, FL
Leah Hack, Hospitality Management and Tourism
Analisa Ruiz, Exercise Physiology
Wesley Chapel, FL
Alena Harding, Management Information Systems, Professional Sales
Taylor Welniak, Biological Science, Editing, Writing and Media
West Palm Beach, FL
Xuan-Phuong Hoang, Accounting
McKenzie Kirlan, Psychology
Natalie Marcelo, Information Technology
Henal Sutaria, Biological Science
Emily Heun, Nursing
Westchester, NY
Madeline Greenberg, Environmental Science and Policy
Weston, FL
Julia Strum, Psychology
Winter Garden, FL
Julia Le, Clinical Professions
Winter Haven, FL
Addlyn Teague, Information Communication and Technology
Savannah Valentine, Political Science, Philosophy
Winter Park, FL
Haley Brown, Philosophy, French
Vittorio Nastasi, Economics, Political Science
Woodstock, GA
Kayla Dahlman, Exercise Physiology
Yalaha, FL
Clin Shea, Management