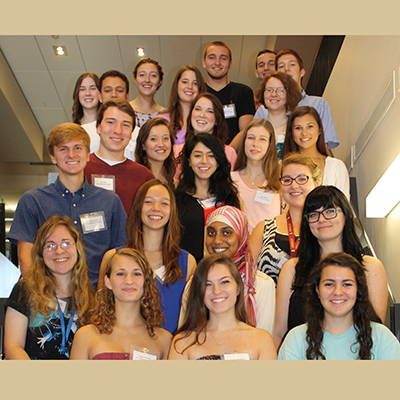 When the first cohort of 25 Presidential Scholars stepped foot on Florida State University's campus, they had big plans for how they would spend the next four years.
The Presidential Scholars Program, Florida State's premier undergraduate merit scholarship program, launched in 2014 with the mission of recruiting promising leaders who would become engaged scholars on campus.
"When we created the first cohort of Presidential Scholars, we challenged them to become transformational leaders and to leave a lasting impact on our campus," said Craig Filar, associate dean of Undergraduate Studies and faculty director of the Presidential Scholars Program. "As a group, they took this challenge and ran with it beyond our greatest expectations."
The highly competitive program attracts the best and brightest students to FSU, but it doesn't just concentrate solely on academics. It also offers support to help students shape their entire college experience.
In addition to covering most tuition expenses, the scholarship provides $12,000 for educational enrichment opportunities such as international experiences and service learning projects.
Now, as the program's first cohort graduates, the inaugural group is looking to the future and reminiscing about the past.
For Sabrina Abboud, a double major in international affairs and Middle Eastern Studies, her favorite memories were studying abroad in Morocco, interning in Washington, D.C., and researching.
"The Presidential Scholars program allowed me to find what I believe to be my true calling and passion in life and to further embark on a path towards becoming an agent for positive change," Abboud said. "I met a group of students who are so incredibly driven in their own fields and are committed to bettering their communities, and I am so excited to see the ways in which they will share their light with the world."
After graduation, the native of Ocala, Florida, will attend George Washington University in Washington, D.C., and pursue a master's degree in security policy studies. She plans to also work full-time, ideally as a researcher who focuses on conflict transformation and peacebuilding in the Middle East and North Africa.
"I hope to become a change agent in the field of conflict analysis and to improve transitional justice, human security strategies and peacekeeping mechanisms in conflict settings," Abboud said.
Abboud advises future FSU students not to turn down new opportunities or avoid taking the next step.
"Take the chance and do it anyway — you may surprise yourself," Abboud said. "Have a sense of humor about life, celebrate your failures as you do your successes, be a friend to yourself and be a neighbor to those around you."
Scholars also benefit from faculty mentoring, leadership training and regular group meetings.
"Presidential Scholars was an incredibly life-changing experience that opened amazing opportunities for me to grow academically, professionally and personally," Abboud said. "Upon graduating, I can truly say that several professors and faculty members have had a profound impact on my life."
Sophie Rottenberg, a double major in biological science and international affairs, came to FSU looking to find friends and a new home.
"I'm overjoyed that I chose FSU; it couldn't have been a better decision for me," Rottenberg said. "From day one, I recognized this was the perfect place to find my niche and learn about what I truly love. I wanted to find a group of friends that became family, who would support me in all my endeavors, and that's exactly what I found in the Presidential Scholars — my best friends, my bridesmaids, my girl squad."
One of Rottenberg's favorite recollections at FSU was watching the Honors Program grow and foster a sense of identity among honors students. She worked with the Honors Student Association throughout her college career, eventually becoming president of the organization.
"There was nothing more rewarding than supporting my fellow students," Rottenberg said. "From honors banquets, to study hall snack breaks, we got to bring honors students together and engage them."
The native of Tampa, Florida, also enjoyed the close connections she made with faculty in the Honors Program, like her role model Filar.
"The person who has been the biggest supporter and champion of the Presidential Scholars program is Dr. Craig Filar," Rottenberg said. "Not only is he the backbone of the organization, but he has acted as a parent, a cheerleader and in a myriad of other roles. Without a doubt, he is my biggest role model and has been a source of great kindness and inspiration for me throughout my undergraduate career at FSU."
As she prepares to begin the next phase of her life as a master's student at Johns Hopkins University, Rottenberg is thankful for her time at FSU as a Presidential Scholar.
"As a Presidential Scholar, I had the opportunity to meet and really get to know the staff at the Honors, Scholars and Fellows House — the people who make FSU so great, and the people I'll miss the most," Rottenberg said. "FSU was instrumental in giving endless opportunities, along with the encouragement I needed to succeed in my academic and extracurricular adventures."
The first group of Presidential Scholars also played an instrumental role in recruiting the next generation of Seminoles through an Academic Recruitment Organization (ARO) they created.
The idea began when three Presidential Scholars — Will Boose, Rottenberg and Amanda Schell — had the idea of starting an official organization of FSU students who are dedicated to recruiting top scholars and visiting high schools.
"I wanted to try to get a pipeline going of the best students coming to FSU," Boose said. "I love the recruiting side of athletics, and thought, 'Why can't we do that for academics?'"
During the 2016-2017 school year, ARO reached more than 3,500 students, traveled to 10 states, launched a handwritten letter campaign and gave tours to over 100 high school students.
Boose, a double major in history and Spanish, wanted to spread the welcoming atmosphere he felt when he first came to campus.
"The FSU community welcomed me with a love that I did not previously know was possible," Boose said. "The support and sense of community from faculty and fellow scholars is fantastic."
When he first stepped on to campus, he had big goals: a 3.9 GPA, getting accepted into a prestigious graduate school and involving himself heavily in the community.
"During these four years I have grown into someone that I am proud to be," Boose said. "For that, and for the incredible academic and personal support, I will be a Seminole until the day that I die."
Boose said it was the funding he received that helped him make his goals a reality and set him up for a successful future.
"I cannot emphasize enough the importance of the enrichment funding," Boose said. "The $12,000, along with the Idea Grant, allowed me to travel to Latin America four times throughout my undergraduate career. That directly paved the path for me to receive a funded graduate education."
This summer, Boose will intern at Arthrex in his hometown of Naples, Florida, before pursuing a master's degree in Latin American studies at the University of Florida.
"Collectively, they have been innovative scholars, dedicated public servants, enthusiastic world travelers and transformational leaders," Filar said. "I could not be prouder of each of them and what they have helped us to create in the Presidential Scholars program and the legacy they are leaving for FSU."
For more information, visit presidentialscholars.fsu.edu.