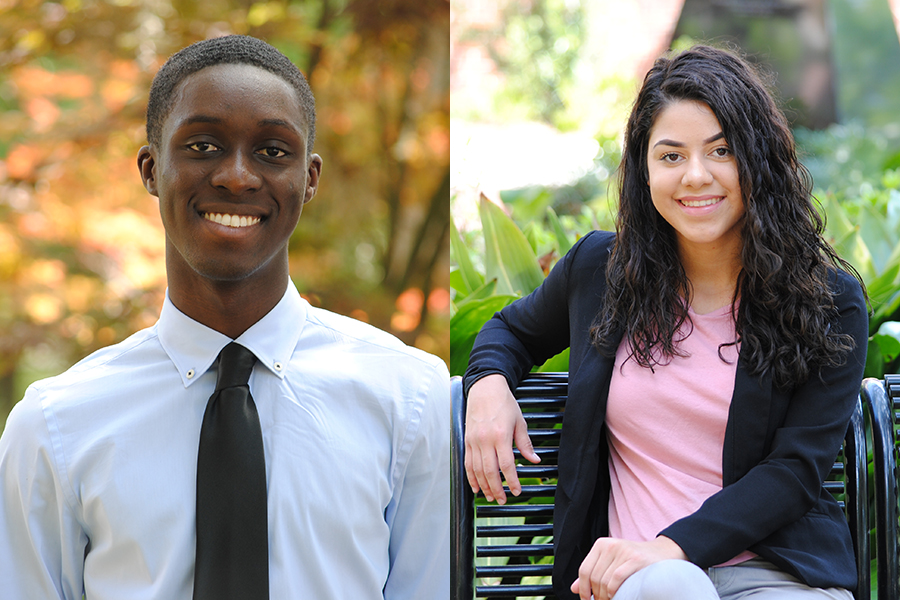 Two Florida State University rising sophomores have been selected to participate in the Fulbright UK Summer Institutes for undergraduate students from the United States.
The program is one of the most prestigious and selective scholarship programs in the world. Participants explore the culture, heritage and history of the United Kingdom while experiencing higher education at a university in the UK.
Brian Brown, 20, a music composition major from Lakeland, and Ashley Rosado, 18, a social entrepreneurship major from Kissimmee, will both study at the University of Bristol during a four-week summer institute. They will explore the intersection of arts, activism and social justice with a particular focus on racial justice and legacies of slavery.
"To receive a place on a Fulbright summer program is such an extraordinary honor," Brown said. "I was in total disbelief upon learning that I was selected as a participant. I look forward to studying the legacies of oppression and exploring the arts as a means to rectifying historical injustices. During this wonderful opportunity, I hope to grow as both an artist and activist."
As a first-generation college student, Rosado was not aware opportunities like this fellowship were a possibility.
"I intend to learn a lot from the history and culture in the UK, along with their progressiveness and activism through art," Rosado said. "I hope to take away a culturally aware mindset and a broader, more global outlook of the world. I believe that I will be a more confident leader and be well-versed in social justice issues in the United States and abroad. I will use this experience in my leadership positions at Florida State and in my professional life as well."
Michael Ramsey, a sophomore majoring in risk management/insurance from Boca Raton, was selected as an alternate.
The commission selects participants through a rigorous application and interview process. In making these awards, the commission looks not only for academic excellence but a focused application, a range of extracurricular and community activities, demonstrated ambassadorial skills, a desire to further the Fulbright Program and a plan to give back to the recipient's home country upon returning.
"As we celebrate the US-UK Fulbright Commission's 70th anniversary year, we are so proud of what our programs have achieved, the number of Americans and Brits who have benefitted from educational exchange and of the special relationship that we continue to renew and strengthen," said Penny Egan, executive director of the US-UK Fulbright Commission. "The summer institutes provide students with a great opportunity to experience the UK higher education system, immerse themselves in British culture, and further develop intercultural understanding between our two countries."
Fulbright Summer Institutes cover all participant costs and provide participants with a distinctive support and cultural education program, including visa processing, a comprehensive pre-departure orientation, enrichment opportunities in country, a re-entry session and opportunity to join the Fulbright alumni networks.
For more information on national scholarships, visit the Office of National Fellowships at http://onf.fsu.edu/.