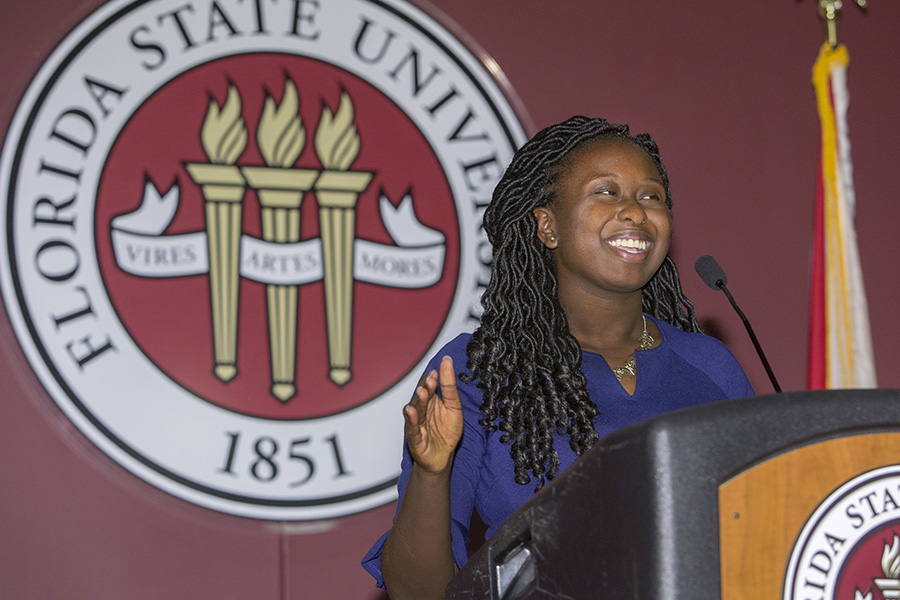 Stacey Pierre has been developing her voice and refining her leadership from the day she set foot on Florida State University's campus. A first-generation student from Miramar, Florida, Pierre now stands at the helm of FSU's Student Government Association, serving as the chief student advocate.
Pierre, a junior majoring in biology and former student body vice president, was elected student body president following SGA elections in February. Her inauguration took place March 29.
"I am incredibly excited to start my term and get to work," Pierre said. "I'm really looking forward to working with our students and university administration to help unite our community and keep pushing it forward."
In her role as student body president, Pierre oversees the operations of SGA's executive branch and its cabinet. She also sits on the FSU Board of Trustees as the sole student voting member—acting as a voice for all students' interests and needs.
"As the student body president, I also have to help students navigate through difficult issues," Pierre said. "For example, Kyle Hill, the past president, had to sit in on a lot of meetings with President Thrasher during the fraternity and sorority suspension to help fix the issues and discuss what direction our university wants to move toward."
During her term, Pierre seeks to improve a number of factors she believes have the potential to shift the way SGA is perceived. One of these factors is transparency, which Pierre hopes to increase through the use of student senate livestreams and the introduction of an SGA video series so the administration can directly communicate with the student body.
Other administration goals include more options for healthy eating through Seminole Dining and collaborating with Campus Recreation to make facilities more accessible to people with disabilities.
"With the new union starting construction, many aspects of FSU are going to be changing, like Market Wednesday and all the agency and bureau offices," Pierre said. "Something unique about my term is that I will have to play a large role in helping people transition to all the changes we'll be experiencing in the coming year."
However, this is not the only factor that makes her administration unique. Pierre is the second black woman president in the history of Florida State's SGA leadership, with the first being Michelle Pletch in 2002–2003. Pierre also serves on the first administration in SGA history to be comprised entirely of racial minorities, alongside Vice President Brandon Brown and Treasurer Omar Pimentel.
"I'm not here to outright prove anybody wrong, but I do hope to challenge people's preconceived beliefs of what a black woman can or should be," Pierre said. "During my term, I hope that I am able to motivate young women of color to believe they can also find success at Florida State. I don't want people to view me as the standard. I want them to think 'she raised the bar, now let me see how I can raise it even higher.'"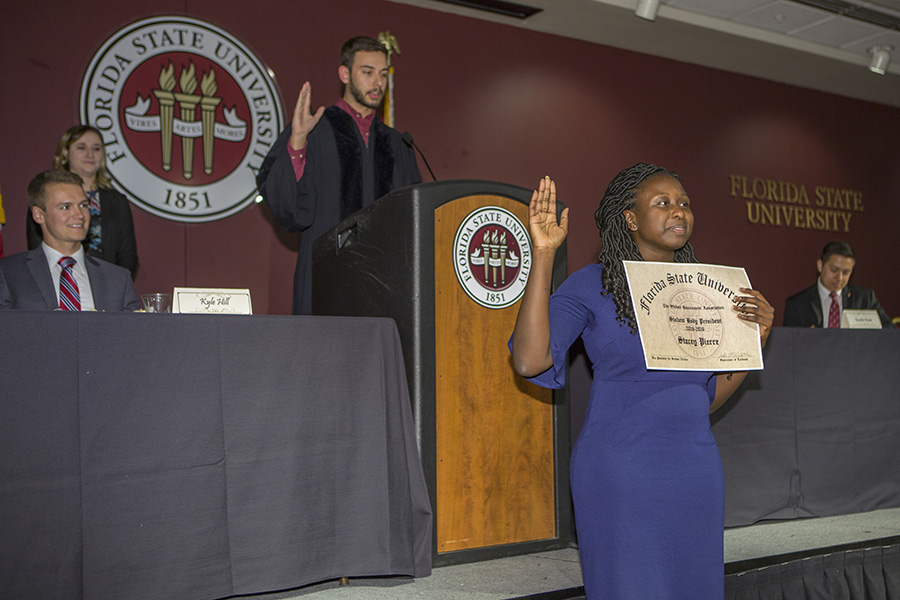 Pierre has been developing her leadership skills since her first year at Florida State. She received an initial push toward campus involvement through the Center for Academic Retention and Enhancement, the Service Leadership Seminar and the Freshman Leadership Institute.
"Through the Service Leadership Seminar, I ended up applying for the Service Scholars Program and that has been such a blessing in my life," Pierre said. "It introduced me to a lot of people who have contributed wisdom from their experiences to help guide me in mine."
Being an unconventional leader in a unique circumstance, Pierre's ascent toward the student body presidency is exceptional. Pierre is the first president in 10 years who was elected to continue her tenure on the executive branch after serving as the student body vice president. She believes the experience will allow her to be more efficient because it will make her learning curve much less steep.
"I want to change peoples' perception of what leadership looks like," Pierre said. "People assume that the president has to be this perfectly stoic and charming individual, and I'm not saying those are qualities I'm lacking in, but they're not the first words I'd use to describe myself. I'd say I'm quirky, I love cracking jokes and just being a genuine person."
For more information on the Student Government Association and the Pierre-Brown-Pimentel administration, visit http://sga.fsu.edu/.